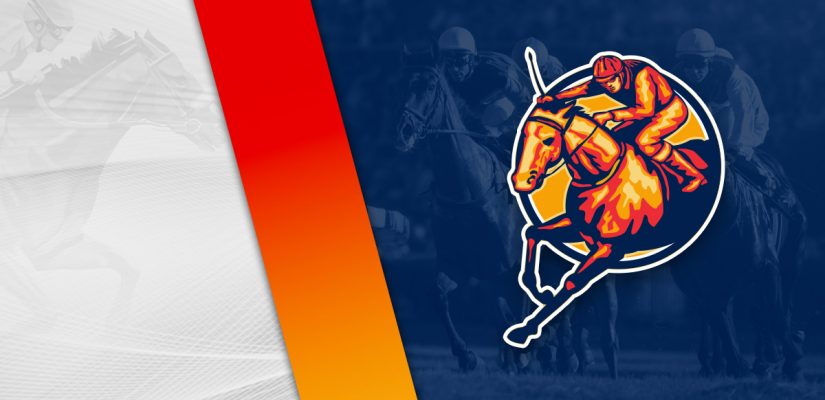 Off we go to the racetrack on Wednesday trying to pick up some winners. This is sort of a lull period of the year. The Major League Baseball postseason just started, so we don't have a full slate of baseball to handicap.
$25 Risk-Free Horse Racing Bet!
The NBA and NHL regular season aren't playing regular season games yet. Fortunately, that's about to change soon, as we'll have postseason baseball, NHL, and NBA action on at the same time.
Of course there's the NFL and college football, but that's not an every day sport. The good news is that horse racing keeps going with no true offseason. The Breeders' Cup is right around the corner in just a month.
For our first look on Wednesday, we're heading to Indiana Grand in Shelbyville. It's a stakes day at Indiana Grand with four events, including two $150,000 races. Head below for our free Indiana Grand picks for October 6, 2021.
Race 1
(1) Sugar and Sass
+180 (9/5)
(2) Dance On Over
+180 (9/5)
(3) Wild Tapit
+1500 (15/1)
(4) Ninja Kitten
+3000 (30/1)
(5) Rock Star Parking
+160 (8/5)
(6) Guest In My Heart
+2000 (20/1)
Post Time: 2:25 p.m. EST
Distance:6 Furlongs
Purse:$24,000
The first selection at Indiana Grand is a $24,000 event covering 6 furlongs on the dirt. This looks like a race for Rock Star Parking and Sugar and Sass. I have both on my shortlist to win.
Sugar and Sass is a one-time winner with a win rate of 1 for 10. She has gone winless in eight straight assignments since the $31,000 win on October 8. That was the second race of the filly's career.
In her last three attempts, she finished 2nd, 7th, 2nd. Sugar and Sass placed 2nd behind Fudge Brownie by a half length for a $14,000 purse. This was after going 7th on June 26 in a $40,800 assignment.
Rock Star Parking transferred to Indiana Grand after struggling to get into the winner's circle at Churchill Downs and Ellis Park. She showed 3rd in a $50,900 and $42,900 event in the spring, and then 2nd at Ellis Park on July 16 at Ellis Park.
In his most recent race, Rock Star Parking finished 6th for a $23,000 purse. With a transfer to Indiana Grand, she should find easier competition in this one. I like Rock Star Parking to get this one in her debut in Indiana.
Race 8 – Cardinal Stakes
(1) Expect Indy
+1500 (15/1)
(2) Pretty Assets
+1200 (12/1)
(3) Drinkatthecreek
+2000 (20/1)
(4) Tuckyourtaleandrun
+3000 (30/1)
(5) Fireball Baby
+400 (4/1)
(6) Bumble Of Love
+600 (6/1)
(7) Piedi Bianchi
+100 (1/1)
(8) Magical Peapod
+1200 (12/1)
(9) Fighting Zelda
+3000 (30/1)
(10) Wellington Wonder
+1000 (10/1)
Post Time: 6:02 p.m. EST
Distance:1 1/16 Miles
Purse:$150,000
The co-feature in the US is the $150,000 Cardinal Stakes. This is a $150,000 event covering 1 1/16 miles on the dirt. Fireball Baby and Piedi Bianchi should have a chance to win this stakes race.
Fireball Baby is 6 for 22 in her career, and is coming off a 5 ¼ length win in the $101,750 Hoosier Heartland Stakes on September 15. This was after placing 2nd behind Pretty Assets by a neck for a $32,500 purse.
Fireball Baby most recently completed a strong 4-furlong workout on September 29. The mare was clocked at 1:00.40. Based on her winning run and how she's looked in the morning, Fireball Baby must be taken seriously.
Piedi Bianchi has a win rate of 7 for 26 in her career. She has been in good form as of late, with finishes of 2nd, 2nd, 1st at Belmont Park and Saratoga.
She placed 2nd behind Change of Control by 1 ½ lengths in the $200,000 Intercontinental Stakes (Gr. 3) on June 3. Piedi Bianchi came back to place behind Truth Hurts by 5 ¾ lengths in the $100,000 Perfect Sting Stakes on July 3.
That was disappointing, but Piedi Bianchi responded on August 21 in the $120,000 Smart N Fancy Stakes for a 2 ¼ length win. This looks like a race that suits her well.
Race 9 – To Much Coffee Stakes
(1) Toss Of Fate
+1500 (15/1)
(3) Max Express
+1200 (12/1)
(4) Hard Luck Justice
+250 (5/2)
(5) Idea Man
+3000 (30/1)
(6) Chipofftheoldblock
+400 (4/1)
(7) Strong Tide
+300 (3/1)
(9) Bayou Cat
+1000 (10/1)
(10) Wildcard Prado
+800 (8/1)
(11) Bluemoon Justice
+3000 (30/1)
Post Time: 6:33 p.m. EST
Distance:1 1/16 Miles
Purse:$150,000
The $150,000 To Much Coffee Stakes is on the dirt over 1 1/16 miles. Strong Tide and Hard Luck Justice should have a strong presence in this one.
Strong Tide is 7 for 26 in his career, and has a big chance of completing this run with a win. He's finished 8th, 6th, 8th, 6th in his previous four attempts.
He made his Grade 1 debut on August 14 at Aqueduct and that didn't play out in his favor. Strong Tide finished 8th in the $600,000 Mr. D Stakes (Gr. 1).
Too tough and his entry in the race was probably ill advised. Strong Tide came back on September 8 to go 6th in the $400,000 TVG Stakes.
Hard Luck Justice is 4 for 8 and looking for five straight wins on Wednesday. He's on fire and has two stakes wins on June 23 in the $100,000 Hoosier Breeders Sophomore Stakes, and most recently the $150,000 Governor's Stakes.
He cleared the field easily, beating Nobody Listens by 8 ½ lengths in a blowout. Hard Luck Justice is going to have more competition on Wednesday, but a repeat should be sufficient.