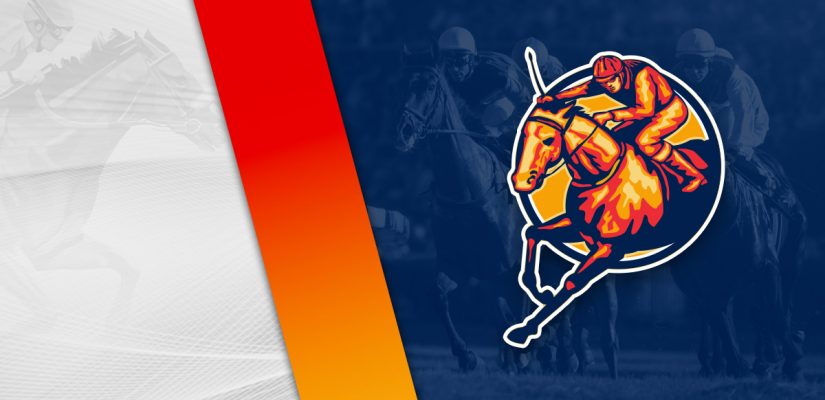 It was a profitable day at Keeneland and Charles Town on Saturday. We won at both tracks, including a sweep at Charles Town, and hopefully can add more on Sunday. The big-time racing is back at Keeneland on Sunday. The Lexington based track has the feature event in the US with the running of the $500,000 Juddmonte Spinster Stakes (Gr. 1).
This is another Breeders' Cup Challenge Race, one of three that are at Keeneland this afternoon. There is also the $200,000 Indiana Summer Stakes and $200,000 Castle & Key Bourbon Stakes Stakes (Gr. 2) scheduled.
$25 Risk-Free Horse Racing Bet!
Keeneland has ten races worth $1,376,000 in prize money this afternoon. Head below for our free Keeneland picks for October 10, 2021.
Race 4
(1) Full Focus
+200 (2/1)
(2) Academic Honor
+600 (6/1)
(3) Sonnyneedsmoney
+400 (4/1)
(4) Surprising
+1200 (12/1)
(7) Off The Charts
+600 (6/1)
Post Time: 2:36 p.m. EST
Distance:1 1/16 Miles
Purse:$84,000
Race 4 goes for 1 1/16 miles on the dirt at Keeneland. This $84,000 event has seven horses running. Look for Coco Puff and Full Focus to put up a big fight on these terms.
Coco Puff is winless in two attempts, but showed improvement after finishing 6th as a rookie on August 29. The filly finished 6th in a $51,000 event, and then showed 3rd for a $120,000 purse on September 19 at Churchill Downs.
That was an impressive improvement from Coco Puff. If she continues on this path, then the winner's circle can't be too far away.
Full Focus made her debut on September 19 and it didn't go according to plan. She finished 7th in the $120,000 assignment, with Coco Puff clearing Full Focus easily.
Despite the loss, Full Focus was caught in traffic and wasn't able to move up. She has looked strong in workouts, and will go well if she finds more room.
Full Focus completed 5 furlongs in 59.40 seconds, and 4 furlongs in 46.40 seconds most recently on October 1. While she went 7th as a rookie, expect much more from her today on the inside rail.
Race 8 – Indian Summer Stakes
(1) Sonnyisnotsofunny
+500 (5/1)
(2) Kaufymaker
+350 (7/2)
(3) Detroit City
+3000 (30/1)
(4) Pure Panic
+1500 (15/1)
(5) Big Boss Ben
+3000 (30/1)
(6) Bonus Appreciation
+1200 (12/1)
(7) Averly Jane
-125 (4/5)
(8) Roman Poet
+5000 (50/1)
(9) Circle Back Jack
+5000 (50/1)
(10) Diamond City
+400 (4/1)
Post Time: 4:44 p.m. EST
Distance:5 ½ Furlongs
Purse:$200,000
The $200,000 Indian Summer Stakes is a Breeders' Cup Challenge Race. This one covers 5 ½ furlongs on the turf.
Diamond City and Averly Jane are going to give a good go at this one. Diamond City has finished 3rd, 3rd, 1st in three attempts.
He showed in back-to-back races, most recently on August 29 for a $126,800 purse. Following that run at Woodbine, Diamond City responded with a 1 ¾ length win over Silent Runner in the $125,000 Ontario Racing Stakes on September 19.
Averly Jane is a perfect 3 for 3 from April 15 to August 20. As a first-time runner, she beat She's So Shiny by 8 ¾ lengths in a $60,000 race.
That was too easy, so Averly Jane went stakes racing on April 28 in the $150,000 Kentucky Juvenile Stakes for a 3 ¼ length win. She came back on August 20 to defeat Pure Panic by 7 ¼ lengths in a blowout in the $120,000 Skidmore Stakes.
Up to $200,000 on Sunday, it doesn't look like she is going to be bothered by this assignment either. Averly Jane is worth a look in the Indian Summer this afternoon.
Race 9 – Juddmonte Spinster Stakes
(1) Dunbar Road
+500 (5/1)
(2) Bonny South
+450 (9/2)
(3) Town Avenger
+2000 (20/1)
(5) Envoutante
+600 (6/1)
(6) Crystal Ball
+500 (5/1)
(7) High Regard
+2000 (20/1)
Post Time: 5:15 p.m. EST
Distance:1 ⅛ Miles
Purse:$500,000
The $500,000 Juddmonte Spinster Stakes (Gr. 1) is the feature race in the US on Sunday. This is the biggest of them all. Go with Dunbar Road and powerhouse Letruska on your shortlist.
Dunbar Road is 6 for 14 with an acceptable strike rate. She hasn't won since July 11, though. That was a 3 length win over Saracosa in the $400,000 Delaware Handicap (Gr. 2). Good effort, but Dunbar Road hasn't been back since then.
It isn't like Dunbar Road has been entering easy races. In her most recent attempt, she finished 4th on August 28 in the $600,000 Personal Ensign Stakes (Gr. 1). Down to the Juddmonte Spinster, Dunbar Road should have a better chance at going in.
Letruska has to be the one to beat here. She is 16 for 21 and one of the finest mares in the land at the moment.
The powerhouse is 16 for 21 in her career, and is on a four-timer since April 17. She has gone 1st, 1st, 2nd, 1st, 1st, 1st, 1st in her last eight attempts.
Letruska beat Bonny South by a half length in the $600,000 Personal Ensign (Gr. 1). Dunbar Road is back against Letruska, and should get closer, but Letruska likely has this.