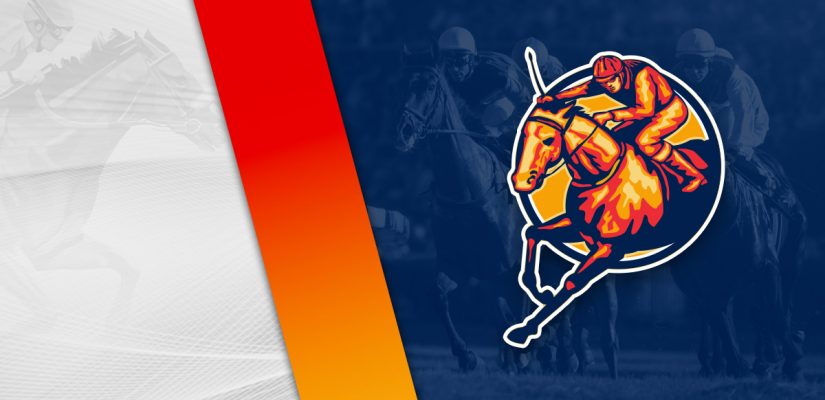 The Wednesday card at BetOnline features Keeneland in Lexington. It's a day for Keeneland to dominate, as they don't have much competition when it comes to other racecourses. Their next biggest competition is probably Indiana Grand or Delaware Park. In other words, Keeneland is going to attract the biggest handle on Wednesday without question.
$25 Risk-Free Horse Racing Bet!
Breeders' Cup qualifying events are all done, but Keeneland has another $500,000 event this weekend. The running of the $500,000 Queen Elizabeth II Challenge Cup (Gr. 1) on the turf is scheduled for Saturday afternoon.
As far as Wednesday is concerned, Keeneland is putting on the $200,000 Chase Jessamine Stakes (Gr. 2). Keeneland has a total of eight races, four on the dirt and four on the turf for $674,000. Head below for our free Keeneland picks for October 13, 2021.
Race 1
(1) Living For Today
+800 (8/1)
(2) Benedictinesisters
+500 (5/1)
(3) Bees And Honey
+160 (8/5)
(4) Super Sport
+600 (6/1)
(5) Lady Clementine
+400 (4/1)
(6) Code Name Lise
+250 (5/2)
Post Time: 1:00 p.m. EST
Distance:7 Furlongs
Purse:$50,000
Race 1 is a $50,000 event covering 7 furlongs on the dirt. Look for Code Name Lise and Bees And Honey to go on well in this assignment.
Code Name Lise has finished 12th and 4th in her career. She opened her career in 12th as a rookie on July 23 for a $55,000 purse.
That was disappointing, but Code Name Lise showed improvement on September 9 at Kentucky Downs. The filly ran a better one to go 4th for a $50,800 purse. That was more like it for Code Name Lise.
Bees And Honey has finished 3rd and 2nd in her career, with two solid races to begin her career. She showed 3rd for a $51,000 prize, and then placed 2nd behind Dame Cinco by 4 ¾ lengths in another $51,000 event.
She's been fast in a recent workout on October 5, with a solid time of 47.80 seconds at 4 furlongs. Code Name Lise needs improvement, and Bees And Honey could probably get through for a win with the same effort.
Race 4
(1) Stand Tall (1A) First Course
+250 (5/2)
(2) Undistributed
+1200 (12/1)
(3) Enjoyitwhilewecan
+350 (7/2)
(4) Ask Bailey
+1000 (10/1)
(5) Talk Radio
+3000 (30/1)
(6) Cat's Pajamas
+350 (7/2)
(8) Peter's Kitten
+1000 (10/1)
(9) Spanx Legacy
+1000 (10/1)
Post Time: 2:36 p.m. EST
Distance:1 ½ Miles
Purse:$88,000
Race 4 covers 1 ½ miles on the turf for a $88,000 purse. It's a sizable event with ten horses expected to participate.
Stand Tall and First Course are coupled in this one, and I'd avoid First Course. If Stand Tall is scratched and it leaves First Course running then consider passing on Stand Tall.
Stand Tall is expected to compete with Honor Hop for the win. Honor Hop is a two-time winner through 12 assignments.
She most recently defeated Longpants Required by 2 ½ lengths for a $145,800 purse. That was an impressive bid from Honor Hop, as she took over going into the stretch and kicked clear.
Honor Hop has finished 5th, 6th, 2nd, 1st in her previous four attempts. She placed 2nd behind Kitten by the Sea by 1 ¼ lengths in a $60,000 race before that win.
Stand Tall is 2 for 11 in her career, and has finished 1st, 2nd, 3rd, 5th in her previous four attempts. She most recently won in April in a $81,000 event over Peter's Kitten by 3 ¼ lengths for a $81,000 purse.
Since then, Stand Tall has been racing higher in class, including a recent appearance in the $550,000 Kentucky Downs Ladies Marathon on September 12. All things considered, it wasn't a bad run to finish 5th against that competition. A repeat race should be sufficient versus this field.
Race 5
(1) Storming Lion
+350 (7/2)
(2) Violent Pass
+250 (5/2)
(4) Mists Of Time
+600 (6/1)
(5) Beer Chaser
+600 (6/1)
(6) One Fast Cat
+140 (7/5)
Post Time: 3:08 p.m. EST
Distance:6 ½ Furlongs
Purse:$41,000
Race 5 is our final selection at Keeneland for Wednesday, but we'll be back later on this coming weekend. One Fast Cat and Violent Pass should do something in the stretch in this one.
Violent Pass is a one-time winner across eight attempts with a winning run on April 25, 2020. That was a 1 ¾ length win for Violent Pass, who has finished 12th, 5th, 4th, 8th, 2nd since then.
He showed some promise in his most recent attempt, which puts him in good standing for Wednesday. Violent Pass placed 2nd behind Greener Pastures by 2 ½ lengths for a $66,000 purse. The same should result in another close finish for Violent Pass.
One Fast Cat has finished 1st, 3rd, 3rd in his career so far. As a rookie on February 4 at Turfway Park, One Fast Cat beat Jerry's Secret by a half length for a $32,000 purse. One Fast Cat transferred to Keeneland and Churchill Downs and still found success.
She showed 3rd in a $81,000 event on April 3 at Keeneland, and then went to Churchill Downs to show 3rd in a $118,000 event on May 1. One Fast Cat is coming on nicely and has a big chance in Race 5 at Keeneland today.