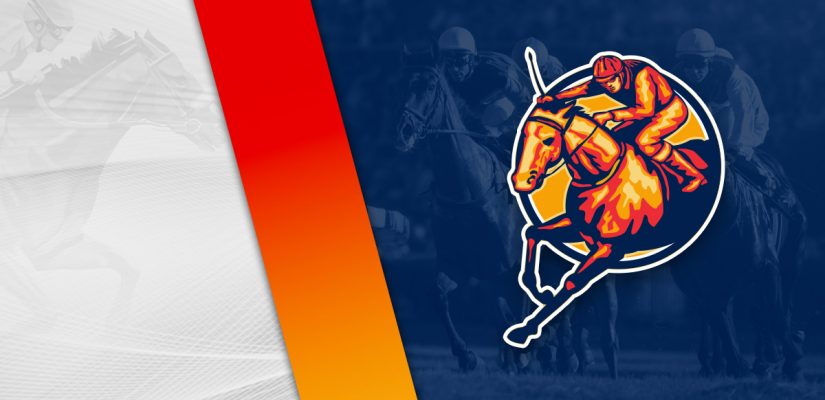 Keeneland had a fun day of racing on Wednesday, which ended up being a profitable attempt in Lexington. It was also a winning day at Penn National Race Course, and just one spot away from a perfect day with an underdog. Continuing on from the weekend, it's been a successful stretch of horse racing selections on the racetrack.
There isn't any stakes racing on Thursday, but Belmont Park and Keeneland are both available for wagering. It's a big stakes day at Remington Park on Friday. It's a rare opportunity for the Oklahoma based track to have a chance in the spotlight. Remington Park has ten racecourses, with the running of the $175,000 Oklahoma Classics Cup scheduled tomorrow.
$25 Risk-Free Horse Racing Bet!
For our first look on Thursday, we're heading to Keeneland for three selections. Keeneland has a total of ten races with $554,000 in prize money available. Head below for our free Keeneland picks for October 14, 2021.
Race 1
(2) Enter Sandwoman
+450 (9/2)
(3) Italian Twin
+200 (2/1)
(4) Katie's Belle
+350 (7/2)
(5) Beyond A Million
+350 (7/2)
Post Time: 1:00 p.m. EST
Distance:1 1/16 Miles
Purse:$35,000
Race 1 covers 1 1/16 miles on the dirt for a $35,000 purse. Look to Katie's Belle and Italian Twin to be in the mix in the stretch run. Both should be in serious consideration.
Katie's Belle is a one-time winner through ten attempts, and has been involved in nine of her races. The mare has finished in the top-3 in nine straight performances.
In her previous three attempts, Katie's Belle has finished 2nd, 2nd, 1st. She is coming off a 2 ¼ length win over My Tommy Lee for a $25,000 purse at Indiana Grand.
Prior to that run, she placed 2nd behind Sacred Peace by ¾ lengths in a $34,000 assignment. That was encouraging, but she transfers from Indiana Grand to Keeneland where tougher foes await.
Italian Twin is a one-time winner on February 25 at Gulfstream Park. She bested Irazu by a half length for a $32,000 purse. Italian Twin has been at Saratoga recently, showing 3rd in back-to-back events on August 1 and August 25.
In her most recent attempt, Italian Twin showed 3rd in a $40,000 assignment on August 15. This was after showing 3rd on August 1 in a $52,000 event, losing by 3 ½ lengths. Look for the No. 3 to come on strong.
Race 2
(2) Greedy Algorithm
+1500 (15/1)
(4) Lola Flo
+1200 (12/1)
(5) Waters Of Merom
+300 (3/1)
(6) Mizhipzletus
+350 (7/2)
(7) Classical Romance
+350 (7/2)
(8) Redrightreturning
+1000 (4/1)
Post Time: 1:32 p.m. EST
Distance:1 1/16 Miles
Purse:$35,000
Race 2 is a $35,000 event covering 1 1/16 miles on the dirt. Luckywise and Waters of Merom should be the ones to watch in the stretch.
Luckywise has finished 8th, 5th, 7th in his career, and is looking for better on Thursday afternoon. The filly is seeing a class drop in this one after going 7th on September 24 in a $120,000 assignment.
She finished 5th in a $51,000 assignment on September 3. Her step down in class should greatly help her put a better effort forward. Waters of Mermom should be the one to give Luckywise problems.
Waters of Merom has finished 2nd and 5th in two attempts. As a first-time runner on August 23 for a $34,000 race, Waters of Merom placed 2nd behind Sea Level. In her next and most recent attempt, she finished 5th in a $92,000 assignment.
A class drop back down to a place she's more comfortable with should help considerably. Look for Waters of Merom to go close and she's getting good value.
Race 4
(1) Glassato
+1200 (12/1)
(2) Declare The Moon
+1200 (12/1)
(3) Barber Road
+800 (8/1)
(4) Not That Serious
+600 (6/1)
(5) Crazy Genius
+400 (4/1)
(6) Brazil Nut
+1500 (15/1)
(7) Lemonadeatthelatch
+160 (8/5)
Post Time: 2:36 p.m. EST
Distance:1 1/16 Miles
Purse:$35,000
Race 4 covers 1 1/16 miles for a $35,000 purse on the dirt this afternoon. Look for a bold bid from Loonshot and Lemonadeatthelatch to have a chance at going in for the win.
Loonshot has finished 4th, 9th, 2nd, 2nd in four assignments. In his previous two attempts, Loonshot placed 2nd behind Exclaim by a half length for a $19,000 purse.
Loonshot placed 2nd behind Rich Strike by 17 ¼ lengths, as Rich Strike stomped all over that field for a $50,000 purse.
Lemonadeatthelatch has finished 2nd and 6th in his two-race career. The colt looked good out of the gate as a rookie on August 20. He placed 2nd behind Red Knobs by 6 ¼ lengths for a $51,000 purse.
He regressed to 6th in his last start on September 12 at Kentucky Downs. Lemonadeatthelatch finished 6th for a $135,000 purse. All the way down to $35,000 for the easiest race of his young career, expect Lemonadeatthelatch to be a big player.