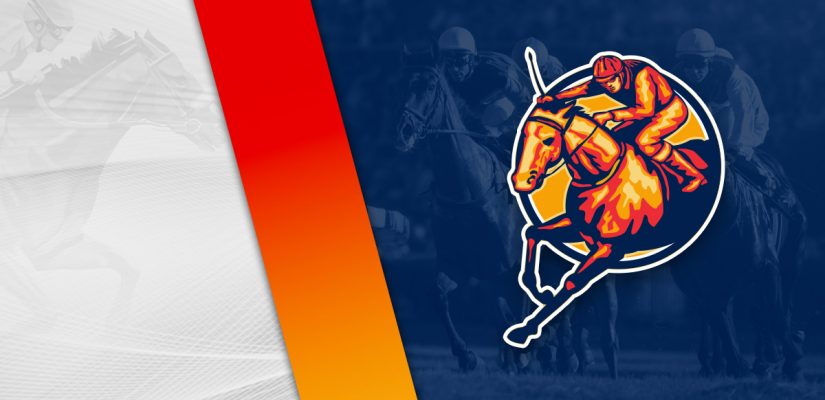 BetOnline has nine racecourses for wagering on Thursday. There isn't anything noteworthy on the card, but more than enough to handicap. Aqueduct Racetrack and Fair Grounds are probably the most popular tracks that are operating this afternoon.
You can find evening cards tonight, with Turfway Park, Lone Star Park, and Charles Town to name a few at BetOnline. The big race of the weekend is scheduled to be held at Los Alamitos with the running of the $300,000 Los Alamitos Futurity (Gr. 2).
You may not want to see him, but Bob Baffert is going to be involved in the Los Alamitos Futurity with Messier. There are people that don't want to see Baffert around another racetrack. Not that this isn't anything new even before Medina Spirit's death.
We're at Fair Grounds and Los Alamitos Race Course on Thursday afternoon. Los Alamitos has eight races worth $281,000 on this card. Head below for our free Los Alamitos Race Course picks for December 9, 2021.
Race 4
(1) Little Susie
+2000 (20/1)
(2) Belleo's Music
+800 (8/1)
(3) Premiumonsaturday
+800 (8/1)
(4) Self Isolation
+200 (2/1)
(5) All Dialed In
+400 (4/1)
(6) Kitten's Kid
+120 (6/5)
Post Time: 1:58 p.m. PST
Distance:5 ½ Furlongs
Purse:$52,000
Race 4 is a $52,000 event covering 5 ½ furlongs on the dirt. Self Isolation and Kitten's Kid should be in top form in this event.
Self Isolation has finished 3rd, 9th, 6th in her career. In her opener, Self Isolation showed 3rd for a $50,000 purse. That was a fine effort, but didn't do much in two races since.
She finished 9th on October 1 in a $61,000 assignment, and then most recently 6th in a $70,000 event on November 21 at Del Mar. This grade should put Self Isolation somewhere close at the wire.
Kitten's Kid is winless in four attempts, going 2nd, 3rd, 2nd, 2nd. She's done everything but win. In her last outing, Kitten's Kid placed 2nd behind Issa Court by 1 ¾ lengths for a $70,000 purse.
Prior to that attempt, she placed behind Big Summer by a nose in a $61,000 race. In the lowest grade of her career, Kitten's Kid should be worth a look.
Race 5
(2) Governor Goteven
+400 (4/1)
(3) Hennys Crazy Train
+800 (8/1)
(4) Founder's Day
+600 (6/1)
(5) Donut Girl
+2000 (20/1)
(6) Althea Gibson
+300 (3/1)
(7) Alice Marble
+250 (5/2)
(8) Mylittlerunaway
+800 (8/1)
Post Time: 2:28 p.m. PST
Distance:5 ½ Furlongs
Purse:$55,000
Race 5 is a $55,000 event covering 5 ½ furlongs on the dirt. Look at Hennys Crazy Train and Alice Marble for your shortlist.
Hennys Crazy Train could have a better chance than the odds indicate here. He's 4 for 8 with some decent runs as of late.
Hennys Crazy Train has finished 1st, 1st, 5th in her previous three outings. She was a back-to-back winner on September 19 and October 22.
In the first of those two outings, Hennys Crazy Train beat Duplicitous by a half length for a $72,000 purse, and then followed up for a ¾ length win in a $49,000 event on October 22 at Keeneland.
The filly couldn't do it at Del Mar in her most recent outing on November 25 for a $47,000 prize, slipping to 5th in disappointing form.
Alice Marble has finished 9th, 4th, 5th, 1st, 1st, 3rd in her career. She was a back-to-back winner before getting stopped before a hat-trick as well.
Alice Marble beat Delta Wind by a neck for a $61,000 purse, and then a 1 ½ length win at $63,000 on June 12. She settled for 3rd in her latest outing on July 31 at Del Mar for $72,000.
She's moving down in grade past the $63,000 mark she was running well in. Alice Marble needs some respect in this one.
Race 7
(1) Coruscation
+800 (8/1)
(2) She's So Shiny
+200 (2/1)
(3) Work to Live
+1500 (15/1)
(5) Marceletta
+400 (4/1)
(6) Macho Queen
+1500 (15/1)
(7) Unfaithful Ways
+500 (5/1)
Post Time: 3:28 p.m. PST
Distance:6 Furlongs
Purse:$36,000
Race 7 is for a $36,000 purse on the dirt. This 6-furlong event should garner attention to She's So Shiny and Ardis.
Ardis is making her debut on Thursday, and should be able to get involved early on in her career. Despite being a rookie, she's shown some promising elements in workouts.
Ardis was timed at 47.60 seconds at 4 furlongs on November 27 a workout session at Santa Anita Park. In her last work, Ardis ran 5 furlongs in 1:01.00 on December 4.
She's So Shiny is winless in eight attempts, but should have a chance versus this field. She most recently looked good at Del Mar on November 26.
She's So Shiny showed 3rd on November 26 for a $36,000 prize. That was a decent effort after going 4th on November 12 for $70,000.
On a transfer to Los Alamitos, this looks like a winnable assignment for her. There are no excuses for She's So Shiny against this competition.