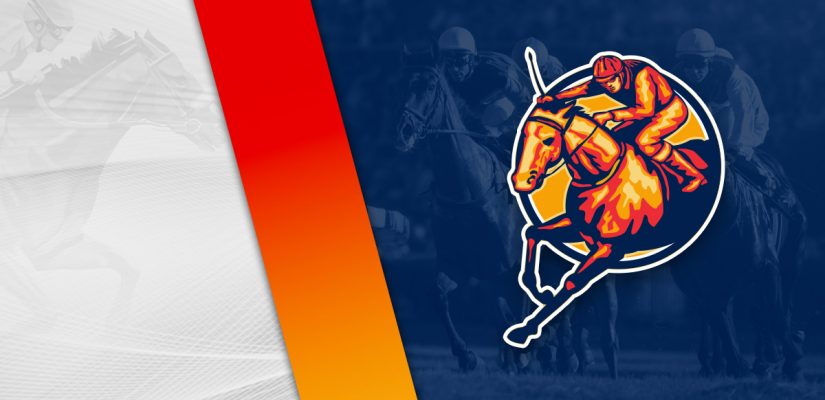 It's Haskell Day on Saturday. Monmouth Park in New Jersey will host the running of the $1,000,000 (Gr. 1) Haskell Stakes. It marks the return of Bob Baffert to the racetrack, as his suspension has been fulfilled for entering his horses in races. He will be welcome at the Breeders' Cup in Kentucky despite his suspension from Churchill Downs.
Breeders' Cup Challenge Series
The Haskell is a qualifying event for the Breeders' Cup, so there is some extra intrigue in this race. There is a total of $3,059,000 in prize money on the card, with six stakes races on the docket.
We'll play the Haskell and looking for two more races at Monmouth. Head below for our best Monmouth Park picks and Haskell Stakes picks for July 23, 2022.
Race 4
(1) I Can Run
+1000 (10/1)
(2) Early Edition
+1000 (10/1)
(3) Firenze Edition
+300 (3/1)
(4) April Antics
+3000 (30/1)
(5) Suspended Campaign
+450 (9/2)
(6) Big Bad Diva
+250 (5/2)
(7) Irish Dream Girl
+800 (8/1)
(8) Dia de Sol
+600 (6/1)
(10) Ready to Flim
+800 (8/1)
The fourth event at Monmouth is one of the smaller races, with a $60,000 purse up for grabs over a mile and 70 yards. Suspended Campaign and Big Bad Diva are on my shortlist of potential winners in Race 4.
Suspended Campaign is 3 for 19 and winless in her previous four attempts. She won a $55,000 race by a neck in March, but held out of the winner's circle since then.
The filly has finished 4th, 3rd, 5th, 5th in four races since the win. In her latest start, Suspended Campaign finished 4th for a $60,000 purse. She will need more against Big Bad Diva.
Big Bad Diva is 3 for 14 and a likely contender after what she did in her latest performance. The filly has finished 2nd, 6th, 4th in her previous three races.
Three months ago, Big Bad Diva placed 2nd behind Beth's Dream for a $51,000 purse. She lost that one, but her workouts have been encouraging. Manny Franco has a big chance on Big Bad Diva.
Race 10 – Molly Pitcher Stakes
(1) Leader of the Band
+600 (6/1)
(2) Pennybaker
+500 (5/1)
(3) Search Results
+150 (3/2)
(5) Beth's Dream
+600 (6/1)
(6) Shalimar Gardens
+1500 (15/1)
(7) Bonny South
+300 (3/1)
Race 10 at Monmouth is the $400,000 Molly Pitcher Stakes (Gr. 3) on the dirt. Look at Search Results and Bonny South to get involved. These are both talented horses that are going to have a chance.
Bonny South is well-respected in her career, with appearances in some tough Grade 1 events. She has finished 4th, 2nd, 2nd in her previous three starts on the track.
In her latest performance, Bonny South finished 4th in the $500,000 Ogden Phipps Stakes (Gr. 1) on June 11. That was solid given the terms after placing 2nd behind Malathaat by ¾ lengths in the $300,000 Baird Doubledogdare Stakes (Gr. 2) on April 22.
This is a tough assignment for Bonny South with Search Results in the field. Bonny South has to show some strong kick in the stretch run.
Search Results is 5 for 9 and has finished in the top-3 in all nine attempts. She has finished 3rd, 1st, 3rd in her latest three, with a winning trip in the $200,000 Ruffian Stakes (Gr. 2) two races back. In her latest performance, Search Results had a solid effort in the Ogden Phipps.
Search Results showed 3rd, with a 6 ¾ length advantage on Bonny South in that one. She's carried herself well in workouts since then, clocked at 47.75 seconds in a recent 4-furlong try. Search Results is likely the best in this field.
Race 12 – Haskell Stakes
(1) Cyberknife
+600 (6/1)
(3) One Time Willard
+3000 (30/1)
(4) Howling Time
+1000 (10/1)
(5) King of Hollywood
+3000 (30/1)
(6) White Abarrio
+500 (5/1)
(7) Jack Christopher
+150 (3/2)
(8) Benevengo
+2000 (20/1)
Race 12 is the $1,000,000 TVG.com Haskell Stakes (Gr. 1). It's one of the biggest races of the summer. We could see a duel between Taiba and Jack Christopher in this one.
Taiba is back after failing badly in the Kentucky Derby on May 7. He had raced in just two races before the Derby and was the most inexperienced horse in the race.
Despite the loss in the Derby, Taiba had strong speed figures in the $750,000 Santa Anita Derby (Gr. 1). He won by 2 ¼ lengths over Messier, but faded in his next assignment in the Derby.
Taiba finished 12th and never was a threat to the leading runners. If he runs like that it's going to be another tough day, but from the No. 2 spot, expect much better.
Jack Christopher is a perfect 4 for 4 and can make it 5 for 5 on Saturday. Chad Brown believes he has a horse to beat Baffert and I agree.
Jack Christopher is coming off a $400,000 Woody Stephens Stakes (Gr. 1) win by 10 lengths in a blowout. This was after winning the $500,000 Pat Day Mile Stakes (Gr. 2) by 3 ¾ lengths.
Taiba is a worthy foe, but I'm going with Jack Christopher in a small upset over Baffer in his return.