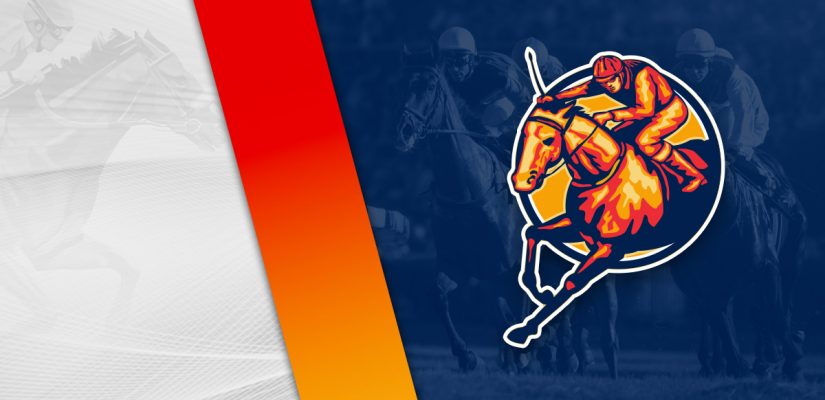 The Belmont Stakes is in the books, and it proved that Rich Strike missing the Preakness Stakes didn't mean anything. Kentucky Derby winner Rich Strike passed on the Preakness and then lost the Belmont Stakes, leaving us without a "what if."
Mo Donegal Crowed at Belmont Park
Mo Donegal closed as the favorite and won the Belmont Stakes. My horse, We the People, led most of the way but weakened in the stretch. It was still a profitable Triple Crown season with the Preakness Stakes win.
Now it's on to summer racing and the lookahead to the Breeders' Cup in November. Our first play on Sunday afternoon is at Monmouth Park. Monmouth has 11 races worth $474,875 in prize money. Head below for our best Monmouth Park picks on June 12, 2022.
Race 1
(1) Bright Venezuelan
+450 (9/2)
(2) Lady Teuflesberg
+2000 (20/1)
(3) Torn Jeans
+600 (6/1)
(4) Donya's Magic
+400 (4/1)
(6) Melancholy Blues
+1500 (15/1)
(7) Nothins Free
+1000 (10/1)
(8) She Broke My Heart
+350 (7/2)
(9) Charlotte Webley
+1500 (15/1)
(10) Wedontbelieveher
+450 (9/2)
The opener at Monmouth Park is a $27,500 event covering 5 ½ furlongs on the turf. Look at She Broke My Heart and Odramark to deliver big-time performances.
She Broke My Heart has won twice in 13 assignments in her career. The mare is 7th, 8th, 3rd in her previous three attempts.
In her most recent attempt, She Broke My Heart struggled in 7th at Parx for a $21,000 purse. That was disappointing, though she was not interested.
Before that trip, she finished 8th in a $34,857 event. She's a wildcard, but can win if interested on Sunday. Odramark is 6 for 26 and 4th, 3rd, 1st, 2nd in her previous four attempts.
Odramark struck three races back in a $34,000 race on January 19. She beat Flying Black by 2 lengths in a nice display. Odramark dropped back to 4th for $34,000 on March 12.
On a transfer from Gulfstream Park with a class drop to Monmouth, Odramark should be the one to beat.
Race 5
(1) Insatiable
+350 (7/2)
(2) Patty Cakes
+1200 (12/1)
(3) Lost My Sock
+200 (2/1)
(4) Summer of Mischief
+1000 (10/1)
(5) Band Sweetheart
+800 (8/1)
Post Time: 2:07 p.m. EST
Distance:5 ½ Furlongs
Purse:$57,000
Race 5 is a $57,000 event covering 5 ½ furlongs on the turf. Lost My Sock and Benbang should be top contenders to watch in this one. Benbang has appeared in four races, finishing 2nd, 4th, 6th, 1st in her career.
She has stakes experience, with lukewarm results in the $300,000 Spinaway Stakes (Gr. 1) on September 5 at Saratoga and $100,000 Stewart Manor Stakes on November 6.
In her last showing, Benbang placed 2nd behind Golden Bell by a half-length in a $60,000 event on May 15. That was a fine effort and she should look fine on Sunday afternoon.
Lost My Sock has finished 7th, 4th, 4th, 1st in four races. She opened her career with an $80,000 win by a head on December 3.
Following that attempt, Lost My Sock went up in class, notably most recently in the $100,000 Soaring Softly Stakes (Gr. 3) on May 28. The filly finished 7th and will try something much easier in this one.
I'd give Lost My Sock a strong look to find the winner's circle this afternoon.
div class="picksBox">
Best Bet
Race 8
(1) Respect for All
+800 (8/1)
(2) Gone Astray Kiss
+2000 (20/1)
(5) Lion Charmer
+120 (6/5)
Race 8 is a $23,000 event covering 1 1/16 miles on the dirt. Umbrage and Lion Charmer are top contenders to win at Monmouth.
Umbrage is a good value bet to consider. The price should be right for Umbrage. He is a two-time winner in 20 attempts, with results of 3rd, 6th, 9th in his previous three trips.
In his latest attempt, Umbrage showed 3rd for a $25,250 purse on May 28. Back in August, Umbrage finished 6th in a $30,000 race. The layoff was probably good for him.
Lion Charmer is 2 for 31 and in good form recently. He finished 2nd, 3rd in his last two races, placing 2nd behind Liveyourbestlife by 1 ¾ lengths for $22,400.
This was after showing 3rd in a $20,000 race on May 7. A change in distance to 1 1/16 miles should suit him well.