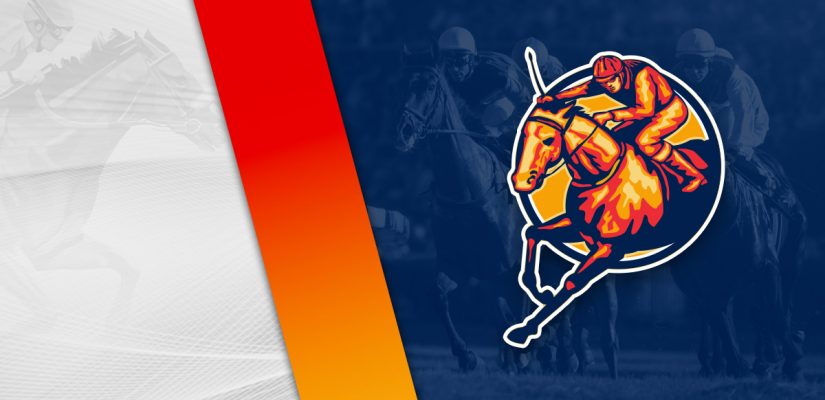 We're on the horse racing grind Sunday afternoon at a couple of tracks. It was an upset at Belmont Park in the Man o' War Stakes on Saturday afternoon.
Highland Chief won in an upset over a capable field. It wasn't as big of an upset as Rich Strike or anything close to that race, but Highland Chief wasn't on the radar in the Man o' War.
He won as a 20/1 underdog, the longest shot in the race. The Irish bred Highland Chief held on over Gufo and Yibir who were coming on hard in the stretch run. Yibir just didn't break well out of the gate and couldn't recover.
The feature on Sunday is the $150,000 Jacques Cartier Stakes (Gr. 3) at Woodbine in Toronto. The biggest stakes race in the US is the Gold Fever Stakes at Belmont Park.
We're starting the day at Monmouth Park for the first time this season. Monmouth has $448,000 in prize money available. Head below for our best Monmouth Park picks on May 15, 2022.
Race 3
(1) Always Aware
+600 (6/1)
(2) Office Etiquette
+600 (6/1)
(3) Practical Paulie
+500 (5/1)
(4) Princess Lean
+800 (8/1)
(5) My Maggie Moo
+600 (6/1)
(6) World Traveler
+150 (3/2)
(7) Cupids Girl
+400 (4/1)
Race 3 is a 6-furlong assignment worth $57,500 on the dirt. Expect good work from Cupids Girl and World Traveler in this one.
Cupids Girl is winless in five attempts, finishing 10th, 3rd, 2nd, 5th, 5th in five races. In her most recent outing, she finished 10th for an $80,000 prize.
That was tough after showing 3rd on February 25 in the same grade. She had just placed 2nd in an $80,000 race, so it was discouraging.
Down to $57,500, Cupids Girl must be taken seriously on Sunday afternoon. Her biggest foe is likely World Traveler.
World Traveler made her debut on April 14 at Aqueduct. She did well to show 3rd in an $80,000 assignment. It was something to build on and her workouts are promising.
A repeat of that performance at this level should be sufficient. Look for World Traveler to get the win.
Race 5
(1) Canoochee
+1200 (12/1)
(2) Liam's Lady
+2000 (20/1)
(4) Successful Legacy
+400 (4/1)
(5) Not a Trace
+500 (5/1)
(8) Golden Grant
+600 (6/1)
Race 5 is a $29,000 event covering a mile and 70 yards on the dirt. Not a Trace and Obstinate should have a big chance in this one.
Not a Trace is 3 for 17 and 8th, 2nd, 2nd, 1st in his previous four outings dating back to a win on January 25.
The filly struck for a $21,000 purse on January 21. Since then, it's been a struggle to go back to the winner's circle, though came close a couple of times.
She most recently finished 8th for a $30,000 prize on April 12. I'm not sure if she should be in this class, but the field isn't the toughest.
Obstinate is 4 for 26 and 4th, 1st, 1st in her previous three attempts. Her hat-trick bid was blocked on April 12 at Parx.
Obstinate finished 4th for a $30,000 purse. Despite the loss, the mare had a $25,000 and $45,000 win by 5 ¼ lengths prior to the loss.
Scott Lake likely has a winner with the $150,000 Obstinate on Sunday.
Race 6
(2) Magia Nera
+200 (2/1)
(5) Cognitive Bias
+500 (5/1)
(7) Supreme Being
+1500 (15/1)
Post Time: 2:32 p.m. EST
Distance:1 Mile 70 Yards
Purse:$57,500
Race 6 is a $57,500 event covering a mile and 70 yards. Look at Mutasallem and Magia Nera to run a tough race in this one.
Mutasallem is 2nd, 3rd, 2nd, 2nd, 2nd, in five career races. He most recently placed 2nd behind Celtic Heart by 1 ¼ lengths in a $42,000 race.
That was a decent effort after showing 3rd in a $52,118 event on April 10. Mutasallem is back up in class and looking for more in a $57,500 race.
Magia Nera should be the toughest to keep up with in Race 6. He is 7th, 2nd, 5th in the first three events of his career.
In his last attempt, Magia Nera couldn't handle a $100,000 event on April 9. Magia Nera previously looked sharp, placing 2nd behind Iconic Adventure by a neck for $60,000.
He's back at that level, with a slightly easier assignment awaiting at Monmouth Park on Sunday afternoon. Magia Nera appears like the best play in Race 6.