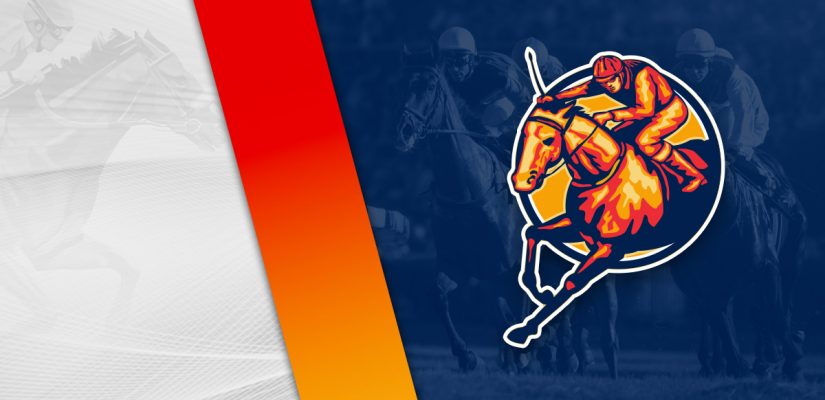 We have Monday Night Football and Mountaineer Park for wagering this evening. There isn't any baseball, as Game 6 of the World Series will be played on Tuesday night in Arlington. That leaves a void tonight, but at least there is a Monday night NFL game. If you're a horse racing fan, Mountaineer Park is there if you want to bet the ponies in West Virginia tonight. I happen to like football and horse racing, so I'm fine with the small sports betting card.
$25 Risk-Free Horse Racing Bet!
Major League Baseball could come to an end on Tuesday, or Wednesday at the latest, so then it's going to get fairly quiet before college basketball returns in November. Horse racing is going strong, and I can do with midweek football for now. If you can expand your horizons outside of the US, the elite soccer leagues in Europe are going strong at the moment.
Mountaineer Park has nine races on the card for a total of $83,900 in prize money. We will dig into the card and try to locate three winning horses for Monday night. If you're looking for afternoon horse racing picks, check out what we have for Parx on Monday. Head below for our free Mountaineer Park pick for October 26, 2020.
Race 2
(1) Giant Viking
+800 (8/1)
(2) Captain Cholo
+1500 (15/1)
(3) Mr. Nobody
+800 (8/1)
(4) Tiz Neyney and Rad
+500 (5/1)
(5) Key to the Nile
+1500 (15/1)
(6) Leaving Home
+1200 (12/1)
(7) Governor Machen
+1000 (10/1)
(8) Pablo's Quest
+800 (8/1)
(9) Jerry the Bull
+2000 (20/1)
(10) Trooper Thorn
+120 (6/5)
Post Time: 7:22 p.m. EST
Distance:6 Furlongs
Purse:$6,800
Race 2 is our first stop at Mountaineer Park on Monday night. This is a 6-furlong event for a modest purse of $6,800. Tiz Neyney and Rad and Trooper Thorn are likely going to be the strongest runners in this race. Tiz Neyney is catching some favorable odds on the morning-line at 5/1. She is 1 for 12 in her career, with six straight losses after winning on February 5 at Fair Grounds.
Tiz Neyney and Rad ran a strong race to finish 3 lengths ahead of Swinging Galaxy in a $14,000 event in February. She had a 1 length lead at the top of the stretch and was never in danger of losing. It's by far the most impressive performance by Tiz Neyney and Rad of her career. Since that win, she has gone 2nd, 6th, 7th, 5th, 5th, 3rd. In her most recent outing, she showed 3rd in a $11,500 event on September 16.
Down in class to a $6,800 race, you have to feel confident in Tiz Neyney and Rad running a close outing here. If she doesn't win, she'll be close at the wire regardless. Her biggest foe in this one has to be Trooper Thorn. Trooper Thorn has finished 9th, 1st, 11th, 2nd, 2nd in her career. In her win on June 12, 2018, Trooper Thorn won by 2 lengths in a $14,100 race. She went on a layoff, but has been in good form of late.
Trooper Thorn placed 2nd behind Chocologist by 7 lengths on September 30, and then 2nd behind Starship Fonzy as the favorite by a neck. This horse is heading in the right direction and should be within striking distance in the stretch. If she can hold Tiz Neyney off in the stretch, a win is going to be in the cards for Trooper Thorn on Monday.
Race 6
(2) Frosted Justice
+800 (8/1)
(3) Congrats Golda
+1500 (15/1)
(4) Barker Lane
+1200 (12/1)
(5) Woody's Reward
+1000 (10/1)
(6) Becausehecandoit
+1000 (10/1)
(7) Oui Say No
+1500 (15/1)
(9) Coco Loco Mama
+1500 (15/1)
(10) Symphony Hall
+500 (5/1)
Post Time: 8:50 p.m. EST
Distance:5 ½ Furlongs
Purse:$6,900
This is another modest race at Mountaineer on Monday night with a purse of $6,900 on offer. Mi Bella and Merengue are likely going into the stretch with a head of steam in Race 6. Mi Bella has shown some nice form recently and looks to build on two strong appearances on September 29 and October 13.
She won by 3 ½ lengths over Princess Kiah in a $6,800 event in September for her first win in ten attempts. Mi Bella was able to follow up less than two weeks ago to place 2nd in a $6,900 race. That was a loss by a head for the filly, so despite the loss, ran a strong enough race to win there. Similar form should bring Mi Bella close to a win on Monday.
Merengue is 2 for 13 in her career, and has been in the best form of her career recently. She won back-to-back performances on September 8 and September 22. Merengue won with ease by 5 ¼ lengths in a $8,500 event, and then followed up for another win by 2 lengths. That was a wire-to-wire win for Merengue in the same class. She had to duel going into the stretch, but edged away from Susies Who with room to spare.
In her most recent outing, Merengue placed 2nd in a $10,700 event to lose by a neck. She could have easily won that tougher race, but was on the wrong side that time. Merengue was a fairly decent underdog in that one, so there weren't high expectations for that one, but she went above and beyond the call of duty. That effort would be more than enough against this field.
Race 7
(1) High Score
+800 (8/1)
(2) Tramore Bay
+3000 (30/1)
(3) Truffles and Gold
+1000 (10/1)
(4) In the Game
+180 (9/5)
(7) Picky Picky Picky
+1500 (15/1)
(8) Gatto Rosso
+600 (6/1)
Post Time: 9:12 p.m. EST
Distance:5 ½ Furlongs
Purse:$17,800
Race 7 is the co-feature event of the night in West Virginia at Mountaineer Park. We could have a duel in this one between In the Game and Fibertown. In the Game has finished in the top-3 in six of her previous seven performances, including a win in her most recent performance on October 14 in a $15,500 event by 8 ¾ lengths over Princess Power.
This was following another solid performance on October 3 to place 2nd behind Gio Sammy in a $8,500 race. The jump in class actually helped and didn't hurt. In the Game and Gio Sammy dueled in that race, with In the Game getting edged out by a head. She just needed to compete for more money and that was the trick to get her to the winner's circle.
In the Game might have to duel again on Monday. This time it would probably be against Fibertown. Fibertown has had a similar path to go 2nd and 1st in his previous two outings. He placed 2nd behind Strong Heart by a head in a $17,800 event, and then 1st on September 17 in a blowout by 8 ¼ lengths at the $20,200 level. Similar road, but Fibertown has been in bigger events. I'm with Fibertown to get the job done at Mountaineer on Monday night.