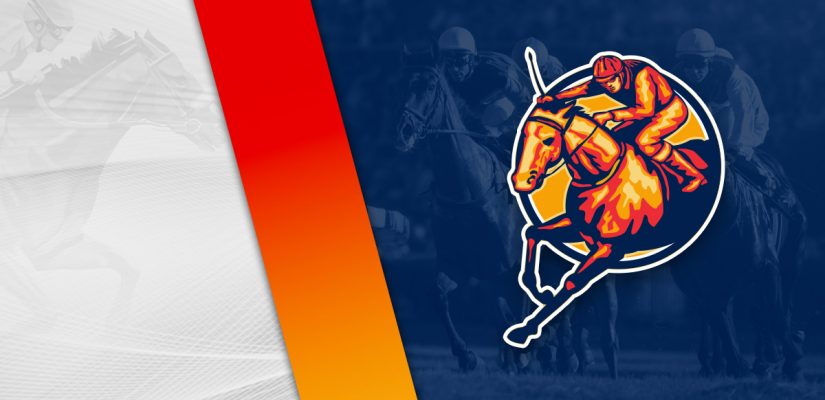 We have four race tracks to handicap at the BetOnline racebook. Two of four tracks are covered for the Monday slate at TheSportsGeek. It isn't the biggest day by any means, but hopefully a winning one nonetheless.
Parx has a rare midweek $200,000 stakes race on the card tomorrow. The running of the Pennsylvania Nursery Stakes is expected to run on Tuesday afternoon. Parx also has a Monday card. One of our two plays on Monday is going to be in Philadelphia.
On the card this afternoon, Parx is offering ten races for $230,500 in prize money. Head below for our free Parx Racing picks for December 6, 2021. Check out Turf Paradise for more horse racing picks on Monday.
Race 2
(1) One Pair of Hands
+800 (8/1)
(2) Escalando
+1500 (15/1)
(3) Cup of Life
+180 (9/5)
(4) Ruby Doobo Doo
+1500 (15/1)
(5) Balboa's Smile
+600 (6/1)
(6) She's Got Game
+400 (4/1)
(7) Princess Emma Jo
+350 (7/2)
(8) Miss Atocha Star
+600 (6/1)
Post Time: 12:37 p.m. EST
Distance:6 Furlongs
Purse:$19,000
Race 2 at Parx is a $19,000 assignment covering 6 furlongs. She's Got Game and Cup of Life appear to be solid choices to win this one.
She's Got Game finished 6th in her opener on November 16 for a $26,000 purse. She is open for improvement and should do well against this field down in grade.
If she is getting a good price at post time, then She's Got Game could be worth considering. At 4/1, I think she is certainly worth a look at least.
Cup of Life has finished 3rd, 3rd, DNF, 3rd in four attempts. In her latest attempt, she showed 3rd in a $24,000 event on October 26. That was solid work.
After staying consistent in that grade in 3rd, Cup of Life is going to drop to the $19,000 level on Monday. This field shouldn't pose too many problems if she wakes up wanting to run this morning.
Race 3
(1) Big Bad Bud
+300 (3/1)
(2) Big City Ralph
+400 (4/1)
(3) Kristi's Copilot
+1200 (12/1)
(4) Noon Time Gem
+180 (9/5)
(5) Dr Harlan
+1200 (12/1)
(6) Goldenlineof
+800 (8/1)
(7) Espresso Caliente
+500 (5/1)
(8) Mass Appeal
+1500 (15/1)
Post Time: 1:04 p.m. EST
Distance:7 Furlongs
Purse:$18,000
Race 3 is a $18,000 race covering 7 furlongs on the dirt. Big Bad Bud and Noon Time Gem are going to be worth considering.
Big Bad Bug is 5 for 24 in his career, and has finished 1st, 4th, 5th in his previous three outings. Three races back, Big Bad Bug beat Monteleone by 3 ¾ lengths for a $26,000 purse.
In his most recent attempt, though, he finished 5th for a $26,000 race on September 28. He has a big chance for improvement in this one at the $18,000 level.
Noon Time Gem is 4 for 37 in his career. In his latest attempt, Noon Time Gem defeated Kings Highway by 3 ¼ lengths for a $22,000 purse.
That was an impressive wire-to-wire attempt from Noon Time Gem. This was after finishing 6th on October 11 for a $22,000 prize, so the improvement was definitely present.
Noon Time Gem should have the best chance of getting a win in this spot.
Race 9
(2) Lawlessness
+1200 (12/1)
(3) Commissioner G
+500 (5/1)
(4) Souper Energizer
+1500 (15/1)
(6) Mahomes Money
+1000 (10/1)
(7) Big City Bob
+300 (3/1)
(8) Spectacular Kid
+1200 (12/1)
(9) Nimble Beast
+400 (4/1)
(10) Cant Stop This Man
+600 (6/1)
Post Time: 3:46 p.m. EST
Distance:7 Furlongs
Purse:$25,000
Race 9 is a $25,000 event covering 7 furlongs on the dirt. Maine and Big City Bob should have a strong presence in this one.
Maine is a two-time winner in 21 attempts through his career. He has finished 5th, 1st, 2nd in his last three attempts.
Maine beat Lawlessness by 3 ½ lengths for a $25,000 purse on November 16. This was after going 7th, 6th, 5th in three races.
Maine finished 5th on September 20 for a $25,000 purse. He was able to show nice improvement, but wasn't able to follow up most recently on November 16.
In that outing, Maine placed 2nd behind Burn and Turn after getting disqualified. He won by a neck, but DQ'd in the $25,000 race after interference. Must be considered.
Big City Bob should be tough versus this field. He is 2 for 12 and has some stakes experience, including graded in 2019 in the Champagne Stakes (Gr. 1) for 3rd.
In his last outing, Big City Bob placed 2nd behind Eddie's Charge by a head on November 15 for a $25,000 prize.
At 7 furlongs, this should be in Big City Bob's wheelhouse. I like what he is showing going into Monday.