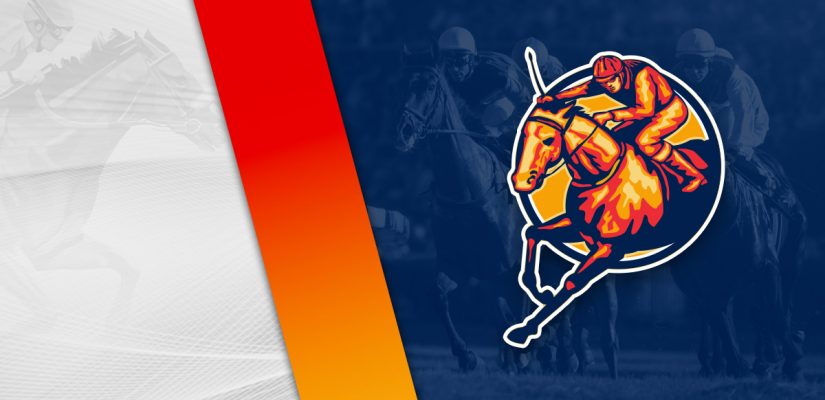 We are back on the racetrack Tuesday afternoon in North America. It's only Tuesday, but Bob Baffert is the center of attention, and not the attention he wants again. Kentucky Derby winner Medina Spirit collapsed in a training session at Santa Anita Park because of a heart attack.
Coming from a trainer that has had several horses collapse in the past, and has been in the middle of doping scandals, it's going to be hard for him to receive much sympathy. It's certainly not coming from me. This isn't a one-time incident for Baffert to give him any more free passes.
BetOnline has five racecourses scheduled for betting on Tuesday. Parx has the running of the $200,000 Pennsylvania Nursery Stakes this afternoon. That's a big card for a Tuesday. For our first look on Tuesday, we're heading to Parx in Philadelphia.
Parx has ten races for $484,000 in prize money on the card this afternoon. Head below for our free Parx Racing picks for December 7, 2021.
Race 6
(1) Jamminwithbrandon
+350 (7/2)
(2) Blugrascat's Smile
+600 (6/1)
(5) Kingsville
+500 (5/1)
(6) They Shot Sonny
+450 (9/2)
(7) Manolete
+1200 (12/1)
(8) Relishment
+1200 (12/1)
Post Time: 2:25 p.m. EST
Distance:1 1/16 Miles
Purse:$28,000
Race 6 is covering 1 1/16 miles for a $28,000 purse on Tuesday afternoon. Jamminwithbrandon and Sevier should have a chance to go in here.
Jamminwithbrandon is 6 for 41 in his career, and has finished 7th, 3rd, 2nd in his previous three attempts. He finished 7th on October 11 for a $28,000 purse, and then showed 3rd in his next outing on November 8.
Jamminwithbrandon showed 3rd for a $26,000 purse, and then did a spot better to place 2nd behind Ty Ran a Homer by 1 length in the same grade. He is going to have a chance to get this done.
Sevier is 17 for 49 in his career, and has been in consistent form. He's finished 1st, 1st, 2nd, 2nd in his previous four outings.
Sevier defeated Silver Edge by 6 ½ lengths in a $50,000 race. That was impressively done. Following that attempt, Sevier placed 2nd for a $36,050 purse, and then did the same most recently in a $28,000 race.
He doesn't have to show too much more improvement to secure the top prize on Tuesday.
Race 7
(1) Shesalittle Edgy
+180 (9/5)
(2) Madam Meena
+350 (7/2)
(3) Hey Mamaluke
+800 (8/1)
(5) I'm the Talent
+350 (7/2)
(6) Promised Start
+1200 (12/1)
Post Time: 2:52 p.m. EST
Distance:6 ½ Furlongs
Purse:$48,000
Race 7 covers 6 ½ furlongs on the dirt for a $48,000 purse. Madam Meena is 9 for 19 with a pretty good strike rate in her career.
She looks good and should see a challenge from Shesalittle Edgy. Madam Meena is looking to get back into the winner's circle after finishing 4th, 5th, 5th, 3rd after a win on February 26 for a $49,961 purse.
In her last attempt, Madam Meena showed 3rd for $57,120. This was after finishing 5th on October 18 in a $48,000 race.
Shesalittle Edgy is 6 for 16 and has gone top-3 in nine straight races. She had a hat-trick from August 31 to October 21, with a $28,000 win most recently by 1 ½ lengths.
She came back on November 12 at Aqueduct and couldn't get the fourth win in a row. Shesalittle Edge did place 2nd behind Vegas Weekend by ¾ lengths up in grade in a $84,000 race.
That was impressive and showed Shesalittle Edgy can play with the bigger girls. Back down to $48,000, a win awaits with the same form.
Race 9 – Pennsylvania Nursery Stakes
(1) Dance Code
+600 (6/1)
(3) Wispering Springs
+600 (6/1)
(4) Uncle Buddy
+300 (3/1)
(7) Center Mid Maddie
+800 (8/1)
(8) Champion By Design
+800 (8/1)
(9) Champion By Design
+800 (8/1)
Post Time: 3:50 p.m. EST
Distance:7 Furlongs
Purse:$200,000
The Pennsylvania Nursery Stakes is the feature race on Tuesday and of this week. Ten horses are scheduled to run 7 furlongs for a $200,000 purse at Parx.
Uncle Buddy and Disco Ebo should have a strong say in the stretch run. Uncle Buddy is a two-time winner through two appearances.
He beat Lady G by 3 ¾ lengths for a $27,100 purse on debut at Penn National on July 9. In his next and most recent attempt, Uncle Buddy did it again with a 5 ¾ length for a $28,000 win. That was impressive, but this is a huge step up in class for a $4,500 colt.
Disco Ebo has finished 2nd, 2nd, 1st, 1st, 1st in five outings on the track. She comes into Tuesday off a hat-trick, with her latest win on November 26 at Penn National.
Disco Ebo beat Burano by 5 ¾ lengths in the $200,000 Shamrock Rose Stakes. That was too good from Disco Ebo after a blowout in a $28,000 assignment on October 26 by more than 10 lengths.