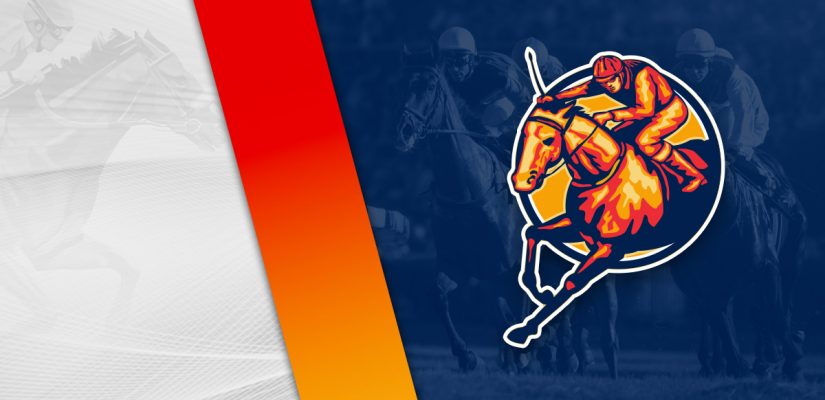 We're on the afternoon and evening grind on the horse track Tuesday. BetOnline has a decent card with four thoroughbred racecourses, a quarter horse meet, and some harness racing. The quarter horse card is at Louisana Downs if that's what you are interested in this afternoon.
We are playing Fair Grounds and Parx on Tuesday afternoon. New Orleans and Philadelphia are in our sights
Penn National has eight races worth $117,700 in prize money beginning at 6:00 p.m. EST. Head below for our best Penn National Race Course picks for March 1, 2022.
Race 2
(1) Makeajoyfulnoise
+180 (9/5)
(4) Going Going Gone
+600 (6/1)
(5) Above the Limit
+300 (3/1)
(6) Call the Po Po
+600 (6/1)
(7) Lady Bernadette
+1200 (1/1)
Post Time: 1:22 p.m. EST
Distance: 5 ½ Furlongs
Purse:$25,000
The second race at Penn National is a $25,000 assignment covering 5 ½ furlongs on the dirt. Look for Sea Fret and Makeajoyfulnoise to do something with this race.
Sea Fret is a one-time winner through 13 assignments. He is coming on recently, finishing 2nd, 1st, in her previous two races.
The mare placed 2nd behind Cal the Po Po by 1 ½ lengths for a $19,000 purse on January 19. She came back on February 9 to beat Outline by 4 ¾ lengths for $23,000 on February 9.
Sea Fret should have a quality chance in this one. Makejoyfulnoise has a serviceable opportunity to block that, though.
Makejoyfulnoise is 1 for 6 and could make good in this one. In her most recent attempt, she placed 2nd behind Espernsita by 2 ½ lengths for a $25,000 purse. That was good.
This was after Makeajoyfulnoise showed 3rd on March 19 in a $61,000 assignment. Back in the $25,000 class, Makeajoyfulnoise should be competitive here.
Race 3
(1) Louie's Wish
+400 (4/1)
(2) Spring Emperor
+600 (6/1)
(3) Flight Risk
+450 (9/2)
(4) Blugrascat's Smile
+800 (8/1)
(5) Monteleone
+200 (2/1)
(7) Off the Meds
+500 (5/1)
Post Time: 1:49 p.m. EST
Distance: 1 Mile 70 Yards
Purse:$19,500
Race 3 is a $19,500 event covering a mile and 70 yards on the dirt. Flight Risk and Monteleone should be considered for a win in the third outing at Penn National.
Flight Risk is 6 for 39 in his career and finished 2nd, 1st, 1st, 9th in his previous four outings. He won two races back in a half-length win for $21,000 over America Rona.
That was his second win in second trips after a 6 ¾ length win over Staynsidethecircle for an $18,000 purse. Everything was going well until faltering hard on November 30.
Flight Risk finished 9th in a $26,000 race. That class hike didn't work, but down to $19,500 again, expect better.
Monteleone is 10 for 53 in his career. He is 4th, 4th, 7th in his previous three looks. After 7th on January 10 for a $26,000 purse, Monteleone is dropping to a $19,500 race.
He previously ran well in a tougher class, so this one should be easier for Monteleone. Expect him to be a big runner with the best chance of success.
Race 4
(1) Raging Temptest
+600 (6/1)
(2) Et's Toy Solider
+450 (9/2)
(3) Fighter Jet
+600 (6/1)
(6) Jean Valjean
+400 (4/1)
(7) Issuing Justice
+600 (6/1)
Post Time: 2:16 p.m. EST
Distance:6 Furlongs
Purse:$26,000
Race 4 carries a $26,000 purse covering 6 furlongs. Et's Toy Solider and Enforcer should be serious contenders in the fourth race.
Et's Toy Soldier will make his debut on Tuesday with something productive expected. He was clocked at 1:00.65 on February 9 at 5 furlongs. However, hasn't been close to that time in other workouts.
If Et's Toy Soldier runs how he did on February 9 then expect something good to happen. Enforcer should be there to pick up on his weakness if not, though.
Enforcer is 5th, 4th, 4th, 5th in four races. No success yet, but he has the experience and down in class versus inexperienced runners.
Enforcer most recently finished 5th on January 31 in a $26,000 race. While that doesn't look good, this appears like a more manageable assignment in the same grade.
I'm backing Enforcer to get home for the first time in his career.