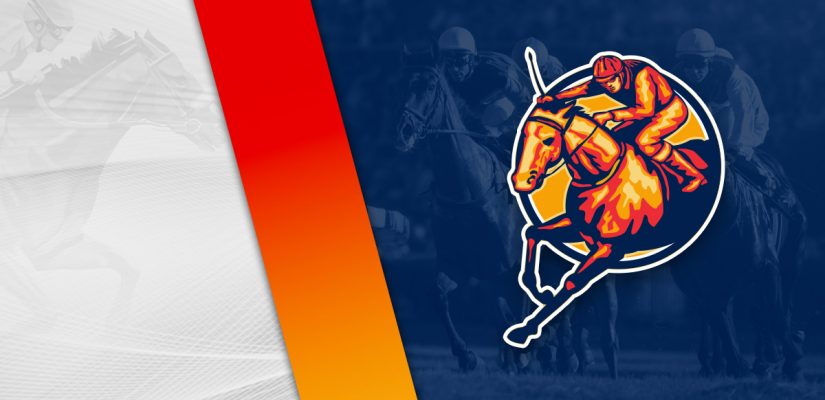 There's small time racing on Tuesday at BetOnline. The BetOnline racebook is offering nine thoroughbred tracks in North America for wagering. The biggest action is at Parx in Philadelphia.
They have a $100,000 stakes race with the running of the $100,000 M.P. Ballezi Appreciation Mile. This is the only stakes race offered on Tuesday in North America.
$25 Risk-Free Horse Racing Bet!
The weekend brings another feature event to beautiful Keeneland in Lexington. The $500,000 Queen Elizabeth II Challenge Cup (Gr. 1) is scheduled on the turf Saturday.
Note that there are no more Breeders' Cup qualifying events. Those are all settled. All that's left is to run the Breeders' Cup in November at Del Mar.
Our first look Tuesday is at Parx. The racecourse in Philadelphia has nine races worth $490,000. Not bad at all for a weekday card. Head below for our free Parx picks for October 12, 2021.
Race 1
(1) Couch Dreams
+1000 (10/1)
(2) Bob In Our Midst
+800 (8/1)
(5) Eddie's Charge
+1000 (10/1)
(6) Expensive
+2000 (20/1)
(7) Rated Special
+800 (8/1)
(8) Lt. Colombo
+2000 (20/1)
(9) Commissioner G
+1200 (12/1)
(10) Peter G. Fox
+2000 (20/1)
(11) Hoistthemainsail
+400 (4/1)
(13) Law Of The Land
+450 (9/2)
(15) Private Network
+600 (6/1)
Post Time: 12:55 p.m. EST
Distance:1 1/16 Miles
Purse:$40,000
The first event at Parx is a $40,000 event covering 1 1/16 miles on the turf. This is a big field with 15 horses expected to participate.
Sophos will run if this race is moved to the main track on the dirt. Expect Ride Em and Duquesne to show up with acceptable attempts.
Ride Em is a one-time winner through seven races, with a winning performance on April 3. That was a big effort from Ride Em to go in with a $13,450 10 ½ length win in a blowout.
He's been up in class since then, and has consistently finished well recently. Ride Em has shown 3rd in three straight races, most recently for a $60,000 purse on September 25.
Duquesne is going to give a good go closer to the inside. He's a one-time winner in five attempts, with a victory in his most recent outing on September 26.
Duquesne offed Surfing by a half length for a $71,495 purse. Impressive run from Duquesne, who showed 3rd in three straight races at Monmouth leading up to that win. Prior to the win, Duquesne showed 3rd in the same class. This assignment affords him a good chance of another win.
Race 2
(1) Sweet Willemina
+120 (6/5)
(2) Fed Policy
+450 (9/2)
(3) Like A Pro
+500 (5/1)
(4) Blue Shine
+1000 (10/1)
(5) Mon Cherie
+1500 (15/1)
(6) Obstinate
+200 (20/1)
(7) Canoochee
+1200 (12/1)
(8) Always A Queen
+800 (8/1)
(9) Beatubyachubinose
+1000 (10/1)
(10) Tomarie
+1500 (15/1)
Post Time: 1:23 p.m. EST
Distance:1 Mile
Purse:$42,000
Race 2 will take a mile to complete on the dirt. Look for Fed Policy and Sweet Willemina to potentially do some damage in the stretch.
Fed Policy is 5 for 30 in her career, and has finished in the top-3 in 10 attempts. Fed Policy has finished 12th, 6th, 4th in her previous three outings.
She finished 12th on August 24 in a $65,000 event after getting disqualified. Despite 12th, Fed Policy won the race by a head only to be disqualified for interference.
The filly surged hard in the stretch, but it went for nothing. In her next two attempts, she finished 6th in a $45,000 assignment, and then 4th most recently for another $45,000 prize.
Sweet Willemina is 6 for 20 in her career, and has won five straight events. In her most recent attempt, she won the $100,000 Salvatore M. Debunda by 7 lengths.
That was too easy, yet Sweet Willemina is down to $42,000. Prior to the win, Sweet Willemina won down in class for a $40,000 prize on August 18. This looks like a winnable spot for Sweet Willemina.
Race 3
(1) Lucky Hero
+2000 (20/1)
(2) The Want Of A Nail
+1000 (10/1)
(3) Hollywood Jet
+350 (7/2)
(4) Irish Riviera
+250 (5/2)
(5) What's To Blame
+800 (8/1)
(7) Screen Saver
+800 (8/1)
(8) Jw's Third Mischie
+1500 (15/1)
Post Time: 1:51 p.m. EST
Distance:6 ½ Furlongs
Purse:$42,000
Race 3 is a $42,000 event covering 6 ½ furlongs on the dirt. Look for Hollywood Jet and Irish Riviera to do something worthwhile in this event.
Hollywood Jet is 3 for 8 in his career, and has finished 1st, 3rd, 1st in his previous three attempts. He was a winner on July 21 for a $25,000 purse, then came back and showed 3rd on August 24.
Hollywood Jet made good on his most recent attempt, as he beat The Big Bluff by 1 ¾ lengths for a $25,000 purse. Up in class, Hollywood Jet is probably going to require more, though.
He will be joined by Irish Riviera in the stretch. 3 for 15, Irish Riviera has been in good form recently. He's finished in the top-3 in six straight races since May 15.
Irish Riviera most recently won on July 21. The gelding beat Lease by 1 ½ lengths for a $25,000 prize.
He came back to go 2nd in back-to-back attempts. Against this field, there's a good chance that Irish Riviera gets back to the winner's circle. The No. 4 is worth considering.