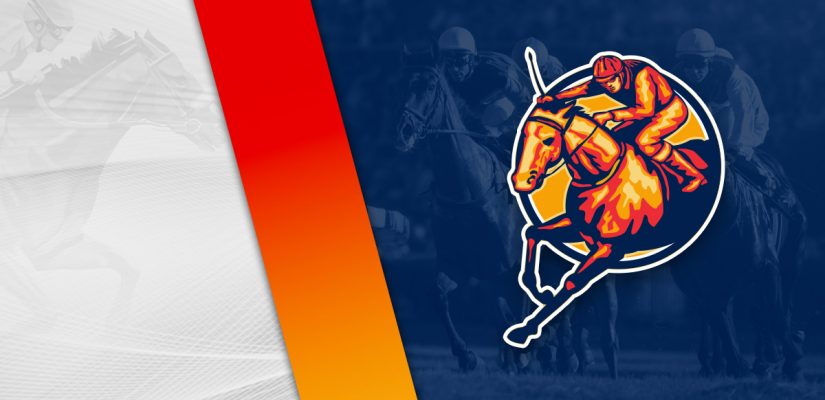 BetOnline has horse racing on Tuesday with four thoroughbred race tracks available for wagering. We're starting at Turf Paradise and then checking out an evening card at Penn National Race Course. Friday brings some stakes racing, but you aren't going to find anything of the sort on Tuesday.
Remington Park has a big day coming up, as they have five races led by the $400,000 Remington Springboard Mile. Along with the Springboard Mile, there are two $100,000 assignments at Remington Park on Friday. The OKC based track doesn't get the spotlight typically, so this is a day for them.
Penn National has nine races worth $168,000 in prize money this evening in Pennsylvania. Head below for our free Penn National Race Course picks on December 14, 2021.
Race 5
(1) All Tacked Up
+300 (3/1)
(2) Nine Toe Johnny
+250 (5/2)
(3) Gallinipper
+800 (8/1)
(6) Long Tom
+1200 (12/1)
(7) Tuckerton Bay
+400 (4/1)
(8) Piggybank
+1000 (10/1)
Post Time: 7:49 p.m. EST
Distance: 1 Mile 70 Yards
Purse:$31,600
The fifth event at Turf Paradise covers 5 furlongs on the turf. All Tacked Up and Nine Toe Johnny should have a chance on the grass today.
All Tacked Up is looking for better after finishing 1st, 3rd, 2nd in his previous three outings. He was a solid winner three races back with a win by a neck over Elevated Forever in a $15,400 assignment.
In his last two treks, All Tacked Up showed 3rd in a $16,400 assignment on November 1, and then did a spot better to place 2nd behind Papa Tony by a half-length in the same grade.
All Tacked Up is up in grade to the $31,600 level on Tuesday. This is going to be tougher, but he should be able to hang around.
Nine Toe Johnny is a one-time winner through 10 attempts, with a win back on February 15 in his three attempts. He has gone winless since then, but should avoid these terms after a transfer from Parx.
Nine Toe Johnny most recently finished 8th on October 20 for a $45,000 purse after showing 3rd on September 13 for $35,000.
A transfer to Turf Paradise should do him some good. This $31,600 assignment looks more than manageable for Nine Toe Johnny to take down.
Race 6
(2) John's Promise
+1000 (10/1)
(3) The Wolfman
+600 (6/1)
(4) Annamated Moon
+800 (8/1)
(5) Almendro
+1500 (15/1)
(6) Jebologist
+600 (6/1)
(7) Martinkelly
+1500 (15/1)
(8) R Rajun Bull
+300 (3/1)
(9) Rookie Salsa
+600 (6/1)
Post Time: 8:16 p.m. EST
Distance:6 Furlongs
Purse:$28,900
Race 6 covers 6 furlongs for a $28,900 purse on the dirt. Look at Rookie Salsa and R Rajun Bull should have a big chance in this one.
Rookie Salsa is 6 for 20 in his career, and has finished 2nd, 1st, 3rd, 1st, 2nd in his previous five races.
The gelding was a big winner on October 28 at Laurel Park with a W W Springtime by ¾ lengths in a $29,260 assignment.
After that outing, Rookie Salsa placed 2nd behind Kenny Had a Notion by a neck for $57,720 on November 11. That form would put Rookie Salsa right there at the wire.
R Rajun Bull is 5 for 12 and on a hat-trick going into Tuesday. In his latest attempt, R Cajun Bull beat Powerfully Built by a neck in a $28,900 race.
That win came after a 2 ¼ length win in a $28,000 assignment on October 8. He's a winner at this level, and should have a big chance Tuesday as well.
Race 7
(2) Eskendereya's Gift
+800 (8/1)
(3) All The Way Mae
+800 (8/1)
(4) Merry Mischief
+500 (5/1)
(5) Empress Neferiti
+300 (3/1)
(6) As You Were
+250 (5/2)
Post Time: 8:43 p.m. EST
Distance:1 Mile 70 Yards
Purse:$11,800
Race 7 goes for a $11,800 purse covering a mile and 70 yards. Empress Nefertiti and As You Were should be the top runners to watch.
Empress Nefertiti is winless in 14 races, and has finished 4th, 2nd, 5th, 4th in his last four attempts. In his most recent outing, he finished 4th for a $11,800 race after finishing 5th on November 16 in a $11,800 assignment on November 16.
The form is going to have to see some improvement, but should have a decent enough chance. Look for As You Were to provide the most resistance in this one against Empress Nefertiti.
As You Were is winless in seven races, finishing 4th, 2nd, 4th in her last three outings. She put together a good run two races back behind Tangoberg to lose by a neck in a $16,000 race.
That was good form, as she just missed out at the wire. In her next and most recent outing, As You Were finished 4th for a $16,000 prize on November 23.
It was a fine run, though As You Were needs a drop in grade to go to the winner's circle. Down to $11,800, this can do it for As You Were in Race 7.