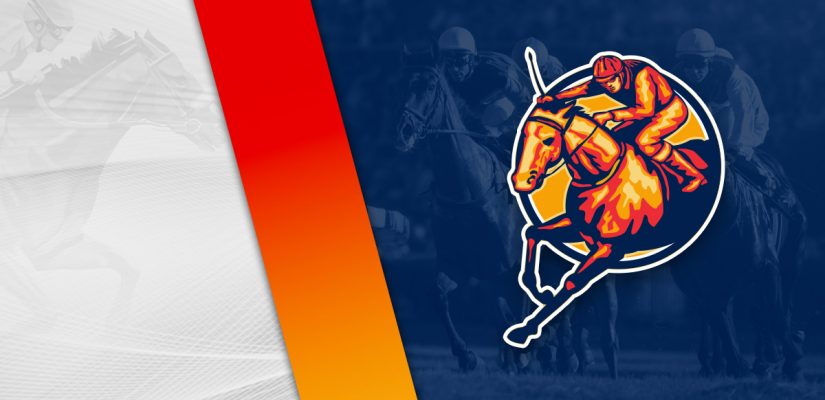 Christmas weekend is in the books and we're back to normal programming on Tuesday. We were spoiled with a bunch of racecourses operating yesterday. BetOnline had six, including Santa Anita Park and Fair Grounds.
BetOnline has three tracks for wagering on Tuesday afternoon and an evening card. I'm playing an afternoon and evening card for today.
You can find Turf Paradise picks in the desert, and check out Penn National Race Course in Pennsylvania for the evening hours. Parx some $100,000 stakes racing, but nothing to note.
The next stakes races to note are on Pegasus events at the end of January in Hallandale Beach at Gulfstream Park. That's the biggest racing we've had since the Breeders' Cup.
Penn National has nine races with $141,200 in prize money available this evening. Head below for our free Penn National Race Course picks for December 28, 2021.
Race 2
(1) Rainbow Trout
+250 (5/2)
(2) Mizshipman
+800 (8/1)
(4) Oh So Jazzy
+600 (6/1)
(5) African Song
+600 (6/1)
(6) Lightning Round
+450 (9/2)
(7) Leftatthealtar
+350 (7/2)
Post Time: 6:27 p.m. EST
Distance: 1 Mile
Purse:$10,800
Race 2 covers a mile on the dirt for a $10,800 purse. Rainbow Trout and Show Maid should have a strong case in the stretch run.
Show Maid has a decent enough chance of scoring for the first time since May 28. The filly has gone winless since that $11,800 win.
She has finished 4th, 7th, 3rd in her last three attempts. In her most recent race, Show Maid showed 3rd in a $10,800 trip. This was after faltering in 7th in the same grade.
If Show Maid can continue improving after looking good recently, she is going to have a chance on Tuesday. Rainbow Trout will provide her with a big test.
Rainbow Trout is 3rd, 2nd, 4th, 1st in four attempts. In her latest attempt, Rainbow Trout beat Happywifehappylife by a half-length for $16,400 on November 24.
This was after finishing 4th on November 10 for a $17,000 purse. Cutting down to $16,400 helped plenty, so down to $10,800 should really help.
Expect Rainbow Trout to have the upper hand in Race 2.
Race 4
(1) Thomas Knight
+1000 (10/1)
(2) Buddy's Run
+400 (4/1)
(3) Daytime Lover
+350 (7/2)
(4) Mass Appeal
+1200 (12/1)
(5) Coast to Coast
+600 (6/1)
(6) Bluegrass Posse
+8000 (8/1)
(7) Start Cashin
+1000 (10/1)
(8) Thurman Merman
+600 (6/1)
(9) True Wisdom
+1200 (12/1)
(10) Rocket Blast
+600 (6/1)
Post Time: 7:22 p.m. EST
Distance:6 Furlongs
Purse:$10,800
Race 4 covers 6 furlongs on the dirt for a $10,800 prize. Consider looking at Daytime Lover and Buddy's Run. They should be competitive in the stretch run.
Daytime Lover is 4 for 30 in his career and finished 1st, 8th, 4th in his previous three attempts. He was a winner three races back at Monmouth Park for a $25,000 purse.
Daytime Lover beat Katie's Cowboy by a neck in an impressive showing for his first score since June. He dropped to 8th for $21,000 on October 9.
Daytime Lover finished 4th on December 1 for a $19,500 assignment. Down to $10,800, Daytime Lover must be taken seriously in this spot.
Buddy's Run presents nice value here. He has finished 4th, 2nd, 1st in his last three outings. In his most recent attempt, he's coming off a $14,300 win by 2 ¼ lengths.
That was nice improvement after placing 2nd behind Unyielding by ¾ lengths for a $7,900 purse. Buddy's Run is in the best form at the moment and should be the horse to beat.
Race 9
(1) Yes for Less
+1500 (15/1)
(2) Oscar Winner
+800 (8/1)
(4) You've Got Male
+800 (8/1)
(5) Tempting the Tiger
+1200 (12/1)
(7) Royal's Invasion
+1200 (12/1)
(8) Ilovecharlybrown
+800 (8/1)
(9) Masterful Touch
+1200 (12/1)
(10) Pawnbroker
+350 (7/2)
Post Time: 9:36 p.m. EST
Distance: 1 Mile
Purse:$11,800
Our final selection at Penn National is the last race of the day. Race 9 is a $11,800 event covering a mile. Mr. Walsh and Pawnbroker should be the horses to watch in the event.
Pawnbroker is 2 for 16 in his career, looking for a first win since 2019. He has gone winless in ten races since then. In his most recent attempts, Pawnbroker has finished 4th, 9th, 3rd.
In his last outing, Pawnbroker showed 3rd for a $11,800 purse. That was a pretty good kick from Pawnbroker, but failed to have enough for a winning ride.
Mr. Walsh should present a pretty big challenge in Race 9. He is 2 for 10 and should be dangerous on these terms.
Mr. Walsh is 1st, 3rd, 2nd, 7th, 5th in his last four outings. He most recently finished 5th in a $21,000 race at Parx.
After struggling to get back into the win column, Mr. Walsh takes a transfer to Penn National for an easier assignment. On a sizable class drop, look for Mr. Walsh to be a tough runner to beat.