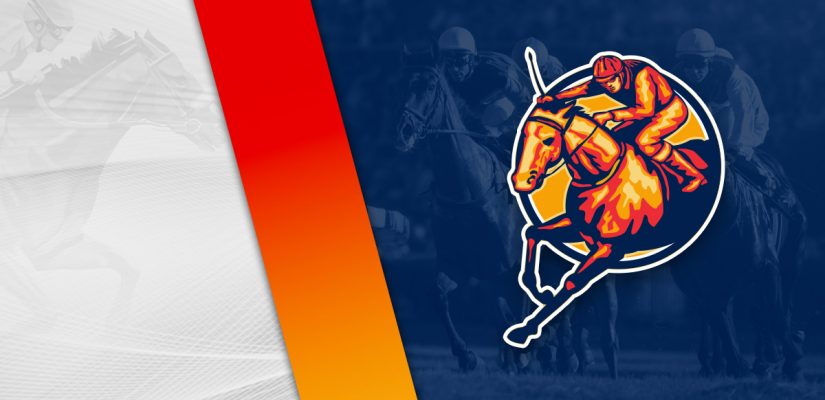 We're off and running on the track again on Friday. BetOnline has 13 courses for wagering in North America today. Some of the big boys are out, as they open their weekend cards, which includes Belmont Park, Keeneland, Santa Anita Park, and Woodbine. Century Mile has a small $50,000 stakes race, and Woodbine has the $100,000 Sweet Briar Too Stakes but other than that, there isn't much for graded events. Penn National Race Course isn't the biggest racetrack with a Friday meeting, but I think we can do something with it. There are three horses that catch my attention in Pennsylvania at Penn National today.
$25 Free Risk-Free Horse Racing Bet!
Penn National Race Course always offers plenty of races. There's typically over ten races on the card, and it's no different for Friday. Penn National has 11 events with a total of $163,300 available in prize money. We'll handicap three races and hopefully find three horses that go to the winner's circle. Head below for our free Penn National Race Course picks for October 23, 2020.
Race 3
(1) Charity Stripe (1A) Take Me Home
+350 (7/2)
(2) Fish to Fry
+250 (5/2)
(4) Brandywines Secret
+1500 (15/1)
(5) Flattering Ruby
+450 (9/2)
(6) Shacklefords Lady
+400 (4/1)
(7) Take Charge Erica
+500 (5/1)
(8) Crystal Clear
+1000 (10/1)
Post Time: 6:52 p.m. EST
Distance:6 Furlongs
Purse:$28,900
We will start with the feature race at Penn National Race Course on Friday evening. A purse of $28,900 is available in the feature event of the day at Penn National. This event will cover 6 furlongs on the main track. The two horses on the inside rail, Charity Stripe and Fish to Fry, should have a good opportunity at wins in this one. Charity Stripe is 14 for 43 in her career with some terrific momentum recently.
She has finished in the top-3 in five straight performances, which includes three wins. Charity Stripe went to the winner's circle on August 31 in a $23,000 event. She delivered an impressive run, as Charity Stripe won by 3 ¾ lengths over Cultural Mandate in the 5 ½ furlong outing. She was unable to follow up on September 17, though, as she showed 3rd in another $23,000 event.
Charity Stripe wasn't close to the winner's circle in that performance. It was a disappointment after she looked really good prior to that effort. Charity Stripe inches up in class to a $28,900 race on Friday. This is going to be slightly more difficult, but still wouldn't be surprised if Charity Stripe makes her presence felt in the stretch run. She is coming off a quick workout time of 34.90 seconds at 3 furlongs on October 10.
Fish to Fry has a more successful win clip at 7 wins in 16 performances. She is coming off a 1 ½ length winner over No Deal after dropping in class on August 21. This was after Fish to Fry went 7th, 4th, 7th in much tougher events. Fish to Fry finished 7th in a $41,000 event on August 12, and then immediately found better results in a $28,900 race. Following that promising outing, Fish to Fry remains in the same class with another winning opportunity on the table.
Race 7
(3) Pecos Bill
+1200 (12/1)
(4) Fireinthepulpit
+250 (5/2)
(5) I B Charly
+1000 (10/1)
(6) Pennsylvania Steel
+160 (8/5)
Post Time: 8:36 p.m. EST
Distance:6 Furlongs
Purse:$15,600
Race 7 is a 6-furlong event with a total of $15,600 on offer at Penn National on Friday. Fireinthepulpit and Pennsylvania Steel likely have a good run in this one for the top prize. Fireinthepulpit is fresh off a win on October 9 for his first win since June 1, 2019. He beat Baggins by a head in a $10,800 event. Based on that performance, a better effort will be needed for a win here.
Prior to that win, Fireinthepulpit placed 2nd in another $10,800 event. He has been competing hard in that class, but his trainer is confident that a jump in class won't hurt. This isn't that much more difficult, so Fireinthepulpit should be able to hang around near the front in the stretch run. Pennsylvania Steel will give him problems, but is likely clear otherwise.
If Pennsylvania has a misstep or runs into bad luck, then there's the opening that Fireinthepulpit can capitalize on. Pennsylvania Steel is 2 for 6 and seeking a hat-trick on Friday night. He won on August 28 in a $11,800 event easily. That was way too easy for Pennsylvania Steel with an 8 length win over Rhythm Guitar.
Pennsylvania Steel followed up for a 2 ¼ length win over Fireinthepulpit on September 25. He completed a nice workout on October 17 in prep work for today. Pennsylvania Steel was clocked at 49.70 seconds at 4 furlongs. Another win and a hat-trick for Pennsylvania Steel shouldn't be too far away on Friday.
Race 8
(1) Twiceaslucky
+1500 (15/1)
(3) Tipsy Moose
+250 (5/2)
(4) Magritte
+1200 (12/1)
(6) Early Entry
+160 (8/5)
Post Time: 9:02p.m. EST
Distance:6 Furlongs
Purse:$11,800
For a $11,800 purse, six horses are scheduled to run 6 furlongs on the dirt. Pictor and Early Entry, who will be lining up right next to each other in the gate, should be close at the wire in this one. Pictor had a much better experience on September 30 than three earlier races, where he finished 8th in three straight performances. After finishing 8th in a $28,900 event on September 11, Pictor was in better company a few weeks later.
Pictor placed 2nd on September 30 in a $10,800 race to get back into focus. Pictor will be looking for his first win since September 25, 2019 on Friday. That was a $42,000 win for Pictor, as he edged out the field by a head for the win. He was a decently sized underdog in that race, and fell back down to earth thereafter. Following the win, Pictor finished 8th, 8th, 8th, 2nd.
Early Entry slides in class today after finishing 6th in a $22,000 event on October 8. He has some stakes experience, with appearances in six of them including a Grade 3 event in 2017. His best performance recently was 3rd on September 21 in a $22,000 event. He's accustomed to competing for purses above the $22,000 mark. This should be a much easier assignment for him. Anything less than a win in this spot would be disappointing for his connections. Having said that, he should be able to oust this beatable field.