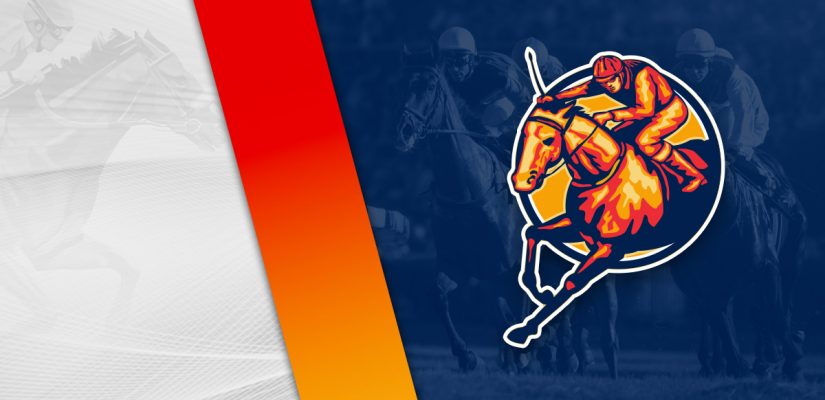 You can pick and choose from a list of some pretty good racecourses on Thursday afternoon and evening. There are good tracks to play in the afternoon and at night under the lights.
The three Triple Crown tracks have cards today. Churchill Downs, Pimlico Race Course, and Belmont Park are all racing. The stakes are lower for the action on Thursday, but there should still be some good racing.
Pimlico Prepping For The Preakness
Pimlico Race Course is back to racing this week in Baltimore. In less than two weeks the Preakness Stakes will be at Pimlico.
Our horse racing plays on Thursday bring us to the scene of the Kentucky Derby and Preakness Stakes. Check out this Churchill Downs link for more horse racing picks today. It's an early evening card for Churchill Downs.
Pimlico Race Course gets started at 12:40 p.m. EST with Race 1. Pimlico has eight races worth $226,000 in prize money. Head below for our best Pimlico Race Course picks on May 12, 2022.
Race 1
(1) Gettin'downonit
+450 (9/2)
(3) Left Hand Thread
+160 (8/5)
(4) Coffeewithchris
+350 (7/2)
(5) Dontinvademyspace
+600 (6/1)
(7) Tiz No Clown
+1200 (12/1)
The first assignment at Pimlico covers 4 ½ furlongs for a $39,000 purse. This is a short sprint to the wire on the dirt.
Coffeewithchris and Left Hand Thread appear like strong contenders for the top prize. Coffeewithchris is winless in one race after finishing 8th on May 1 at Laurel Park.
He didn't have much to offer in that race for a $53,018 purse. Down in class and with a good chance at improvement, Coffeewithchris has to be considered.
Left Hand Thread raced in that event as well, finishing 4th and showing some pretty good kick in the stretch. He came on mildly towards the end of the race.
This looks like a good field for Left Hand Thread to have success on Thursday afternoon.
Race 2
(1) Postino's Secret
+1200 (12/1)
(2) Miss Moreno
+200 (2/1)
(3) Gold Time Vixen
+180 (9/5)
(4) Simmard Shenanigan
+250 (5/2)
(6) Life In Flash
+800 (8/1)
Race 2 is a $17,000 event covering 1 ⅛ miles on the dirt. Miss Moreno and Gold Time Vexen are likely to be involved close to the wire.
Miss Moreno is 3 for 19 and finished 4th, 2nd, 5th, 1st in her previous four outings. Four races back, Miss Moreno beat Love Is Strong by a half-length for a $22,950 purse.
In her most recent, the filly finished 4th for an $11,800 purse on April 28. That could have been better. Is she ready to go back up in class?
This isn't the toughest of races that she's experienced, so maybe there's a chance in this one. Gold Time Vixen should make it tough on her.
Gold Time Vixen is a three-time winner through 17 events. She most recently finished 6th, 3rd, 7th, 1st in her last four outings.
After a $21,828 win on February 27, she hasn't gone back to the winner's circle. In her latest start, Gold Time Vixen finished 6th for a $23,700 prize on April 30.
This race on Thursday should put Gold Time Vixen in a good spot. Look for her to edge out Miss Moreno.
Race 7
(1) Hot Choice
+1000 (10/1)
(2) I'm Blushing
+450 (9/2)
(3) Except Temptation
+350 (7/2)
(4) Why Not Tonight
+300 (3/1)
(5) Quiet Imagination
+1000 (10/1)
(6) Helluva Lady
+1200 (12/1)
(7) My Candy Girl
+350 (7/2)
(8) Who Knows What
+800 (8/1)
Post Time: 4:00 p.m. EST
Distance:1 1/16 Miles
Purse:$40,000
Race 7 is a $40,000 event covering 1 1/16 miles. Except Temptation and Why Not Tonight should be in good form.
Except Temptation is in good form and looking for another win Thursday afternoon. She's 1st, 2nd, 2nd, 2nd in her last four races going into this one.
In her last race, Except Temptation beat Laloba Feroz by 1 ¼ lengths in a $30,000 event. Two months earlier, she placed 2nd behind Copacetic by 3 lengths in the same class.
Why Not Tonight is 3 for 9 and had a hat-trick attempt blocked on January 28. The filly is 7th, 1st, 1st in her last three assignments.
She had a 7 ¾ win on November 27 in a $27,000 attempt. That was much too easy and great form. In her next outing on January 28, she finished 7th in a $70,000 event.
A drop down to $40,000 should put Why Not Tonight in clear contention. Look for her to be the top contender to win Race 7.