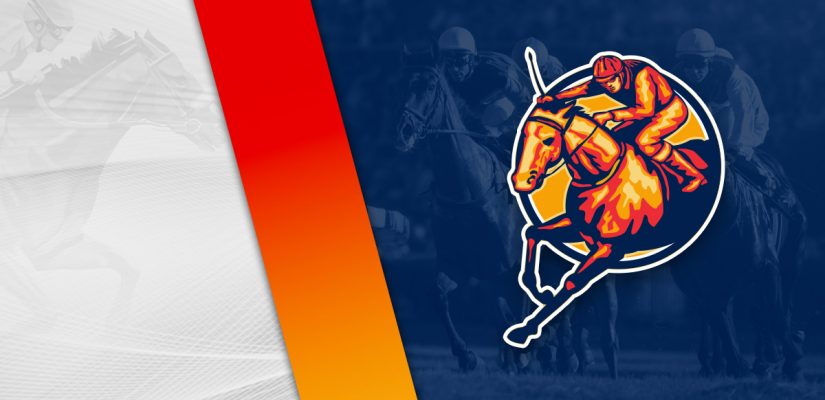 BetOnline has a healthy racecard with at least ten thoroughbred tracks available for betting. That doesn't include the standardbred tracks in North America. BetOnline has four harness tracks, with Yonkers the most notable of the bunch. I don't do a whole lot of harness betting, but when I have, it was profitable. Maybe I will handicap a Yonkers card in the near future for standardbred fans.
The Breeders' Cup is coming shortly at Del Mar, and we'll have a full preview if that interests you. Keep checking back at the blog for the Breeders' Cup Classic preview, likely up this weekend. We're playing the small cards on Thursday at Indiana Grand and Remington Park. Check out our Indiana Grand page for more horse racing picks.
Remington Park has nine races worth $229,200 on Thursday evening in Oklahoma. We have three selections at the OKC racecourse. Head below for our free Remington Park picks for October 28, 2021.
Race 1
(1) Taylor's Vision
+500 (5/1)
(2) The One For Fun
+800 (8/1)
(4) Graygirlgo
+250 (5/2)
(6) Lovely Lolita
+1000 (10/1)
(7) River Liberty
+1200 (12/1)
(8) Ima Skywalker
+450 (9/2)
Post Time: 7:07 p.m. CST
Distance:1 Mile
Purse:$41,650
The first race at Remington Park is for a $41,650 purse, which represents one of three feature events at Remington. This allowance race should see Ima Skywalker and Graygirlgo have a nice showing in the stretch run.
Ima Skywalker is a one-time winner on September 30. She beat Irma M by 2 ¼ lengths for a $40,425 purse. That was an impressive run from Ima Skywalker, and sets her up in a good position to do it again on Thursday.
With Graygirlgo appearing in this race, it could make it tough to repeat, though. Graygirlgo has finished 3rd, 1st, 2nd, 6th, 3rd, 5th.
She is dropping in class after an appearance in the $145,000 Oklahoma Classics Distaff Stakes on October 15. Graygirlgo should be fully capable in a lower class on Thursday.
Race 3
(1) Mister Wayside
+400 (4/1)
(2) Telluride
+1200 (12/1)
(3) Graydar's Dream
+600 (6/1)
(5) Super Geek
+1000 (10/1)
(6) Unbridled Guy
+1200 (12/1)
Post Time: 8:03 p.m. CST
Distance:5 ½ Furlongs
Purse:$20,000
Race 3 is a $20,000 purse covering 5 ½ furlongs on the dirt. Look for Lord M and Mister Wayside to do something in this one.
Lord M is winless in two attempts, finishing 9th and 5th in the first two races of his career. He finished 9th in a $70,000 assignment, and then 5th in a $33,000 event on October 8.
Down to $20,000 on Thursday, look for Lord M to be able to get into the mix in this one. If he fails to get involved, then it's going to be disappointing on his part.
Mister Wayside might have the best value in this field. He finished 4th in back-to-back events on September 10 and October 1.
In his most recent attempt, Mister Wayside finished 4th for a $40,425 race. He was 4th on September 10 in the same class. All the way down to $20,000, Mister Wayside can't be ignored. He didn't run horribly in either of those outings.
Mister Wayside is coming off a blazing fast workout on October 17 with a time of 47.62 second at 4 furlongs. Given the value, Mister Wayside makes for a smart choice in Race 3.
Race 8
(1) Tiffany Twist
+350 (7/2)
(2) Miss Empirement
+300 (3/1)
(3) Pyramid Princess
+1500 (15/1)
(4) Indy Lover
+400 (4/1)
(6) A J's Ride
+1000 (10/1)
(7) Hans Little Dancer
+2000 (20/1)
(8) Danzig Up A Storm
+1000 (10/1)
(9) Aunt Joie
+1200 (12/1)
Post Time: 10:23 p.m. CST
Distance:6 ½ Furlongs
Purse:$33,000
Race 8 covers 6 ½ furlongs on the dirt for a $33,000 purse. Tiffany Twist and Miss Empirement should be the top contenders to watch in this assignment.
Tiffany Twist is making her debut on Thursday evening and should have a chance at the wire. The $14,000 filly has been in good order in morning workouts.
She was timed most recently in 47.34 seconds at 4 furlongs on October 16. That was a good showing from Tiffany Twist and puts her into contention if she runs in the same form.
Miss Empirement has finished 12th, 7th, 9th in her career, and is receiving a class drop after running at Belmont Park and Gulfstream Park.
In her most recent attempt, Miss Empirement finished 9th in a $50,000 assignment at Gulfstream in February. This was after 7th in a $50,000 race on January 10.
A layoff likely did Miss Empirement well and she's been running in fine form in workouts. This work at Remington Park should be easier for her tonight. She has to be worth considering at the right price.