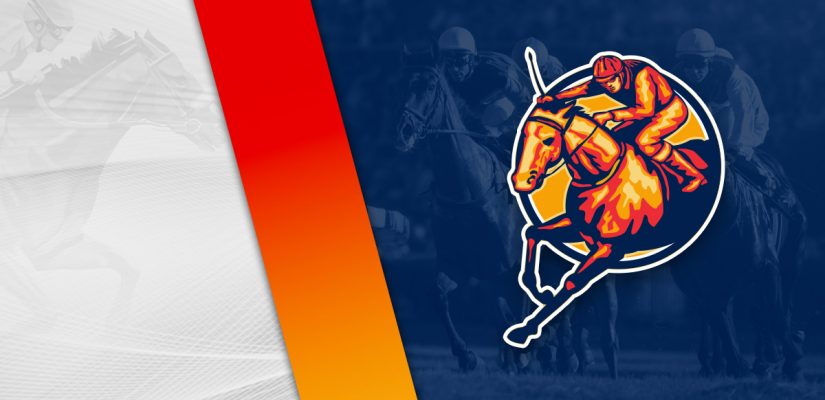 The Road to the Kentucky Derby continues tomorrow afternoon in Arkansas, Florida, and Kentucky. There is the $1,250,000 Arkansas Derby, $1,000,000 Florida Derby, and $600,000 Jeff Ruby Steaks scheduled to take place on Saturday.
The biggest of the three is the Arkansas Derby at Oaklawn Park. We'll be sure to bring you all of the latest action with horse racing picks from Oaklawn Park and Gulfstream Park tomorrow. Before we get to a big day of prep racing, we're on the racetrack Friday.
For our first look Friday, we're at Santa Anita Park in sunny California. Santa Anita has eight races worth $370,000 in prize money. Head below for our best Santa Anita picks for April 1, 2022.
Race 1
(3) Pollo D'oro
+800 (8/1)
(4) Awesome Rhythm
+180 (9/5)
(7) Tensas Freedom
+600 (6/1)
Post Time: 1:00 p.m. PST
Distance: 6 ½ Furlongs
Purse:$39,000
The first at Santa Anita Park is a $39,000 event covering 6 ½ furlongs on the grass. This turf race should look good between Redline and Awesome Rhythm in the stretch run.
Redline could be a good value pick in this spot. He opened on August 8 at Del Mar in a $44,000 event. The No. 2 was serviceable to finish 4th and is on easier terms in a $39,000 race on Friday.
Awesome Rhythm is looking to do one better after placing 2nd on February 26. He has finished 3rd, 2nd in two career races.
Awesome Rhythm showed 3rd on February 5 in a $26,000 assignment and then placed behind Tofino Bay by a head in a $42,000 purse. That form should put Awesome Rhythm ahead at the wire.
Race 4
(1) Justhappenlikethat
+200 (2/1)
(4) Mo Connelly
+180 (9/5)
(5) Talkingnonstop
+2000 (20/1)
(6) Starship Diplomacy
+1500 (15/1)
(7) Admiral Aeschbach
+500 (5/1)
Post Time: 2:43 p.m. PST
Distance:1 Mile
Purse:$24,000
Race 4 should be a beatable assignment for Justhappenlikethat and Mo Connelly. Justhappenlikethat is 4th, 5th, 3rd in three career starts, with a chance for an opening on Friday.
In her most recent attempt, Justhappenlikethat showed 3rd for a $17,000 prize. She was 5th in a $39,000 race prior to that run.
Justhappenlikethat should appreciate a class drop, but will still need more to be competitive. Mo Connelly should be right there to bother Justhappenlikethat in the stretch.
Mo Connelly is winless in five attempts, going 3rd, 2nd, 5th, 3rd, 2nd, and consistently competitive. In her most recent attempt, Mo Connelly placed 2nd behind Sideways Suances by 4 ¼ lengths in a $24,000 race.
This should be close at the wire, with Mo Connelly likely having enough to get there.
Race 8
(1) All Dialed In
+250 (5/2)
(2) Race Judicata
+800 (8/1)
(3) Pray For My Owner
+200 (2/1)
(4) Shanghai Sunrise
+400 (4/1)
(5) Rose Maddox
+500 (5/1)
(6) Luxury Liner
+400 (4/1)
Post Time: 4:45 p.m. CST
Distance: 6 Furlongs
Purse:$69,000
Race 8 is a $69,000 event covering 6 furlongs. This is the feature on Friday, with Pray for My Owner and All Dialed In probably hold their own in this one.
Pray for My Owner has finished 3rd, 1st, 6th, 3rd, 2nd in five career races. In her most recent attempt, Pray for My Owner placed 2nd behind Alice Marble by 1 ½ lengths on June 12 in a $63,000 purse.
The filly looked good after showing 3rd on May 29 in the same grade. All Dialed In is going to put together good work from the inside.
She should put a good race together from the inside. In the first four races of her career, she is 3rd, 3rd, 1st, 2nd. Two races back, All Dialed In beat Feeling Flush in a $67,000 event.
That was a blowout by more than 10 lengths in an impressive display. Following that performance, All Dialed In placed 2nd behind Smitten by Kitten by ¾ lengths for $69,000.
I'm going with the No. 1 to edge out Pray for My Owner in a mini upset.