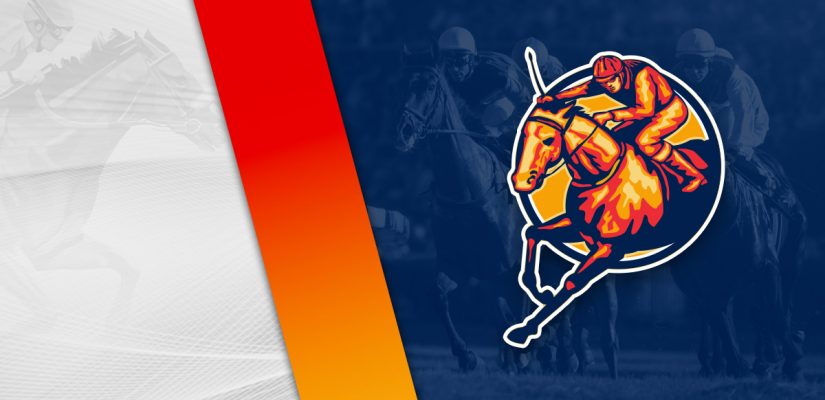 The Sunday card looks pretty good this afternoon at BetOnline. There are at least 12 racecourses offering wagering today.
This is the day after the Louisiana Derby (Gr. 2) at Fair Grounds Race Course. There is decent stakes racing at a couple of unlikely tracks.
Sunland Park and Tampa Bay Downs have some notable stakes races, with the feature at Sunland in New Mexico. The $500,000 Sunland Park Derby (Gr. 3) is the biggest event on Sunday.
We're at Gulfstream Park and the west coast at Santa Anita Park. Santa Anita has nine races worth $470,000 on Sunday afternoon. Head below for our best Santa Anita Park picks on March 27, 2022.
Race 3
(1) The Ginger Queen
+180 (9/5)
(2) Tmorrowisalongtime
+120 (6/5)
(3) Sweet Workout
+400 (4/1)
(4) Royally Command
+1500 (15/1)
(5) Blossoming
+400 (4/1)
Post Time: 2:06 p.m. PST
Distance: 1 Mile
Purse:$42,000
Race 3 is a $42,000 assignment covering a mile on the turf. This looks like a race between The Ginger Queen and Tmorrowisalongtime in the final furlong.
Ginger Queen is winless in five attempts, finishing 6th, 12th, 2nd, 6th, 2nd in five races. The filly has finished 2nd, 6th, 2nd in her last three outings.
In her most recent, Ginger Queen looked good to place 2nd behind Witch Moon by a half-length for $39,000.
Before that outing, she finished 6th in a $36,000 event on August 1. A further kick-up in class to $42,000 might work out well for her.
Tmorrowisalongtime is winless in five career starts. In her most recent race, Tmorrowisalongtime showed 3rd for a $67,000 purse.
Despite the loss, she has looked good in workouts and sliding in class to $42,000. Her workouts have gone well, too, with times of 48 seconds at 4 furlongs and 1:00.00 at 5 furlongs recently.
Race 3 looks like an event for Tmorrowisalongtime to pull away and win.
Race 4
(1) Primer Dimer
+400 (4/1)
(2) Granda Flavor
+350 (7/2)
(3) Star Sailor
+250 (5/2)
(4) Warrens Candy Man
+500 (5/1)
(5) Mongal Altai
+1200 (12/1)
(6) Allaboutthemoney
+180 (9/5)
Post Time: 2:36 p.m. PST
Distance:1 1/16 Miles
Purse:$31,000
Race 4 is a $31,000 assignment covering 1 1/16 miles on the dirt. Look at Star Sailor and Allaboutthemoney to come up with a successful afternoon.
Star Sailor is a one-time winner in 12 events. He got in three races back in a $24,000 event. It was a steady run for a 4 length win for Star Sailor.
In his latest run, Star Sailor finished 6th in a $40,000 assignment on March 12. Sliding back down to the $31,000 level, look for Star Sailor to have an opportunity at getting back to the winner's circle.
Allaboutthemoney is a one-time winner, with solid results recently. He is 1st, 2nd in his previous two outings, with a winning performance on September 4 for $25,000.
Following that productive performance, Allaboutthemoney placed 2nd behind Verragio by ¾ lengths in the $31,000 grade. If he's interested, a win looks likely for the No. 6.
Race 6
(2) Bletchley Park
+250 (5/2)
(6) One More Bid
+800 (85/1)
Post Time: 3:38 p.m. PST
Distance: 1 Mile
Purse:$67,000
Race 6 covers a mile for a $67,000 purse in this one. Bletchley Park and Mauritius are serious contenders for the top prize in this one.
Bletchley Park is a colt with one race of experience. It was a decent effort, with Bletchley Park placing 2nd behind Happy Jack by 1 ¼ lengths for a $67,000 purse.
He is coming off a nice workout, with a time of 59.40 seconds at 5 furlongs on March 21. More of the same form will end in a desired result on Sunday.
Mauritius has appeared in one race in his career as well. He placed 2nd behind Taiba by 7 ½ lengths in a $67,000 event.
Taiba was a heavy favorite in that one and was too tough for the field. However, Mauritius getting back to form is likely.
He has been in top form in workouts, with recorded times of 59.20 and 59.60 seconds at 5 furlongs. I'm backing Mauritius to have enough to hold off Bletchley Park.