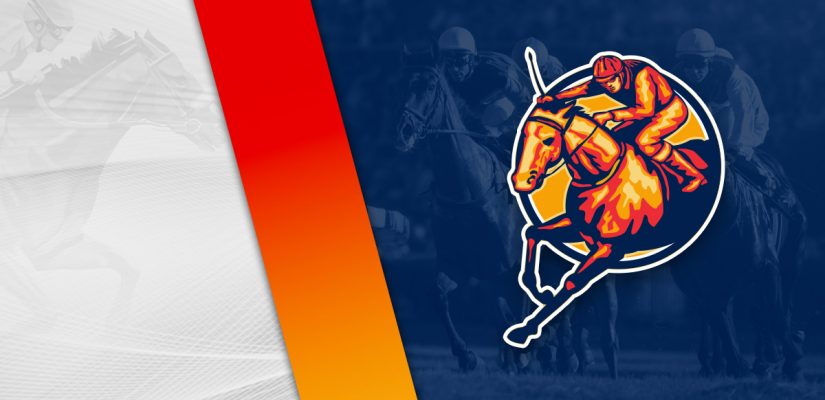 We're on the racetrack Sunday looking for winning horses. It was an exciting day of racing on the Road to the Kentucky Derby yesterday afternoon.
The big winner of the day was Zandon in the $1,000,000 Toyota Blue Grass (Gr. 1). He got caught in traffic and still managed to kick free in the final furlong.
It was a dominant performance, which could have seen Zandon kick free earlier with a clean run. Fortunately, we were on Zandon in the Blue Grass, as we looking forward to the Kentucky Derby now.
We're at Oaklawn Park and Santa Anita Park for action on Sunday. Santa Anita has ten races worth $522,000. Head below for our best Santa Anita Park picks on April 10, 2022.
Race 2
(1) Nang Singha
+500 (5/1)
(2) Roman Empress
+800 (8/1)
(3) Daddy'sfavoriteson
+1200 (12/1)
(4) Looking at Sweetie
+120 (6/5)
(5) Lovely Lola
+600 (6/1)
Post Time: 1:32 p.m. PST
Distance: 1 Mile
Purse:$34,000
Race 2 is a $34,000 event covering a mile on the dirt. Consideration for So Softly and Looking at Sweetie looks in play here.
So Softly is winless in six attempts, finishing 3rd, 5th, 2nd in three attempts from January 2 to February 27. In her most recent outing, So Softly placed 2nd behind Loma Vista by a half-length in a $26,000 event.
That was a good improvement after finishing 5th on February 11 in the same grade. Further improvement will put So Softly in the winner's circle.
Lookin at Sweetie is 5th, 3rd, 6th in three races, showing 3rd on October 28, 2020 in a $22,000 event. After a layoff, Lookin at Sweetie returned on January 21 of this year.
She finished 6th in a tough one at Santa Anita for $24,000 following a disqualification. Lookin at Sweetie cleared by 2 ¼ lengths, but was DQ'd.
If she runs a clean race this time, expect Lookin at Sweetie to make up for the losing effort.
Race 8 – John Shear Mile Stakes
(2) Triple Tap
+300 (3/1)
(3) Shooters Shoot
+500 (5/1)
(4) Royal Ship
+250 (5/2)
(6) Restrainedvengence
+350 (7/2)
(8) Extra Hope
+800 (8/1)
Post Time: 4:40 p.m. PST
Distance:1 Mile
Purse:$75,000
The $75,000 John Shear Stakes is a small stakes race on Sunday afternoon. Look for Triple Tap and Royal Ship to put together good work for the top prize.
Triple Tap is 1st, 1st, 4th, 3rd in four races, with a winning run on November 5 at Del Mar in a $100,000 assignment.
He was unable to follow up in December in the $300,000 Malibu Stakes (Gr. 1) on December 26. Triple Tap returned on February 27 to show 3rd in a $72,000 event.
Brazilian-bred Royal Ship should be tough for this field. Royal Ship is 5 for 16 and appeared in eight graded races entering today.
The gelding most recently finished 7th in the $1,000,000 TVG Pacific Classic Stakes (Gr. 1) in August. He's finished 1st, 2nd, 3rd, 7th in his last four, finally finding the million-dollar race too much.
This should be much more doable for Royal Ship. Look for him to be the best in this field on Sunday.
Race 10
(1) Barrister's Ride
+120 (6/5)
(2) Elegance Code
+1200 (12/1)
(3) Mensa On Tap
+5000 (50/1)
(4) Lady Blackbird
+1200 (12/1)
(6) Avery Blue
+1200 (12/1)
(7) Tiz My Princess
+3000 (30/1)
(8) She's a Bit Sassy
+400 (4/1)
(9) Ela Calimera Mou
+600 (6/1)
(10) Big Attraction
+600 (6/1)
(11) Belleo's Music
+5000 (50/1)
Post Time: 5:44 p.m. PST
Distance: 1 Mile
Purse:$67,000
The final race at Santa Anita Park is a mile for a $67,000 purse on the turf. She's a Bit Sassy and Barrister's Ride should get into a battle in the final furlong.
She's a Bit Sassy has finished 10th, 7th, 5th, 2nd, 7th in her career. Two races back, She's a Bit Sassy placed 2nd behind Exactly Wendy by ¾ lengths for a $67,000 prize.
That was encouraging, but She's a Bit Sassy fell off to 7th on March 20 in the same class. Barrister's Ride will be there to pick up on She's a Bit Sassy's weaknesses with a similar performance.
Barrister's Ride is winless in two races, finishing 6th, 2nd going into Sunday. She placed 2nd behind Abhita by a half-length for a $67,000 prize.
Barrister's Ride was well ahead of She's a Bit Sassy in that one and would easily handle her again with a similar effort. This looks like hers if she wants in the same form.