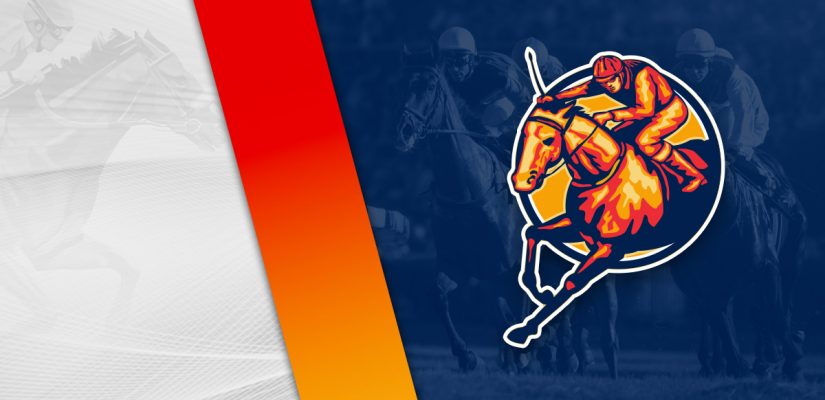 We are getting closer to the biggest day in horse racing in North America. The Kentucky Derby is almost upon us at Churchill Downs on May 7.
That's only a few weeks off in Louisville. There are no more opportunities to score points, as all of the prep races have been completed.
Bob Baffert was suspended from racing in Kentucky and will not have a horse in the Kentucky Derby. He's been through the courts since the ruling for using illegal substances to no avail.
TheSportsGeek has picks at Gulfstream Park and Santa Anita Park for Easter Sunday. Santa Anita has nine races worth $543,000 in prize money. Head below for our free Santa Anita Park picks on April 17, 2022.
Race 2
(1) Spirit Maker
+800 (8/1)
(2) Divine Armor
+180 (9/5)
(4) There Goes Harvard
+120 (6/5)
(5) Back Ring Luck
+600 (6/1)
Race 2 is a $69,000 event covering 1 1/16 miles on the dirt. Divine Armor and There Goes Harvard should be involved in the final furlong.
Divine Armor is a one-time winner through 15 races. He hasn't won since a trip at Del Mar on September 5, 2020 for a $55,000 prize.
He's finished 8th, 3rd, 4th in his previous three races. Two races back, Divine Armor showed 3rd in a $69,000 event on February 18.
There Goes Harvard is a one-time winner in nine assignments. He looks like the best in this field. There Goes Harvard finished 1st, 2nd, 2nd, 2nd in his previous four.
He was a winner four races ago in a $51,000 event. In his latest showing, the colt placed 2nd behind Loud Mouth by 3 ½ lengths for a $69,000 prize.
This one looks like it should be a big easier. He has the experience to go back to the winner's circle versus this field.
Race 3
(1) Big Splash
+1000 (10/1)
(2) Will is Chill
+1200 (12/1)
(3) Worse Read Sanchez
+250 (5/2)
(4) Rocky Gibraltar
+300 (3/1)
(5) Fowler Blue
+600 (6/1)
(6) Bally's Charm
+400 (4/1)
(7) Cowboy Charlie
+800 (8/1)
(8) Jack Sixpack
+600 (6/1)
Race 3 is a $69,000 event covering a mile on the turf. Look at Worse Read Sanchez and Rocky Gibraltar to get involved in the stretch run.
Rocky Gibraltar has finished 2nd, 1st, 4th in three races going into Sunday. He struck two races back in a $67,000 event.
In a nice run for the No. 4, Rocky Gibraltar beat Oubabe by a head in a $67,000 event. In his next and most recent race, he finished 4th on April 2 in a $69,000 race.
Despite that disappointment, he can bounce back. I'd give Worse Read Sanchez the better look in this one, though.
Worse Read Sanchez is 2nd, 7th, 5th in his last three and should have a better time in this assignment. He most recently finished 5th for a $69,000 prize.
This was after finishing 7th in the San Felipe Stakes (Gr. 2) on March 5. Moving down to a mile should help plenty. He's weakened late recently.
In his win in January, Worse Read Sanchez won a $67,000 race at a mile by ¾ lengths. This looks just as good for him on Sunday.
Race 6
(1) Discrete Stevie B
+2000 (20/1)
(2) Best of Show
+1500 (15/1)
(3) Hot on the Trail
+600 (6/1)
(5) Gotta Be Lucky
+1500 (15/1)
(6) Big Passion
+2000 (20/1)
(7) Bossy Soul
+350 (7/2)
(8) Flatterwithjewels
+600 (620/1)
(9) Take a Leap
+160 (8/5)
Race 6 is a $24,000 event on the dirt. Bossy Soul and Take a Leap should have a big chance in this one.
Bossy Soul is 2 for 11 in her previous three assignments. She had a $29,000 win by 3 lengths on December 11.
Since then, Bossy Soul has been going in the wrong direction, but should handle this race after finishing 8th on April 1.
That was a disappointing effort in a $69,000 event, but this is going to be a much easier experience. Take a Leap isn't going to go away without a fight, though.
Take a Leap is 2nd, 1st, 2nd in her previous three assignments. The mare had a $24,000 win on February 4 in a solid attempt.
In her most recent outing, she placed 2nd behind Busy Paynter by ¾ lengths. She is going to be involved and has to be considered as a front-runner.