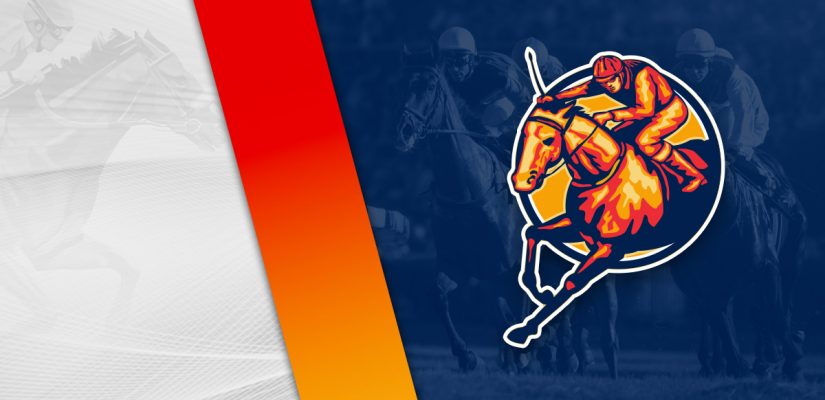 There is a full day of horse racing on Friday afternoon and evening. You can find racecards from the east, west, and the deep south on Friday. Keeneland is back this weekend for the $1,000,000 Toyota Blue Grass (Gr. 1).
There are three 100-40-20-10 prep races on the Road to the Kentucky Derby tomorrow, the biggest at Keelenand. The most notable event on Friday is the $600,000 Ashland Stakes (Gr. 1) at Keeneland.
We have picks for the Ashland Stakes (Gr. 1) and Keeneland on Friday afternoon. Along with Keeneland, we're going to the west coast at Santa Anita Park. Santa Anita has eight races worth $405,000 in prize money. Head below for our best Santa Anita picks on April 8, 2022.
Race 1
(1) Kirstenbosch
+400 (4/1)
(3) Violet Storm
+1200 (12/1)
(6) Talented Lady
+2000 (20/1)
(7) Sweet Talked
+400 (4/1)
Post Time: 1:00 p.m. PST
Distance: 1 ⅛ Miles
Purse:$67,000
Race 1 is a 1 ⅛ mile event for a $67,000 purse on the turf. This looks like a good spot for Kirstenbosch and Rhea Moon to compete for a win.
Kirstenbosch made her debut on March 7 and had a good race. The filly placed 2nd behind Musica by 2 ¼ lengths in a $67,000 event.
That was a good look for the rookie and she's been strong in workouts. In her last three workouts, Kirstenbosch was timed at 47.20 at 4 furlongs, and 1:01.20 and 1:00.20 at 5 furlongs.
Rhea Moon is winless in three races, finishing 3rd, 2nd, 2nd in three attempts. The Irish-bred Rhea Moon made her US debut on March 7.
She handled it well, placing 2nd behind Eleuthera by 1 ¼ lengths for $67,000. Rhea Moon had a good response after opening slow in that race.
The No. 5 should be the toughest in this field.
Race 2
(2) Dream Princess
+160 (8/5)
(3) Classical Romance
+800 (8/1)
(4) Fi Fi Phoroah
+350 (7/2)
(5) Midnight Jamboree
+140 (7/5)
Post Time: 1:33 p.m. PST
Distance:1 Mile
Purse:$69,000
The second race at Santa Anita Park is a $69,000 event covering a mile on the dirt. Dream Princess and Midnight Jamboree should have a strong presence in the stretch run.
Dream Princess is 2 for 6 in her career and finished 2nd, 5th, 8th, 1st, 3rd, 1st in six attempts. In her most recent attempt, Dream Princess beat Smoothlikebuttah in a blowout by 8 lengths.
That was a good run, but with Dream Princess up in class to $69,000 this should be tougher. Midnight Jamboree is 3 for 10 and the top-2 in six of her previous seven outings.
In her last outing, Midnight Jamboree defeated La Pulcinela by 4 ¾ lengths in a $35,000 race. Prior to that run, she was 3rd for a $40,000 prize.
This isn't the most difficult that Midnight Jamboree has had to deal with in her career. She should get the nod at the wire.
Race 7
(2) Oneparticularharbor
+1200 (12/1)
(3) Salto De Tigre
+600 (6/1)
(4) Bright Leaf
+400 (4/1)
(5) Bud Knight
+400 (4/1)
(7) Mongolian Ford
+250 (5/2)
Post Time: 4:15 p.m. PST
Distance: 1 1/16 Miles
Purse:$40,000
Our last pick in Arcadia is a $40,000 event covering 1 1/16 miles on the dirt. Look for Bright Leaf and Mongolian Ford to go well in this race.
Bright Leaf is a one-time winner through seven races. The colt is 1st, 2nd, DNF, 5th, 3rd in his previous five races.
He is coming off 3rd on March 18 for a $40,000 prize. Bright Leaf finished 5th for a $40,000 purse on February 19.
Mongolian Ford is 1 for 12 and 1st, 2nd, 2nd in his previous three attempts. Three races back, Mongolian Ford beat Bravestone by a head in a $39,000 assignment.
In his most recent attempt, Mongolian Ford placed 2nd behind Street Ruckus by 2 ¾ lengths in a $40,000 race. He's coming on and consistent.
Considering playing Mongolian Ford on his recent form.