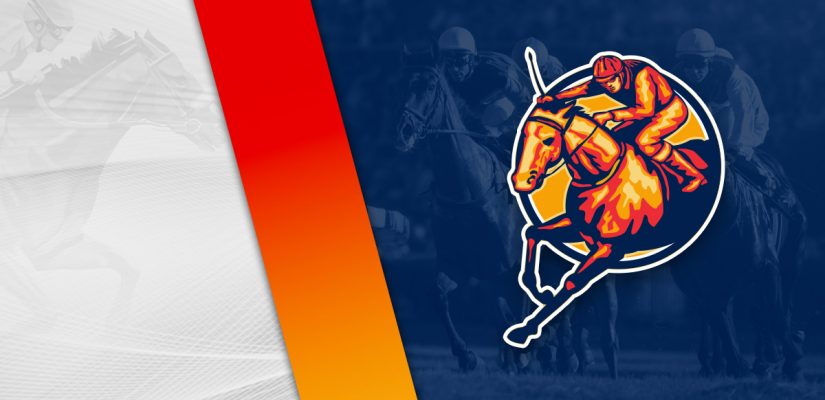 If you want the biggest race on the schedule, you will be required to go over to Epsom Downs for the Epsom Derby in Surrey. That's a big race on the turf, which coincides with the Platinum Jubilee.
There is plenty of racing on the US card this afternoon and evening. The Belmont Stakes is the marquee event next Saturday in New York.
We're at Gulfstream Park and Santa Anita Park on Saturday. Santa Anita has nine races worth $601,000, with four on the dirt and five on the turf. Head below for our best Santa Anita Park picks on June 4, 2022.
Race 2 – Desert Stormer Stakes
(1) Dance to the Music
+200 (2/1)
(2) Dynasty of Her Own
+800 (8/1)
(3) Annie Graham
+2000 (20/1)
(4) Samurai Charm
+300 (3/1)
(5) Becca Taylor
-125 (4/5)
The second at Santa Anita Park is the $100,000 Desert Stormer Stakes. Dance to the Music and Becca Taylor should engage in the stretch run in this one.
Dance to the Music is 2 for 4 with a good strike rate going into Saturday. She's 1st, 6th, 2nd, 1st in the first four races of her career.
That includes an appearance in the $300,000 Del Mar Debutante Stakes (Gr. 1) on September 5, where she went 5th, and 6th in the $200,000 Chanelier Stakes (Gr. 2) on October 1.
After those losses, Dance to the Music beat Smitten by Kitten by ¾ lengths on May 7. That was a solid trip in a $69,000 race.
Back to the stakes scene, we'll see if she can hang with Becca Taylor. Becca Taylor is the class of this field.
She has a thrilling strike rate with 7 wins in 8 attempts. The filly is coming off an easy win for a $31,000 purse.
Becca Taylor has two stakes wins at Santa Anita, with a win in the $150,000 Evening Jewel Stakes and $100,000 Spring Fever Stakes. She's probably the best if interested.
Race 7 – Cinema Stakes
(2) Cabo Spirit
+400 (4/1)
(4) Beef Winslow
+500 (5/1)
(5) War at Sea
+400 (4/1)
Post Time: 4:17 p.m. PST
Distance:1 ⅛ Miles
Purse:$100,000
The $100,000 Cinema Stakes covers 1 ⅛ miles on the turf. Look at Cabo Spirit and Balnikhov as players in this one.
Cabo Spirit is 2 for 11 and finished top-3 in six of eight attempts. He has stakes experience, including appearances in the San Felipe Stakes (Gr. 2) and Jeff Ruby Steaks Stakes (Gr. 3).
In his last stakes win, he won the $100,000 Eddie Logan Stakes on January 2. Since then, Cabo Spirit is winless in four events.
In his last start on April 30, he showed 3rd in the $100,000 California Derby. The talent is present, but the $575,000 runner hasn't matched expectations.
Balnikhov is an Irish-bred turf runner that is going to be tough to top. He is 3 for 10 and 2nd, 2nd, 1st, 1st in his previous four attempts.
In his latest start, he ran well to place 2nd behind Stolen Base by 1 ¼ lengths in the $500,000 American Turf Stakes (Gr. 2). He's the best at the $100,000 level.
Race 9
(3) Naughty Niko
+5000 (50/1)
(4) Quintecents
+250 (5/2)
(5) One More Bid
+600 (6/1)
(6) Conch Daddy
+800 (8/1)
(7) Vancougar
+1000 (10/1)
(8) Daniel's Magic
+500 (5/1)
(9) Gabbysonholiday
+1000 (10/1)
(10) Spycatcher
+1000 (10/1)
Race 9 is a $67,000 event to finish off the day at Santa Anita Park. Percolate and Quintecents should be in top contention for a win.
Percolate is winless in three races, finishing 6th, 2nd, 2nd, in his first trio of races in his career. He placed 2nd in a $70,000 race at Del Mar in his US debut on September 6.
That was promising, but he has a lot to prove after finishing 6th at Santa Anita on October 17. That was a disappointing effort for a $61,000 purse. The colt has been on a layoff since then.
Quintecents showed nice improvement on May 7 after debuting in 6th on September 11 in a $46,000 race. Everything looked better on May 7 after a break.
His speed picked up from a reading of 64 to 85 and showed 3rd in a $39,000 event. Quintecents has looked much faster in workouts.
He was most recently clocked at 47.80 seconds at 4 furlongs and 59.80 seconds at 5 furlongs. We could see a different-looking horse in this one today.