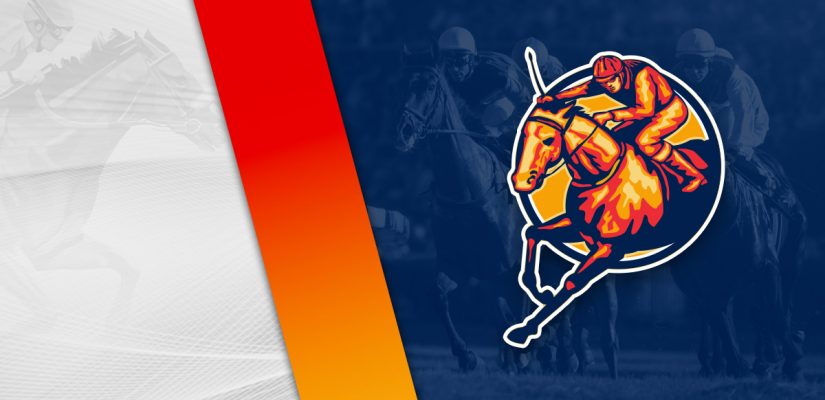 The horse racing continues on Saturday a week before the second leg of the Triple Crown. The Preakness Stakes comes after the Kentucky Derby, which could possibly set up a Triple Crown chance at Belmont Park.
Most years that is because we aren't going to have that opportunity in 2022. 80-1 longshot Rich Strike will not be participating in the Preakness and will be skipping straight to the Belmont Stakes. That's probably for the best given his strengths at longer distances.
The $700,000 Man o' War Stakes (Gr. 1) is the feature race on Saturday. The Man o' War is at
Belmont Park
this afternoon. We have Man o' War picks and more horse racing picks.
Along with Belmont Park, we're going to Santa Anita Park in California. Santa Anita has nine races worth $552,000 this afternoon. Head below for our best Santa Anita Park picks on May 14, 2022.
Race 1
(1) Sword Zorro
+350 (7/2)
(3) Hudson Ridge
+600 (6/1)
(4) Tidal Forces
+400 (4/1)
(5) Moody Jim
+300 (3/1))
(6) There Goes Harvard
+400 (4/1)
The first race is a $72,00 event covering a mile on the turf. Look at Moody Jim and Sword Zorro to have a big chance to strike in this one.
Moody Jim is 4th, 3rd, 1st in his previous three attempts going into this one. He had a $46,000 win on January 7 and has been going in the wrong direction since then.
In his most recent outing, Moody Jim finished 4th for a $72,000 purse on April 16. This should be as difficult, so expect him to get closer.
Sword Zorro is 2 for 10 and coming off his Grade 2 debut. The $179,838 Irish bred colt most recently finished 7th in the $250,000 Del Mar Derby (Gr. 2) on September 4.
Prior to that attempt, Sword Zorro showed 3rd in the $150,000 La Jolla Handicap (Gr. 3) on August 8. This should be the easier race that Sword Zorro has seen in a while.
On this class drop, expect Sword Zorro to be the best at this level.
Race 5 – Santa Barbara Stakes
(1) Queen Goddess
+120 (6/5)
(2) New Heat
+1200 (12/1)
(3) Queen Ofthe Temple
+600 (6/1)
(4) Neige Blanche
+180 (9/5)
(5) Cover Version
+2000 (20/1)
(6) Carpe Vinum
+350 (7/2)
The $125,0000 Santa Barbara Stakes is a unique race on the downhill turf. This downhill race covers 1 ½ miles on Saturday afternoon.
Neige Blanche and Queen Goddess should factor into the final furlong. Neige Blanche is 7 for 17 in her career with plenty of graded experience.
In her latest start, Neige Blanche showed 3rd in the $125,000 Santa Ana Stakes (Gr. 3) on March 26. She is 1st, 1st, 3rd in her previous three assignments and most recently had a win on January 17.
Neige Blanche beat Disappearing Act by 1 length in the $125,000 Astra Stakes (Gr. 3). That win came after a win in the $100,000 Red Carpet Handicap (Gr. 3) on November 25. She figures to get involved.
Queen Goddess is 4 for 8 and 1st, 5th, 1st in her previous three. She most recently beat Going to Vegas by 1 ½ lengths in the Santa Ana Stakes (Gr. 3) on March 26.
The filly was also a winner in the $300,000 American Oaks (Gr. 1) on December 26. She looks like the best in this field on current form.
Race 6
(1) Sweet Heidelberg
+300 (3/1)
(2) Your Ringer
+180 (9/5)
(3) Darling Donna
+300 (3/1)
(4) Miss Mensa
+500 (5/1)
(5) Violent Runner
+800 (8/1)
(6) Poet Laureate
+500 (5/1)
Post Time: 3:49 p.m. PST
Distance:6 Furlongs
Purse:$34,000
Race 6 is a $34,000 event covering 6 furlongs on the dirt. Look for Darling Donna and Your Ringer to put up a good fight at the wire.
Darling Donna is winless in six attempts, finishing 5th, 9th, 9th in his latest three races. She most recently finished 5th on March 11 in a $42,000 event.
That was discouraging after finishing 9th on January 29 in a $67,000 assignment. This drop down to $34,000 should be well appreciated.
Your Ringer is winless in one race. She made her debut on July 23 and carried on well. The filly placed 2nd behind We All Agree by a nose.
She went on a layoff thereafter and looks in great form at the moment. Your Ringer has been fast in workouts.
Going into Saturday, she was timed at 59, 1:00.00, 1:00.40, 59.40, and 1:00.00 at 5 furlongs. All very impressive workouts. Back after nearly a year break, expect Your Ringer to be tough to beat.