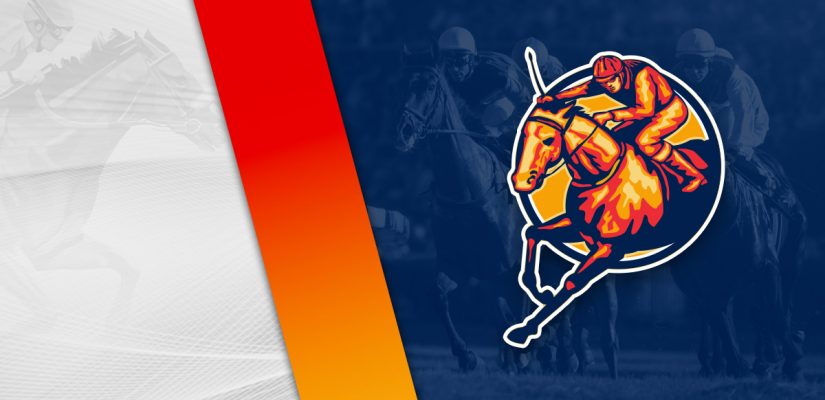 There are some big race tracks on the agenda Saturday afternoon. BetOnline has a total of 14 racecourses that are involved on Saturday. The biggest day is at Oaklawn Park with the running of the $500,000 Essex Handicap (Gr. 3).
We're in Arkansas at Oaklawn Park for that card and then out west in California at Santa Anita Park. Santa Anita has nine races worth $517,000 in prize money available. There is only one stakes race with the running of the $100,000 Irish O'Brien Stakes.
Head below for our best Santa Anita Park picks on March 19, 2022.
Race 2
(1) American Admiral
-125 (4/5)
(2) Happy Runner
+250 (5/2)
(4) Candy for Carmel
+500 (15/1)
(5) Halfbarberbingie
+800 (8/1)
Post Time: 3:03 p.m. CST
Distance: 6 Furlongs
Purse:$33,000
Race 2 is our first stop at Santa Anita Park on Saturday afternoon. Happy Runner and American Admiral should be involved in the final furlong.
Happy Runner is 7th, 6th, 2nd, 5th, 4th in five races. He placed 2nd behind King Apollo by ¾ lengths for a $36,000 purse.
In his latest attempt, Happy Runner finished 4th for a $67,000 purse. Improvement was there in that class. Back down to $33,000, Happy Runner must be considered.
American Admiral is winless in eight attempts and placed 2nd in three straight attempts going into Saturday. He most recently placed behind Elector by 4 ¾ lengths on February 26 for $67,000.
Before that performance, American Admiral placed behind Soy Tapatio by 6 ¼ lengths on January 8 in the same grade. Down to $33,000, this could be too easy versus these foes.
Race 7
(1) Back Ring Luck
+400 (4/1)
(2) Loud Mouth
+1500 (15/1)
(4) Prince Maior
+1200 (12/1)
(5) There Goes Harvard
+350 (7/2)
(6) Going With Style
+1500 (15/1)
(7) Motown Music
+500 (5/1)
(8) Cover Me Up
+1000 (10/1)
(9) Dance Some Mo
+250 (5/2)
Post Time: 4:12 p.m. PST
Distance: 1 Mile
Purse:$69,000
Race 7 is a mile on the dirt for a $69,000 purse. Contenders on the board look like Back Ring Luck and There Goes Harvard. Both are carrying pretty good value into Saturday.
Back Ring Luck is 7 for 16 in his career, finishing 1st, 1st, 1st, 4th, 1st in his previous six attempts. In his most recent race, Back Ring Luck beat Loafers Boy by a nose for $27,000.
This came after a win by a head for a $27,000 purse. Well up to $69,000, this is going to be tougher on Back Ring Luck.
There Goes Harvard is 1 for 8 and 3rd, 3rd, 2nd, 2nd, DNF, 1st, 2nd, 2nd in eight races. He's been nothing but consistent and a contender.
In his most recent attempt, There Goes Harvard placed 2nd behind Super Stock by 3 ¾ lengths in the $200,000 Runhappy Ellis Park Derby on August 15.
After a layoff, There Goes Harvard is a serious contender for the top prize in this event. She is coming off a 59.20-second workout on March 12.
It looks like she is ready to compete well and get right back into her previous form before the break.
Race 8
(1) Maybe I Will
+2000 (20/1)
(2) Becca Taylor
-125 (4/5)
(3) Pulpit Rider
+1200 (12/1)
(4) Sassyserb
+1500 (15/1)
(5) Sensible Cat
+300 (3/1)
(6) Eddie's New Dream
+400 (4/1)
(7) She's Devoted
+800 (8/1)
Post Time: 4:44 p.m. PST
Distance:1 Mile
Purse:$100,000
Race 8 is a unique race on the downfill turf for a $100,000 purse. Look at Sensible Cat and Becca Taylor to impress.
Sensible Cat is 4 for 9 and 3rd, 8th, 2nd, 1st in her previous four assignments. The filly is coming off a $72,000 win by a neck on January 28.
Becca Taylor is a perfect 6 for 6 including two stakes wins. In her most recent showing, Becca Taylor defeated Omg It's Jessica by 1 ¼ lengths in the $100,000 Spring Fever Stakes.
If Becca Taylor stays in this form then it should be tough to beat her on Saturday. She looks a step ahead of this field and will require tougher competition in her next event if it's more of the same.