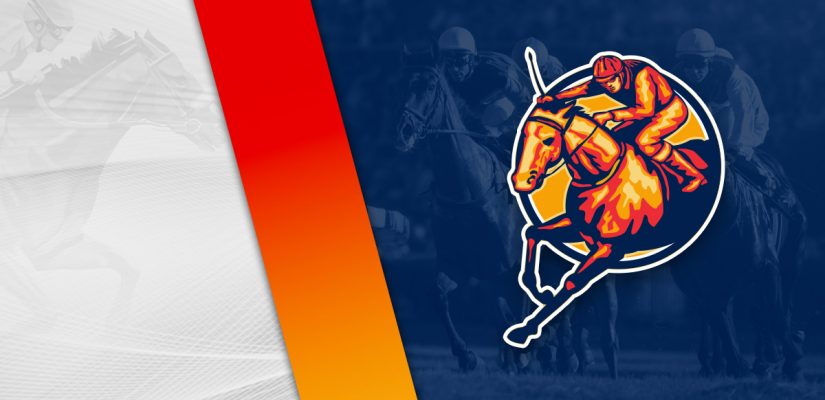 We are on the track Friday at BetOnline with 14 racecourses available for wagering. It's a big card, and some of the big players are out today putting on action. Belmont Park, Santa Anita Park, Keeneland, and Woodbine are all hosting racing on Friday afternoon. If you're more of an evening player, then there are several to choose from.
$25 Risk-Free Horse Racing Bet!
If you don't get in on the afternoon action, then Remington Park, Penn National, Delta Downs, Charles Town, and Lone Star Park all have racing later in the day. Remington Park is the big star of Friday with nine stakes races in Oklahoma. There are ten stakes events, featured with the $175,000 Oklahoma Classics Cup.
We are going to open up the day in Arcadia, California with three selections at Santa Anita Park. Santa Anita has nine races with $409,000 in prize money available. Head below for our free Santa Anita Park picks for October 15, 2021.
Race 1
(3) Donut Girl
+1500 (15/1)
(4) Loud Loud Music
+300 (3/1)
(5) Cecile's Chapter
+400 (4/1)
(6) Del Mar Drama
+800 (8/1)
Post Time: 1:00 p.m. PST
Distance:1 Mile
Purse:$42,000
The first race at Santa Anita is scheduled for 1:00 p.m. PST with a $42,000 purse across a mile of racing on the turf. Loud Loud Music and Kuora have strong claims on my shortlist this afternoon.
Loud Loud Music is 3 for 13 in her career, but hasn't been to the winner's circle in six races. She defeated Cheap Cheap Cheap by 1 ¾ lengths for a $48,000 purse. Since then, Loud Loud Music has finished 2nd, 3rd, 7th, 3rd, 4th.
In her most recent attempt, Loud Loud Loud Music finished 4th for a $49,000 purse, this was after showing 3rd in a $45,000 assignment on August 27. Her most recent workouts have been in good order, with times of 46.80, 48.80, and 49.40 seconds at 4 furlongs.
Kuora is 5 for 12 in her career, and has finished 8th, 8th, 7th, 7th, 1st in her previous five attempts. The mare is coming off a 2 ½ length win over Zabava for a $45,000 prize.
It was a nice effort after dropping classes. Kuora went from racing in $70,000+ and stakes events to around $40,000. This is another winnable assignment for Kuroa.
Race 5
(2) Gold Dragon Queen
+1200 (12/1)
(3) Magical Sign
+500 (5/1)
(4) Macho Queen
+1500 (15/1)
(5) Carroll Girl
+600 (6/1)
(6) Empire D'oro
+500 (5/1)
(7) Ballet Dancing
+400 (4/1)
(8) Peripheral
+600 (6/1)
Post Time: 3:05 p.m. PST
Distance:1 Mile
Purse:$61,000
Race 5 is a $61,000 event covering a mile on the turf. This is another grass race, with a slightly larger field with eight participants.
Toeris and Empire D'oro are held in high regard on my shortlist. Empire D'oro is going to have a chance as a longshot.
The filly is coming off her debut on September 5 at Del Mar. It could have been a better look for Empire D'oro, but she is open to improvement.
Empire D'oro finished 6th for a $70,000 purse, and is dropping to $61,000 on Friday. The best sign for Empire D'oro is that she improved in that race, going from 10th at the ¾ pole to 6th.
Another late surge in the stretch could be there for Empire D'oro to threaten Toeris. Toeris finished 6th on her debut on August 13 for a $100,000 purse at Saratoga.
She showed improvement in her sophomore run at Saratoga on September 6. Toeris showed 3rd for a $100,000 prize, finishing strong in the stretch. Experience in higher classes is in her favor on Friday.
Race 9
(1) Real Pouch
+2000 (20/1)
(2) My Mane Champ
+300 (3/1)
(3) Tribal Dancing
+1500 (15/1)
(4) Trapalis
+2000 (20/1)
(5) Sippin N Kissin
+400 (4/1)
(7) Agador Spartacus
+400 (4/1)
(8) Bally's Charm
+600 (6/1)
Post Time: 5:05 p.m. PST
Distance:1 Mile
Purse:$61,000
Race 9 is a mile for a $61,000 purse on the grass. This is another turf race that we're handicapping on Friday. My Mane Champ and Fore Flag are best watched in Race 9.
My Mane Champ made his debut on September 6 and faltered, but is dropping much in class. The colt finished 9th in the $100,000 Del Mar Juvenile Turf Stakes.
Despite the loss, My Mane Champ must be taken seriously in this one, especially after a promising workout on October 9 with a time of 1:00.80 at 5 furlongs. Not a bad go for My Mane Champ.
Fore Flag has finished 5th and 3rd in two races. In his most recent outing, Fore Flag looked good showing 3rd in a $70,000 event.
Fore Flag was only ¾ lengths and a head off the pace at the wire in that one. It was a close one, with Fore Flag just missing out. The $95,000 Fore Flag looks like the best of this field.