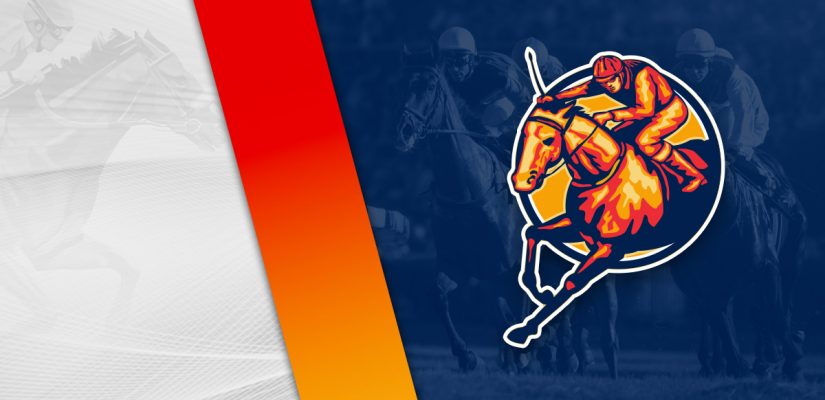 We have an all-California lineup on Friday afternoon. Golden Gate Fields and Santa Anita Park are both offering cards Friday, and we're going to be at both racecourses looking for winners. This isn't a big stakes day if that's what you're looking for.
Santa Anita has a small stakes race on Saturday worth $70,000 with the running of the Lure Stakes, but that's all in Arcadia this weekend. We're coming up on the Breeders' Cup soon at Del Mar. Breeders' Cup Weekend is on November 5 and November 6 from Del Mar.
Santa Anita has eight races on Friday worth a total of $354,000 in prize money. If you want more California racing, check out our Golden Gate Fields page. Head below for our free Santa Anita Park picks for October 22, 2021.
Race 4
(1) Don't Swear Dave
+800 (8/1)
(4) Blackadder
+180 (9/5)
(5) Yogi Boy
+1200 (12/1)
(6) Cover Me Up
+500 (5/1)
Post Time: 2:35 p.m. PST
Distance:6 Furlongs
Purse:$61,000
Race 4 goes for 6 furlongs on the dirt between six participants. Blackadder and Messier may engage in a duel in the stretch for the win in this one.
Blackadder is making his debut for Bob Baffert on Friday afternoon. This is a promising colt that was purchased for $625,000 last September.
She has been timed at 1:00.80, 1:00.40, and 1:00.00 at 5 furlongs to put her in pretty good standing. You have to pay attention to Blackadder on her debut, it could be an impressive performance for Baffert's trainee.
Messier is another Baffert trainee that made his debut on June 27. The colt placed 2nd behind Olympic Legend by 1 length in a $45,000 assignment. That was promising, and open to improvement.
He's another Baffert horse with big expectations. Messier was purchased for $470,000 around the same time as Blackadder. I like Messier to get this one done over Blackadder.
Race 6
(2) So Very Smart
+600 (6/1)
(3) Delta Wind
-125 (4/5)
(4) Westward Breeze
+1200 (12/1)
(5) Smoothlikebuttah
+1000 (10/1)
(6) Tiz A Master
+350 (7/2)
Post Time: 3:34 p.m. PST
Distance:6 Furlongs
Purse:$63,000
Race 6 covers 6 furlongs on the dirt for a $63,000 purse. Rain Diva and Delta Wind are going to have a big chance of going in on these terms.
Rain Diva is 3 for 9 in her career, with the filly going 1st, 1st, 6th, 7th in her previous four attempts. She was a back-to-back winner on October 3 and October 25.
In her most recent win, Rain Diva defeated Anna Fantastic by a head for a $57,000 purse on October 25. This was after a 7 ¾ length win over Malibu Cat for a $25,000 prize.
Delta Wild has finished 6th, 2nd, 2nd, 5th, 1st in her career. She is coming off a 11 ¼ length win over So Very Smart in a blowout for a $70,000 purse.
It was the third race in four attempts that Delta Wind got into the top-2. She finished 5th on August 8, but got right back on the saddle and struck for an easy win.
This assignment looks beatable for Delta Wind. The competition isn't all that stiff in Race 6 on Friday afternoon.
Race 7
(1) Rose Maddox
+300 (3/1)
(3) Endless Thirst
+600 (6/1)
(4) Maggie Fitzgerald
+800 (8/1)
(5) Distorted Diva
+400 (4/1)
Post Time: 4:02 p.m. PST
Distance:1 Mile
Purse:$63,000
Race 7 is a $63,000 outing covering a mile on the turf. Look for Rose Maddox and Dendera to have a big presence in this one.
Rose Maddox is coming off her debut on September 11 and looked in great form. She defeated Pray to an Angel by a half length for a $39,000 purse.
This is up in class, but Rose Maddox should be able to handle it after a big workout on October 16. Rose Maddox was timed at 1:00.60 in an impressive workout.
Dendera has finished 5th, 1st, 5th in three races. She was a 4 ¼ length winner over Eleuthera for a $70,000 purse.
However, Dendera was unable to follow up and settled for 5th on September 5 in the $100,000 Del Mar Juvenile Fillies Turf Stakes. Dendera should find this one a touch easy if she wants to run on Friday.