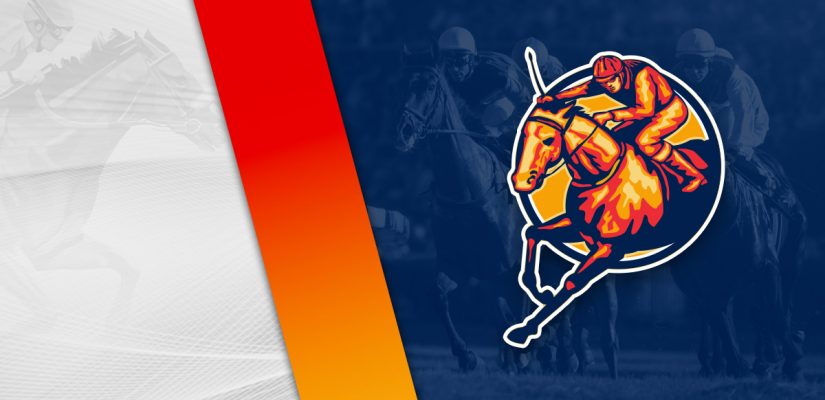 We are playing the ponies this week with the anticipation of the Belmont Stakes this weekend. The Belmont Stakes is the grand finale of the Triple Crown. Rich Strike backed out of the Preakness Stakes after winning the Kentucky Derby, so there will be no Triple Crown run on Saturday.
Rich Strike Can Go 2 For 3
A win for Rich Strike wouldn't complete a Triple Crown, but winning 2 of 3 races would be a huge success. It's already a huge success for Rich Strike after winning the Derby as a backup.
We're in Indianapolis and Ohio on Tuesday afternoon. For more horse racing picks, check out our Horseshoe Indianapolis page. Thistledown has eight races worth $154,400 this afternoon. Head below for our best Thistledown picks on June 7, 2022.
Race 5
(1) Backsplash
+300 (3/1)
(2) Cowgirl Kimmie
+250 (5/2)
(4) Blonde by Nature
+450 (9/2)
(5) Mariposa d'Oro
+600 (6/1)
(6) Shannon's Girl
+800 (8/1)
We're opening the day at Thistledown with Race 5, a $21,500 event covering 6 furlongs on the dirt. Look for big runs from Backsplash and Cowgirl Kimmie should go well in this race.
Backsplash is 15 for 68 and has a lengthy history. She's a veteran with a lot of experience. In six of his previous seven attempts, Backsplash was in the top-3.
She has finished 5th, 2nd, 1st, 2nd in her last four outings. Three races back, Backsplash beat Arcelor by 1 length in a $20,400 event.
In her latest race, Backsplash finished 5th in a $20,000 assignment. More is required for him to be competitive, but the talent is present.
Cowgirl Kimmie is 6 for 27 and in the mood for a hat trick on Tuesday. She is coming off back-to-back wins with a good chance of another win this afternoon.
Cowgirl Kimmie won a $17,700 event by a head on January 31 and then followed up on February 19. She picked up the win by 1 length over Backsplash for $20,000.
This looks like a spot she can win.
Race 6
(2) O K Baby
+1200 (12/1)
(3) Totally Obsessed
+500 (5/1)
(4) Command Strike
+200 (2/1)
(5) Jail House Code
+300 (3/1)
(6) Miss Over There
+1000 (10/1)
Post Time: 3:20 p.m. EST
Distance:6 Furlongs
Purse:$31,400
Jail House Code and Command Strike are high on my shortlist for Race 6. Jail House Code is 3 for 16 and 5th, 1st, 3rd in her previous three outings.
In a $26,400 event on January 21, she beat She's Pure Silver by 6 lengths for a win. That was impressive, though she couldn't hold her form and finished 5th on May 23 in an allowance race for $31,400.
Command Strike has a nice success rate of 6 wins in 9 assignments. She won five of six races before going stakes racing. In her latest win, Command Strike beat Redeem My Heart by a neck for $36,750 on July 6.
Then stakes racing was on her plate, most recently finishing 6th in the $75,200 Satin and Lace Stakes on August 30, 2021. A layoff and drop in class should serve Command Strike well.
Race 8
(1) Haughty Praise
+1200 (12/1)
(2) Amino Starr
+300 (3/1)
(4) Seeking the Money
+400 (4/1)
(6) Faithful Solution
+800 (8/1)
(7) Sassy Power
+600 (6/1)
Race 8 is the final race at Thistledown for Tuesday. Expect I'm Jac'd and Seeking the Money to have a presence in the stretch run.
I'm Jac'd is winless in 16 events in her career. The filly has finished 3rd, 4th, 6th in three assignments. She is most recently coming off showing 3rd on May 11 in a $33,900 event.
I'm Jac'd had finished 4th on April 25 for a $33,900 purse as well. Sliding down in class to $20,300 should put her in strong contention.
The best value is probably elsewhere, though. Seeking the Money is winless in five career starts, but is keeping on and is competitive.
In her previous three outings, she has shown 3rd in three straight races from October 30, 2021 to December 1, 2021. In his latest assignment, Seeking the Money showed 3rd for $29,600.
He has yet to run in 2022, but has looked sharp in workouts. He's also dropping in class to $20,300. At this price, there is serious value on Seeking the Money.