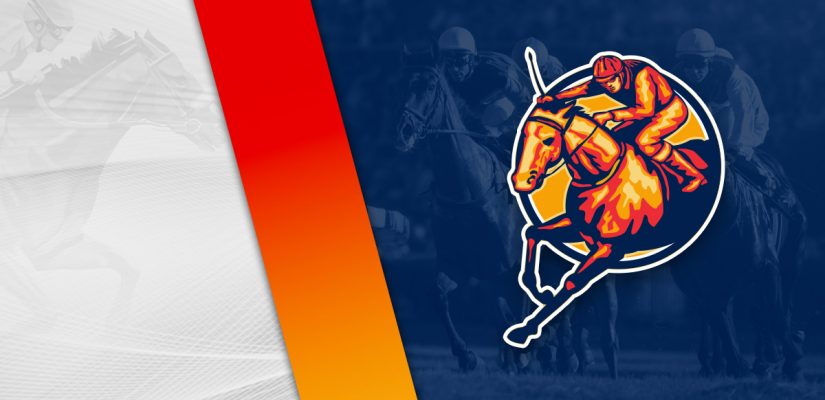 It is back to regularly scheduled programming on Monday after a Kentucky Derby weekend. The Monday card is what you would expect with third-rate racetracks having an opportunity to collect the handle from horse bettors.
Thistledown, Will Rogers Downs, Fingers Lakes, Parx, and the Horseshoe in Indiana all have Monday afternoon cards. There is also quarter horse racing later in the day at Louisiana Downs.
The Triple Crown Continues
The Triple Crown is just getting started after the Kentucky Derby. The Preakness Stakes in two weeks, and then the Belmont Stakes completes the Triple Crown of horse racing.
Our first look is at Thistledown in Ohio on Monday afternoon. Thistledown has an eight-race card worth $171,100 to get the week started. Head below for our best Thistledown picks on May 9, 2022.
Race 2
(1) Ride On Comache
+1000 (10/1)
(2) Exonerated Prez
+1200 (12/1)
(4) He's a Believer
+350 (7/2)
(5) Only One Way Back
+800 (8/1)
(7) Unspoken Memories
+450 (9/2)
Race 2 is an $11,800 event covering 6 furlongs on the dirt. Expect Rebopper and Murtagh to be fully involved in the stretch in the second at Thistledown this afternoon.
Rebopper is a one-time winner, with a 1 length victory over Magic Mountain on March 9. That was a nice trip in a $12,200 assignment.
However, Rebopper looked empty in his next start on April 4. Rebopper finished 9th for a $12,200 purse. That was disappointing, but could redeem himself on Monday.
Murtagh is likely to be in the mix at the wire as well. He has won once in seven career starts. After finishing 5th in a $25,500 race on July 7, it's time for a class drop on Monday.
Murtagh placed 2nd behind Timeless Bounty by 2 ¼ lengths in a $24,000 event on June 7. He's shown to be competitive in tougher races than this.
Expect Murtagh to appreciate this class drop to $11,800 and thrive versus weaker competition.
Race 3
(1) Tiger Jo
+1000 (10/1)
(2) Be Authentic
+1200 (12/1)
(3) Magna G Force
+250 (5/2)
(4) Queenofcatniphill
+350 (7/2)
(5) Loran Holiday
+400 (4/1)
Race 3 is a $12,200 event covering a mile on the dirt. Look for Magna G Force and Daring to be serious contenders for the top prize in Race 3 at Thistledown.
Magna G Force is 4 for 39 and she finished 3rd, 3rd, 2nd, 1st, 4th in her previous five races. Two races back, Magna G Force beat Native Charm by ¾ lengths for a $14,000 purse on March 12.
That was an impressive showing, but Magna F Force slipped to 4th on April 1 at Turfway Park in a $14,000 assignment. If Magna F Force can find her previous form, she will be good in this spot.
Daring is 4 for 32 and looking for better results after struggling against tough foes at Oaklawn Park. In his most recent win, Daring won in the summer at Thistledown by 2 ½ lengths for $11,500.
Shortly thereafter, Daring transferred to Oaklawn Park. After four races there, Daring is back in Ohio. In her latest performance, she finished 5th in a $29,500 prize on April 8.
Daring looks like the best out of this field in Race 3.
Race 8
(1) Lady Dyanaformer
+600 (6/1)
(2) Perfectingtheview
+350 (7/2)
(3) Goodness Sakes
+450 (9/2)
(5) Tilly Manilly
+500 (5/1)
(6) Cryptonic Catwalk
+2000 (20/1)
(7) Runlikejackieo
+250 (5/2)
Post Time: 4:20 p.m. EST
Distance:5 ½ Furlongs
Purse:$35,800
Race 8 is 5 ½ furlongs for a $35,800 prize on the dirt. This looks like a battle between My Pie and Runlikejackieo to the wire.
My Pie had an impressive debut on April 13 at Mahoning Valley. The filly won in a blowout by 12 lengths over Late Date in everything Deborah Keiser hoped for from a first-time runner.
My Pie started 7th and quickly kicked free of the field by the ½ pole. She had a 1 ½ length lead and then a comfortable 6 length gap going into the stretch.
Runlikejackieo won a $29,600 event by a nose on October 30 at Mahoning Valley. Despite failing to go back to the winner's circle in three races since this should be easier on Monday.
She placed 2nd behind Gali's Dancer by ¾ lengths for a $33,700 purse on April 2. In her next and most recent attempt, Runlikejackieo showed 3rd in the $75,000 Dr. T.F. Classen Memorial Stakes on April 28.
Runlikejackieo has been competitive in much tougher races than this assignment on Monday. Expect the No. 7 to shake free of My Pie.