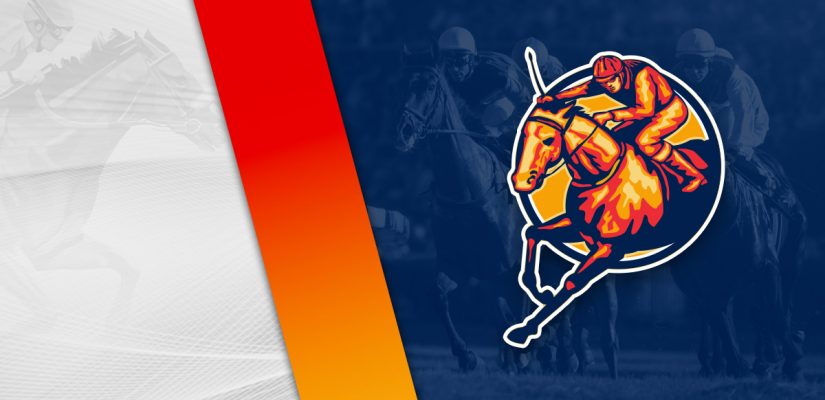 Thistledown is open for another day of racing on Tuesday in Cleveland. There are eight races on the card with a total of $123,900 available. Not a bad payout for just eight races at Thistledown. If you're looking for the next biggest race on the horse racing schedule, that has to be the $500,000 Pacific Classic (Gr. 1) at Del Mar over the weekend.
Del Mar gets the spotlight on Saturday, as they have over a million between five stakes races. Saratoga has one stakes race, but it's a big one with the running of the $400,000 Fourstardave Handicap (Gr. 1).
There are no more prep races for the Kentucky Derby left on the schedule. In other words, there are no more opportunities to get into the Derby. Horses who just missed out, that has to be frustrating for their connections. Between now and then, there are still a lot of races to note on the circuit.
One of the biggest races before the Kentucky Derby is actually at Charles Town in West Virginia. The running of the $600,000 Charles Town Classic (Gr. 2) is a big stop on August 28. It's a day where a small player can take a bow in the spotlight. I'm just trying to find two or three winners at Thistledown for now, though. Head below for our free Thistledown picks for August 18, 2020.
Race 3
(1) Stellar Trick (1A) Miss Irish Boss
+600 (6/1)
(3) Stephanie's Faith
+800 (8/1)
(4) Tia Flor
+1000 (10/1)
(5) Mia Promessa
+450 (9/2)
(6) Heatherfromphoenix
+250 (5/2)
(7) Fancy Pants
+600 (6/1)
Post Time: 1:50 p.m. EST
Distance: 6 Furlongs
Purse: $15,000
Race 3 is our first selection of the day at Thistledown. This event covers 6 furlongs on the dirt for a $15,000 purse. Fancy Pants and Heatherfromphoenix are on my shortlist here. Fancy Pants is getting some decent odds on the morning-line at 6/1. The mare recorded a hat-trick from February to June with three straight wins. In her latest victory, Fancy Pants defeated G Q Girl by 5 ½ lengths in an impressive performance.
Fancy Pants has since finished 2nd and 6th. In her most recent outing, Fancy Pants was 6th on August 4 for dead last in a $15,000 event. We know that Fancy Pants can compete at this level. When he was on his three-race win streak, Fancy Pants was beating horses in this same class.
He had a reared start in that outing on August 4 and never recovered. That said, I could see Fancy Pants bouncing back with a productive showing. Expect to find Fancy Pants close at the wire. Heatherfromphoenix will likely be there as well.
Heatherfromphoenix is in search of her sixth win with wins dating back to February 1. In her most recent outings, Heatherfromphoenix beat Meet Me Half Way by a length for a $15,000 win. She followed up with another win on July 7 over Drinks On Maggie by a half length. You would think Heatherfromphoenix would get a class hike from her trainer at this juncture but, she's back in another $15,000 race.
She clocked a time of 48 seconds at 4 furlongs on August 10 in a morning workout. She still has it in her and should be able to edge out this field for another win, which would make for a six-race winning streak. After another impressive outing, it might finally be time for Heatherfromphoenix to see what she can do in a $20,000 race or thereabout.
Race 5
(1) Cant Lollygag
+350 (7/2)
(3) Who Dat Mo
+250 (5/2)
(4) Our Petition
+800 (8/1)
(5) Doc's Goin Mobile
+1000 (10/1)
(6) Celtic Line
+600 (6/1)
(7) High Dollar
+600 (6/1)
Post Time: 2:50 p.m. EST
Distance:1 Mile 40 Yards
Purse:$14,600
A mile and 40 yards is the longest race of the day at Thistledown today. This is the only race with a mile or longer on the docket. Who Dat Mo and Schmultzy have both had some experience at these longer distances, so it'd be prudent to include them on your shortlist.
Schmultzy is 2 for 19 with his most recent win ten races ago on October 22, 2019. He has gone nine straight races without a win, but was in good form in his latest showing on July 22. He placed 2nd to finish 4 lengths behind Captain Corn on July 22 in a $14,600 event.
I certainly think Schmultzy can be a competitive runner in this race as well. That was at 6 furlongs, though Schultzy has been fine at longer distances in the past. The only question is whether he still has it in him to run a mile and 40 yards.
Who Dat Mo is 2 for 10 and coming off a strong performance on July 29 at a mile. He continued to get stronger in that race. Who Dat Mo was 4th at the ¾ pole and dug in at the top of the stretch and went all out in the stretch with successful results for a $14,200 purse.
Who Dat Mo finished 5th in three straight races around the $30,000 level, but immediately looked better in this class. There's a good chance that he can follow up for back-to-back wins on Tuesday at Thistledown.
Race 8
(1) In The Game
+450 (9/2)
(2) Whisky Man
+250 (5/2)
(3) His Will Be Done
+600 (6/1)
(5) Time to Shoot
+800 (8/1)
(6) Hines Treasure
+600 (6/1)
(8) Button Box
+1000 (10/1)
Post Time: 4:20 p.m. EST
Distance:6 Furlongs
Purse: $20,000
Race 8 is the final race at Thistledown on Tuesday afternoon. It will include 6 furlongs on the dirt for a $20,000 purse. This is one the bigger races at Thistledown. Murtagh and Whisky Man are expected to run big races today. Murtagh is a sophomore runner on Tuesday after making his debut on August 5.
That was an encouraging performance by Murtagh, as he placed 2nd behind Cat's Curiosity by a head. Murtagh was not expected to be close in that outing. He was a heavy underdog, but ran like a favorite for a $20,000 purse. Murtagh was in good form in morning workouts leading into that race and it translated on the track. Given that form, it's hard to ignore Murtagh on Tuesday at Thistledown.
Whisky Man has gone 3rd, 11th, 6th, 2nd in his career and in search of the first win of his career today. After finishing 6th on May 17 in a $79,000 assignment, Whisky Man was eased down in class to the $30,000 level on July 8. That was much easier for Whisky Man, as he came a half length away from winning the top prize out of a $30,000 purse.
He put together a nice rally in the stretch to nearly come out with the win. Whisky Man was 9th at the ½ pole and 6th going into the stretch before finding a lot of juice in the tank. He had more than enough gas to go 7 furlongs and should be fine here at 6 furlongs on Tuesday.