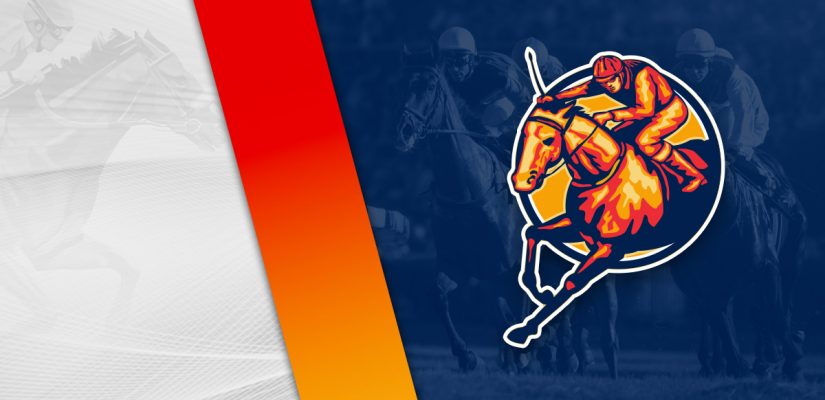 A quiet day on Monday following a big Sunday at Saratoga. The $500,000 Diana Stakes (Gr. 1) was a thriller between Rushing Fall and Mean Mary in the stretch, with a duel unfolding and the unflappable Rushing Fall calmly edging away for the win. Sistercharlie, who was looking to win the event for a third straight year to pull off a Diana Stakes hat-trick, was not involved in the finish. She has cooled off considerably after dominating the turf for two years. Rushing Fall keeps getting stronger and was able to add another Grade 1 to her record, though.
There isn't much in the way of stakes action on Monday. The biggest event is the $75,000 Lady Erie Stakes at Presque Isle Downs. In any case, there is still a lot of racing on the docket across North America. Some of the smaller tracks step up into the spotlight. Next weekend, a smaller track, Charles Town in West Virginia, gets an opportunity to put on the main show on Saturday. There will be seven stakes races, highlighted by the $600,000 Charles Town Classic (Gr. 2). Thistledown should have a good day of racing in Cleveland today. There are eight races on offer Monday afternoon for this card. Head below for our free Thistledown picks for August 24, 2020.
Race 1
(1) First Angel
+350 (7/2)
(3) Bryce's Angel
+450 (9/2)
(4) Classy Nekia
+1200 (12/1)
(5) Cats Valentine
+800 (8/1)
(6) Lunar Buck
+250 (5/2)
(8) Tiz Smart
+1000 (10/1)
Post Time: 12:29 p.m. EST
Distance: 1 Mile
Purse: $8,900
Race 1 gets us started at Thistledown on Monday afternoon. This event carries a modest purse of $8,900 for a mile of racing on the dirt. Lunar Buck and Bryce's Angel are on my watchlist in Race 1.
First Angel certainly has a shot as well from the No. 1 post position. He has quickly improved in his career, from 11th, 5th, and then 1st in his most recent outing on July 9. First Angel beat Brisky by 1 ¾ lengths for a $10,000 purse on July 9.
Bryce's Angel is coming off the best performance of his career with a win on August 6. He beat Iron Drill by 3 ½ lengths for a $8,500 purse. This was after Bryce's Angel went winless in the first ten races of his career.
Bryce's Angel was 5th, 6th, 8th, 3rd going into that race and he finally found an event he liked. Bryce's Angel had to dip below the $10,000 class to find a winning run. $11,000 was way too tough for him, as he finished 8th in November at that level.He stays where he belongs under the $10,000 mark.
Lunar Buck is coming off a win as well and has been the most consistent operator. He has finished in the top-3 in 5 of his previous 6 races and in 6 of 9 career races. Lunar Buck has finished 2nd, 3rd, 1st going into today.
He was a 1 ½ length winner over My Friend Buddy for a $20,000 purse on July 6 in his latest outing. There was an additional $15,000 available from the Ohio Thoroughbred Fund, so a total of $35,000 was available in that event. Lunar Buck is accustomed to racing for $20,000 purses or thereabout. This is a sizable drop in class despite a win in his most recent entry. He should handle his business on Monday afternoon.
Race 5
(1) Here Comes Jigs
+600 (6/1)
(2) Cali Dream
+800 (8/1)
(4) Totally Obsessed
+350 (7/2)
(5) Miss Mischievous
+1000 (10/1)
(7) Circus Rings
+250 (5/2)
Post Time: 2:50 p.m. EST
Distance:6 Furlongs
Purse:$34,200
It's rematch time at Thistledown on Monday afternoon. Circus Rings and Drillit will meet again on the dirt for a $34,200 purse in the feature race. Those two will likely be involved in the stretch after Drillit wasn't in their first meeting.
There might have been a good reason for that, though. This goes back two weeks ago to the $100,000 Best of Ohio pay the Man Stakes (Black Type). Drillit finished 6th on August 8 because of getting bumped.
Moonlit Mission, the eventual winner, was disqualified because of interference with Drillit at the ⅜ pole. After Drillit got bumped, that was it for him and he lost his stride. Drillit finished in the top-3 in 10 out of 11 races, which included two stakes wins in the First Lady Stakes (Black Type) and J. William Petro Memorial Handicap.
He was thrown off course because of a bump in that race, and July 10 at Belmont Park was stuck in traffic.Prior to that sequence, Drillit went 1st, 2nd, 1st, 1st. In his most recent win, Drillit won by 12 lengths in a blowout for $75,000 over Leona's Revenge on June 18. Totally Obsessed also participated in that race and finished 6th for last.
Circus Rings won two weeks ago because of the DQ of Moonlit Mission. He ran a nice race to finish 2nd and won because of Drillit being interfered with. Circus Rings has been hot with three straight wins. However, I actually think Drillit is the better horse that has just ran into bad luck recently. Circus Rings will be near the front, but I think there will be more value on Drillit to win here.
Race 7
(1) Bucket Beat
+450 (9/2)
(2) Chief Randel
+350 (7/2)
(3) I Wanna Win
+250 (5/2)
(4) Make the Rules
+800 (8/1)
(5) Wicked Warrior
+300 (3/1)
Post Time: 3:50 p.m. EST
Distance:1 1/16 Miles
Purse: $23,000
Race 7 brings us close to the end of the day at Thistledown on Monday. This event will cover 1 1/16 miles on the dirt for a $23,000 purse. I Wanna Win and Wicked Warrior should present bold runs in this event. I Wanna Win has been in good form recently and constantly running near the front.
He's finished 1st, 2nd, 1st, 2nd in his last four entries after going 8th, 6th, 6th at Mahoning Valley. Prior to that stretch at Mahoning Valley, I Wanna Win went 2nd, 3rd, 3rd, 2nd, 2nd at Thistledown, so this is a track that he's familiar with and used to running well at.
I Wanna Win is coming off a productive run in the $100,000 Best of Ohio Governor's Buckeye Cup Stakes (Black Type). He placed 2nd behind Mo Dont No as an underdog. I Wanna Win couldn't get the win, but close against a tough competitor in a 2 ½ length loss. He was a winner on July 20 for a $21,500 purse by 1 ½ lengths over Chief Randal.
Wicked Warrior has done everything right in his eight-race career. He has finished in the top-2 in 7 of 8 races, and in the top-3 in every one of his outings. Wicked Warrior is seeking a hat-trick today after wins on July 6 and August 4. He was a 9 ¼ length winner in a blowout over Chip Chop for a $31,700 purse.
Wicked Warrior was able to follow up for another win on August 4 for a $33,000 length win in another 9 length blowout. He was originally purchased for $1,000, then put up for auction and purchased for $22,000, and his latest buy was in 2019 for $80,000. If only the original buyers held on. Wicked Warrior looks like a promising horse, and might be stakes racing before long if he runs strongly again today. I'm with the second morning-line favorite in Race 7 on the No. 5 horse.