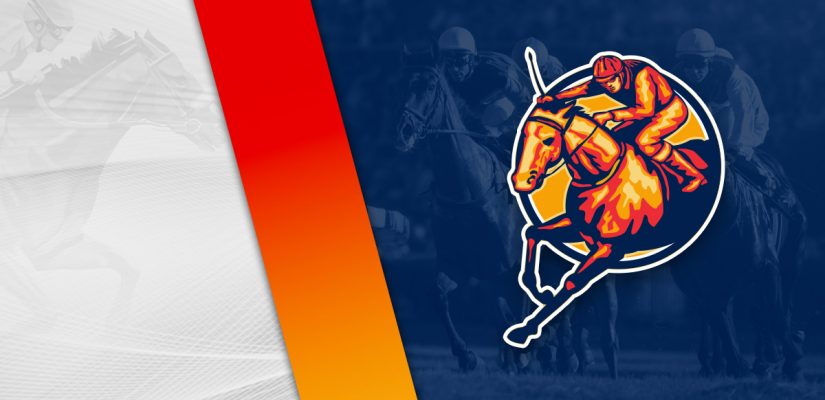 We're back in the saddle on Monday afternoon following the final weekend of 100-40-20-10 racing on the Road to the Kentucky Derby. The big winner was Zandon rallying to a win in the Toyota Blue Grass. Along with 100 points, Zandon won the biggest purse of the day at Keeneland.
The Kentucky Derby is approaching on May 7, with only one more opportunity to score points. It's a smaller race at Keeneland, with the running of the $400,000 Lexington Stakes. There are 20-8-4-2 points awarded in the Lexington.
We're looking at Will Rogers Downs and Turf Paradise this Monday. Turf Paradise has eight races worth $138,852 in the desert. Head below for our best Turf Paradise picks on April 11, 2022.
Race 2
(1) Brio is Awesome
+800 (8/1)
(3) Navarones Sparkle
+600 (6/1)
(5) Mischief Mama
+300 (3/1)
(6) Blue Gessami
+600 (6/1)
(7) Michelle Who
+500 (5/1)
Post Time: 1:53 p.m. PST
Distance: 5 ½ Furlongs
Purse:$14,140
Race 2 is a 5 ½ furlong event for a $14,140 purse. Dodropin and Mischief Mama should have a strong presence in this one.
Dodropin is 2 for 10 in her career, and 6th, 3rd, 2nd in her previous three outings. The mare is in fine form and keeping on course with improvement.
In her most recent outing, Dodropin placed 2nd behind Heart River by 3 ½ lengths in a $14,140 assignment. That was a good effort with more expected on Monday.
Mischief Mama could be tough to shake free from, though. The filly is 2nd, 7th, 1st in her previous three entries going into Monday.
In her most recent attempt, Mischief Mama came on well to defeat Smooth Rithims by a head in a $15,120 race. That was a good one after an easier assignment.
In a $14,140 race on Monday, the value has to be with Mischief Mama in Race 2.
Race 5
(1) Rousing Rubble
+600 (6/1)
(3) Colonel Mike
+300 (3/1)
(5) Off the Books
+1200 (12/1)
(6) Testing the Waters
+500 (5/1)
(7) Storming Warrior
+600 (6/1)
(8) Reno Roy
+1000 (10/1)
(10) Night's Watch
+2000 (20/1)
Post Time: 3:15 p.m. PST
Distance:6 Furlongs
Purse:$10,900
Race 5 is a $10,900 event covering 6 furlongs on the dirt. Colonel Mike and Cashlings are going to be tough runners in this race.
Colonel Mike is 1 for 12 and is in good form recently. The gelding is 1st, 2nd in his last two, and should have a good look on Monday.
He had a $15,120 win by 2 ¼ lengths on March 9 and couldn't follow up in a $7,700 event on March 26. Colonel Mike weakened out and regressed to lose as the favorite.
Cashlings appears like good value in Race 5. He is 2 for 10 and 7th, 1st, 7th in his previous three outings.
Cashlings came through on February 4 for a $15,120 prize. He recorded a comfortable 6 ½ length win.
In his next and most recent race, Cashlings came up well short in the same class on March 3. Despite that poor showing, the $250,000 Cashlings is open for a bounce-back performance.,
The price certainly makes Cashlings an intriguing prospect in Race 5.
Race 7
(1) Ms Glory Beach
+1200 (12/1)
(2) Temporarily
+600 (6/1)
(3) Kynlie's Empire
+400 (4/1)
(4) Eyes for Gold
+300 (3/1)
(5) Curlin Blessing
+500 (5/1)
(6) Finger Tip
+600 (6/1)
(7) Shirl's House
+1200 (12/1)
(8) Stubborn Love
+1000 (10/1)
(10) Maria Knows
+1500 (15/1)
Post Time: 3:42 p.m. PST
Distance: 6 Furlongs
Purse:$21,700
Race 7 covers 6 furlongs for a $21,700 purse on Monday afternoon. Look at Temporarily and Eyes for Gold to be tough to catch in this race.
Temporarily has finished 2nd, 3rd, 3rd, 2nd, 5th, 6th in her career. In her most recent attempt, Temporarily finished 6th for a $75,000 prize.
She struggled in a $23,800 event on February 28 for 5th, so that weaker event didn't help much. Eyes for Gold should give Temporarily tough opposition.
Eyes for Gold has finished 3rd, 2nd in two attempts on February 28 and March 21. In her most recent attempt, Eyes for Gold placed 2nd behind Ellie Can Play by 1 ½ lengths in a $21,700 assignment.
This came after showing 3rd in her debut on February 28 for a $23,800 prize. She looks like good value at this price on Monday.