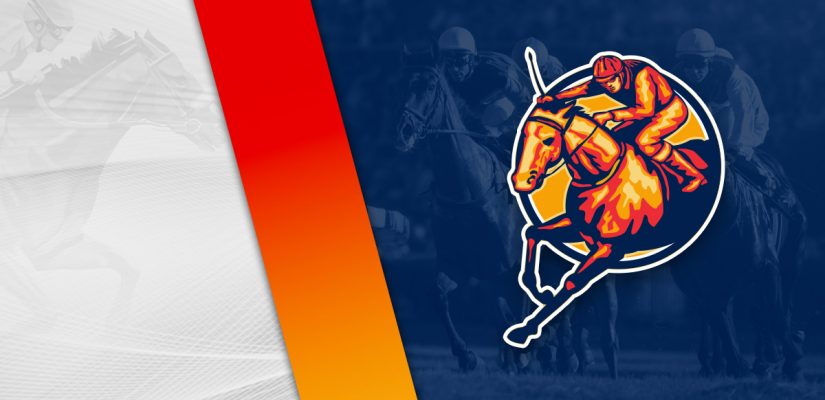 There is a small card of horse racing action on Monday, but still enough action to get into the fun on the racetrack. It was a big weekend on the Road to the Kentucky Derby, with the feature taking place at Oaklawn Park with the running of the $1,250,000 Arkansas Derby (Gr. 1).
Next weekend is the final 100-40-20-10 weekend on the Road to the Kentucky Derby. There is the Wood Memorial, Blue Grass, and Santa Anita Derby scheduled to take place on Saturday. Circle those for your horse racing calendar this coming weekend.
For Monday, we're heading to Will Rogers Downs in Oklahoma and Turf Paradise in the desert. Turf Paradise has eight races worth $139,902 in prize money. Head below for our best Turf Paradise picks on April 4, 2022.
Race 1
(1) Unbridled's Sky
+400 (4/1)
(3) Georgian Road
+300 (3/1)
(4) Cause and Effect
+250 (5/2)
(5) Wicked Fortitude
+200 (2/1)
Post Time: 1:25 p.m. PST
Distance: 5 ½ Furlongs
Purse:$11,368
The first event at Turf Paradise covers 5 ½ furlongs for an $11,368 purse. Cause and Effect and Wicked Fortitude should have a battle in the stretch.
Cause and Effect has one win in 19 assignments, with a winless stretch of seven straight. Since winning in April, Cause and Effect hasn't been back to the winner's circle.
In his most recent race, Cause and Effect finished 7th in a $13,006 event on March 22. He was 6th on March 1 for a $14,140 assignment.
A drop down to $11,368 should put Cause and Effect in better standing. He will be tested by Wicked Fortitude in this one.
Wicked Fortitude is 6 for 28 and running in the top-3 in four straight. In his most recent, he came on nicely to beat Upper Room by ¾ lengths for $11,998.
Prior to the win, Wicked Fortitude placed 2nd in a $12,320 race. There isn't anything saying that Wicked Fortitude can't handle this event.
Race 3
(3) Big Stretch
+400 (4/1)
(5) Just Grace
+500 (5/1)
(6) La Castiglione
+300 (3/1)
Post Time: 2:21 p.m. PST
Distance:1 Mile
Purse:$25,130
The third race at Turf Paradise is a $25,130 event covering a mile on the dirt. Look at Big Stretch and Sugary to be competitive for a win.
Big Stretch is 2 for 17 and has been consistent enough recently to get involved. She has finished in the top-3 in six of her previous seven races and should be in the mix again.
In her most recent outing, Big Stretch showed 3rd for a $25,130 prize. Look for Sugary to be the one that can repel Big Stretch.
Sugary is 7 for 30 going into Monday afternoon. She has finished 1st, 2nd, 4th, 3rd in her last four races.
Sugary had a $36,000 win on October 11. That was an impressive 1 ½ length win, though she hasn't been a winning horse since then.
In her most recent race, Sugary showed 3rd in a $40,000 event. That was tough, but Sugary still held her own. The No. 2 looks too good here.
Race 5
(2) Wedding Chapel
+350 (7/2)
(3) Sweet Baby Ruthie
+1000 (10/1)
(4) Midnight Baby
+1200 (12/1)
(5) Bones and Roses
+200 (2/1)
(6) Slew South
+600 (6/1)
(7) Only Danielle
+500 (5/1)
Post Time: 3:15 p.m. PST
Distance: 1 Mile
Purse:$21,700
One more pick before we leave Turf Paradise for the day. Look at Bones and Roses and Pluma are going to be in the mix.
Bones and Roses is winless in 14 races and top-2 in four of her previous five races. In her most recent race, Bones and Roses placed 2nd behind Invincibella by a head for a $25,130 prize.
This was a nice run after showing 3rd on February 2 in a $23,800 event. Pluma might have just a bit more than Bones and Roses.
Pluma is 3rd, 3rd, 3rd, 4th, 2nd in five races. In her latest race, Pluma placed 2nd behind Lemon Drop Lady by a neck for a $23,800 purse on March 4.
That was a nice run from Pluma and this one should be a touch easier. Pluma should be the one to beat.