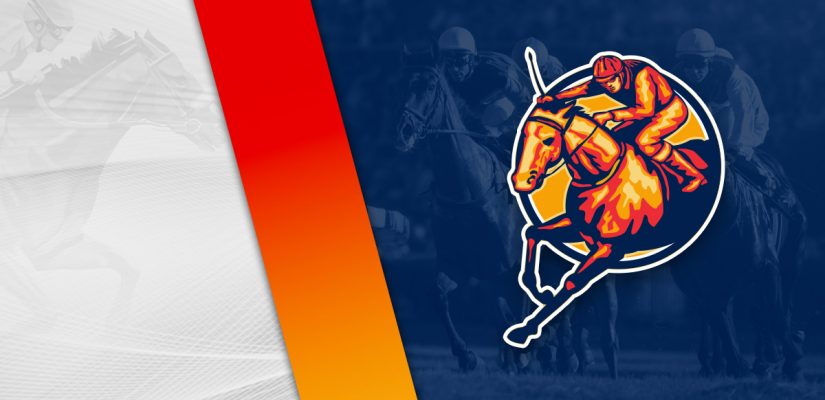 We have more horse racing picks on Monday after a Road to the Kentucky Derby weekend. We had an upset in the feature on Saturday, as Cyberknife came through in the Arkansas Derby (Gr. 1) on Saturday.
Along with the big prize out of a $1,250,000 purse, Cyberknife and his team recorded 100 points for entry into the Kentucky Derby at Oaklawn Park. There is one more big prep race weekend coming up.
The Road to the Kentucky Derby has three more 100-40-20-10 races next weekend. The Wood Memorial, Blue Grass, and Santa Anita Derby all offer 100-40-20-10 in points on Saturday.
Our first stop is at Will Rogers Downs on Monday afternoon. The OKC-based track has nine races on the dirt worth $148,880 in prize money. Head below for our best Will Rogers downs picks on April 4, 2022.
Race 1
(2) Knight Disruptor
+200 (2/1)
(3) Grand Royale
+140 (7/5)
(4) Afleet Sniper
+350 (7/2)
(5) Yesteryear
+600 (6/1)
Post Time: 1:00 p.m. CST
Distance: 6 Furlongs
Purse:$12,100
The first race at Will Rogers Downs is a $12,100 event covering 6 furlongs. Knight Disruptor and Grand Royale are likely contenders for the top prize.
Knight Disruptor is 9 for 39 in his career going into Monday. He is 12th, 1st, 2nd in his previous three attempts.
Two races back, Knight Disruptor beat Declined by 1 ¾ lengths for a $16,500 prize. That was a good run from Knight Disruptor, but failed to follow up.
He placed 2nd behind Half Ours N Stormy by 4 ½ lengths for a $17,500 purse in his most recent attempt on March 25.
Grand Royale is 5 for 19 and he has finished 1st, 2nd, 3rd in his last three races. Three races ago, Grand Royale beat Catalogue by a half-length in a $10,450 event.
That was good form. In his most recent race, Grand Royale showed 3rd in a $20,900 event. Back down to $12,100, Grand Royale should be a tough horse.
Race 5
(1) My Fortunate Son
+250 (5/2)
(2) Cajuns Golden Pond
+400 (4/1)
(3) Best Year Yet
+600 (6/1)
(4) A Flicker Ofsilver
+800 (8/1)
(6) Magic Carpet
+300 (3/1)
(7) One Silver Dollar
+2000 (20/1)
Post Time: 2:52 p.m. CST
Distance:5 ½ Furlongs
Purse:$10,900
Race 5 is a $10,900 event covering 5 ½ furlongs on the dirt. Magic Carpet and My Fortunate Son should have a good go at this one.
Magic Carpet is 2 for 11 and 7th, 1st, 8th in his last three entries. He beat Texas Gold Rush by 3 ¾ lengths for a $7,150 prize. That was good, but on the easier side.
In his next and most recent assignment, Magic Carpet finished 8th for a $29,500 prize on March 12. That was too tough, so it's back down to a $10,900 race on Monday.
My Fortunate Son is a two-time winner through 18 races, finishing in the top-3 in five straight entering Monday. He's consistent and a threat.
The gelding most recently placed 2nd behind Afleet Sniper by ¾ lengths for $10,900 on March 31, though notched a $13,000 win on February 16, so that was a step back.
In any case, My Fortunate Son is fully capable of drawing free versus this field. He looks like a good one in Race 5.
Race 7
(1) City of Hope
+800 (8/1)
(2) Gospel Truth
+2000 (20/1)
(3) Inside Job
+200 (2/1)
(4) Gold Help Us
+2000 (20/1)
(5) Twice the Price
+100 (1/1)
(6) Prince of Earl
+1000 (10/1)
(7) Monet's Devil
+1500 (15/1)
(8) I Can't Tell Ya
+1000 (10/1)
Post Time: 3:48 p.m. CST
Distance: 6 Furlongs
Purse:$19,800
Our final selection at Will Rogers is a $19,800 event covering 6 furlongs. Inside Job and Twice the Price should get involved.
Inside Job is making his debut on Monday and could be dangerous. The colt's workouts have been going extremely well.
At 4 furlongs, Inside Job was timed at 48.27, 47.75, and 47.97 seconds. In his latest workout, Inside Job carried on strongly with a 59.91-second workout at 5 furlongs.
Twice the Price is winless in 15 races, finishing 2nd, 2nd, 6th, 2nd, 2nd in five races. He most recently placed 2nd behind Silver Wings by 4 ¾ lengths in a $21,000 assignment.
This was after placing 2nd behind Blame George by 1 ¾ lengths in a $26,000 race. Down to $19,800, Twice the Price should have this over the rookie.