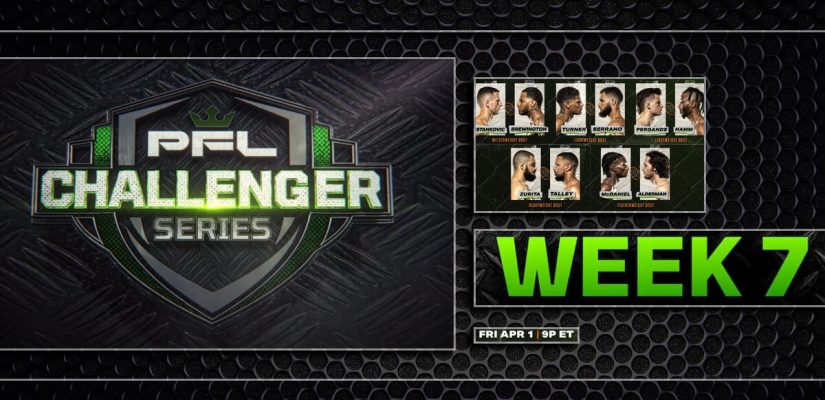 PFL Challenger Series 7 is showing off ten amatuer fighters debuting as professionals for the very first time. We're honing in on the main event, Andrija Stankovic vs Louis Brewington.
PFL odds have been posted on Bovada today, and betting must be placed before the bout, Friday April 1st, 2022 at 9:00 PM ET. Hustle and place your bets before markets close on PFL Challenger Series Week 7!
If you're new to MMA and you don't know anything about PFL, our guide should clear up any confusion in our breakdown. 
PFL Challenger Series 7 Main Event Betting Pick
Andrija Stankovic is an easy pick for any parlay ticket. He's a long time professional kickboxer, ranging back to 2017. Grappling at Sanford MMA is quickly bringing him up to par for MMA's lower levels. He's a dedicated strength athlete, and his long striking career puts him well above Brewington, who's fight history is inconsistent and currently is without a major MMA camp. PFL Challenger Series 7 isn't trying to create debuting mismatches, but they may be in this Main Event to offer Stankovic the contract.
PFL Tale of the Tape for Stankovic vs Brewington
| | | |
| --- | --- | --- |
| Fighter | Andrija Stankovic  | Louis Brewington |
| Money Line  | -700 | +425 |
| Age | NA | 31 |
| Height | NA | 6'2'' |
| Amatuer Record | NA | 7-5 |
| Amy Submissions/TKO  | debut | 5/1 |
| Fighter Training Camp | Sanford MMA | NA |
| Amy Losses via sub/TKO | Debut  | 1/0 |
Brewington has more experience on paper, but Stankovic's kickboxing experience should take him far with a debuting MMA fighter. Brewington is a submission fighter, and his five submission wins should keep Andrija on his toes. Still, many of Louis' submission wins were caught off of the opponent attempting a takedown, something Andrija is unlikely to do. This should be a showcase of Andrija's kickboxing, while Louis is desperately seeking the takedown. 
Should Fighter Camp Affect My Bet?
Stankovic is at Sanford MMA, one of the better camps for learning how to not get taken down. Usman (100% takedown defense in the UFC) started with Sanford and solidified his ability to hit without worrying about the takedown and to trip without fear of the submission.
Brewington is in between fight camps, but is fighting out of Florida, a state with plenty of MMA camps.
I expect him to be well prepared and in moderate condition as he's been in most of his amateur bouts. Andrija has an advantage, regardless of where Louis is based. 
PFL Challenger Series Main Event Odds History
Since both fighters are amater, there is no available odds history to consider for this fight. There are also no prop bets. The money lines for either fighter are the only odds to consider. 
10 Pro Debuts, 1 PFL Contract on the Line!

PFL Challenger Series Week 7 goes down ??????? at 9p ET free on @fuboSports!

B2YB: @Join_AFReserve | #PFLonfuboTV pic.twitter.com/bS8CWuG2fh

— PFL (@PFLMMA) April 1, 2022
A show of all debuting fighters is tough to pick for, but you can bet on all five fights at Bovada.
Fight Tape Analysis for PFL Challenger Series 7 Prediction
Brewington's fights show advantages in height and submission experience, but his guard pulling style is going to be a tough play against a fighter dedicated to repeatedly standing back up. 
Louis Brewington Fight Tape
Brewington has several fights online where it's clear that beyond being tall and using BJJ, his MMA game is limited.
Even in victories, ending up in the bottom position seems part of the strategy. It works for Pual Craig, but I'm skeptical of this as a long term victory condition. It's clear that his striking will be tested in a way that his twelve amatuer bouts could not. 
Andrija Stankovic Fight Tape
Stankovic's kickboxing ranges back to 2017 in the US, but his amatuer kickboxing claims to range back into childhood. His striking was slow and a bit too patient for most. He's a student of Henri Hooft, one of the world's top kickboxing coaches. I'd be surprised if Brewington could land anything significant through the whole fight. 
PFL Challenger Series 7 Main Event Pick Wrap Up
This is supposed to be a welcome party for Andrija Stankovic, one that Brewington must think he can ruin.
I'm expecting guard pulls and so should you.
If you find that betting odds for props open up, betting the over could be a good move, given Louis has never been KO'd and is likely to find his way to bottom position one way or another.
For more fights to fill out your ticket this weekend, we have confident betting picks in our CW 136 coverage.
PLACE YOUR BETS NOW!