I can hear Bruce Buffer now. What if we actually keep all 15 of the fights on the card throughout fight week and Israel Adesanya makes his walk to be crowned double champ as the 15th fight of the night?
I really feel like UFC 259 has the potential to be one of the greatest fight cards of all time. On paper, it already is! I am not going to go back and calculate the records for 258 other pay per view events.
I need to keep watching tape and picking more winners than losers for you guys. Like many of my peers and their followers, we had a sensational end to 2020 but the new year has been a new struggle.
It isn't like we are losing our pantaloons. We are treading water and last week was a nice boost to the bankroll. Ronnie Lawrence could have made it a massive day for us if he would have fully committed to just one of his double digit submission attempts.
He was 7 to 1 for a sub. He prefers to pound people out and Cachero had great defense so I can understand a big number but I couldn't leave that one alone. We did hit on his moneyline and point spread though.
Dustin Jacoby was a moneyline and method of victory prop winner as well. Bruce Leroy completely dominated the "public's underdog" Kevin Croom. I thought hey, small Octagon and aggressive fighter-sure, he's live against Alex Caceres.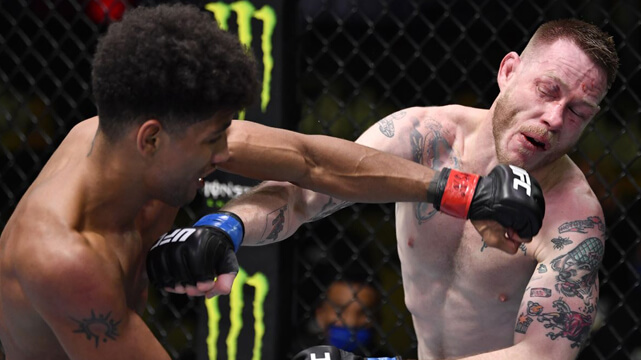 Kevin has a strong ground game and he did get deep in those hips a couple of times trying to get the fight to the floor but once they were a little sweaty and Croom began to tire, defending takedowns required only footwork.
We lost on Jimmie Rivera. When I closed my eyes, I did see his heavy boxing stance and center of gravity working against him if Pedro threw the calf kick. What heart and toughness from Jimmie Rivera, though!
We saw how quickly guys like Conor McGregor and Sean O'Malley faded after just a few. Jimmie fought 2 rounds after he was immobilized and continued to receive more the whole time. He was even throwing his own back, TRADING!
Not enough of the media is giving the guy the credit he deserves for that display. In Thailand, he would have got much more applause from the crowd and after the fight, there would have been a great deal of respect and love thrown his way.
And this stuff isn't McDonalds. You can't just get it whenever you want. I would go months training under a Thai and get zero feedback. Then one day, when I'm in the zone and not even "trying" to do anything much less be perfect, I hear an "mmm.." or an "uhh" or "ahh". These are all good sounds but man, can I get a little bit more Master Nop?
Then, not 30 minutes later, he puts 50 bucks on my head during sparring. "Knock out Mike…30 dolla. Come on! Lo lo lo…" Then guess who needs a ride after training and guess who gives him a ride no questions asked.
Okay, guys. Forgive me for the trip down memory lane. If you love martial arts and striking, I encourage you to get to Thailand or Las Vegas where you can train under a Thai because it is not only another level of knowledge, their teaching style is something we can all learn from.
Both the student and teacher must be incredibly patient and the path to "The way" is more efficient, in my opinion. To wrap this up-the point is for you to teach yourself.
I think a guy like Israel Adesanya surely takes guidance from his coach but have you ever seen anyone with his style before? No. So, who taught it to him? Israel Adesanya is a special guy who does things his way.
You have to be an individual in there if you want to be a world champion in today's modern MMA game. As an artist and a lover of art, I am fascinated every single day with MMA, and The Last Style Bender is one of my favorites.
His personality makes me feel like an old man but when he fights, I melt. An Anderson Silva fan for the past 15 years, it was hard to come over the Adesanya side but he fought a nice guy "fight" with Silva and I will forever love and respect him for that.
You're here for the betting odds and the pick, though! BetOnline has provided the lines and I don't think they are that bad, really.
Israel Adesanya (-230) vs Jan Blachowicz (+195)
Israel Adesanya priced at just (-230) fighting anyone in the world is worth at least a unit. I truly believe that. Even if it was Francis Ngannou, I would think about it. Izzy is not a small guy. He is one of the biggest middleweights on the roster.
He is going to need some size, though, to fight off the clinch of Jan Blachowicz. I think his footwork will do most of the job along with his jab. Izzy is a bad man, you guys.
One thing I worry about with him is that I believe he has fought all of his UFC fights, at least as a champion and challenger, inside of the large Octagon. He does like his space to start with. One thing he doesn't do, though, is rely on his bicycle to get him around.
He isn't a big circler with his footwork. He just wants you on the end of his punches and kicks to start with and then either pick you apart from there or let you make a mistake with your forward movement.
I think the jab will be huge in this matchup along with the calf and thigh kicks from the Nigerian-born Kiwi. Do I think it will be as easy as it was against Paulo Costa? Man, I sure hope so.
That was cake, wasn't it?
I believe I took Izzy by decision so it stunk to lose the bet but it was really nice to see a "skinny guy" whoop a former bodybuilder. Costa is every bit as big as any light heavyweight on the roster so it isn't like Izzy is all of a sudden facing something he has never seen before.
Another plus for the Adesanya side is that he isn't putting on weight for the fight. He had a speed advantage over the entire division at 185 and he will certainly have the same against the light heavyweights.
Jan is not the fastest guy either and he is going to be suffering this week cutting weight while Adesanya might have to get rid of 5 pounds at the most.
Adesanya is most likely going to style on Blachowicz here. Jan's only path to victory is a knockout, in my opinion, because he hasn't shown us any other major wrinkles to his game. Izzy can win by knockout and decision.
More boxes checked for the soon to be double champ!
You can get the champ on the moneyline at (-230). If you have a fat bankroll, then this is the bet for you but I understand that isn't everyone's style so here are a couple of other options.
The narrative here is that Izzy will eventually TKO Jan Blachowicz and you can get Adesanya to win by TKO for (+145). That doesn't seem like too bad of a value to be honest with you guys. I think this line will certainly get closer to even money if not juiced by fight time.
At the same time, you can take Adesanya to win by unanimous decision for (+325). That line is over at 5dimes.eu, by the way. This is sensational and yes, with Izzy's power boost and speed increase from the weight class jump has me leaning strongly towards a finish but why not put a few down on this line?
If you bet both of them, you are almost guaranteed to make money. The only thing that will crush us is a sub from Adesanya which is highly unlikely or a win from the Pole. We either get 25% ROI or 225%.
If that is your style, then this is the play for you.
You can also get Izzy (-5.5) points for (-160). If he gets the finish, we win automatically. If he loses, we lose. Another outcome that could screw us is him winning 48-47 on all three judges' scorecards.
We only need one judge out of those three to score the fight for Izzy 4 rounds to 1 and we are money. I am not crazy about the (-160) but for those of you who maybe can't afford the (-230), this is an option.
So, there you go, guys. Lots of betting options for the main event. Also, you can parlay Izzy with Islam Makhachev for nearly even money. That is a great play. The two men have 40 wins and 1 loss between them.
The official pick is simply the moneyline on Adesanya because (-230) still holds a lot of value in this particular situation but for those who prefer a different style of betting, we have you covered as well.
In Conclusion
This is going to be a fun fight. I just hope I have some adrenaline left after a scheduled 14 super high level fights precede it. 12 fighters with between 2 and 4 losses on their pro MMA records. 5 undefeated fighters! 6 fighters with one loss!
I am too excited for a Tuesday but I know I have a reason. Along with all of these high level matchups, comes plenty of betting opportunities. We have several options for the main event.
If you like the moneyline, great. I do too. I think (-230) has excellent value and the reasons the line is as low as it is, I disagree with. I don't think the jump in weight is going to work against him and I don't even think it is a mas o menos situation.
The jump in weight, outside of the clinch, is going to help Izzy much more than hurt him. The fighters who put on a bunch of weight like Conor did to fight at 170, lose their speed and pop. Izzy isn't doing that, though.
He is just going to not cut any weight and take advantage of more speed, more power, more chin, and more strength.
Get your bets in now, guys, and enjoy the greatest UFC on paper we have ever seen.