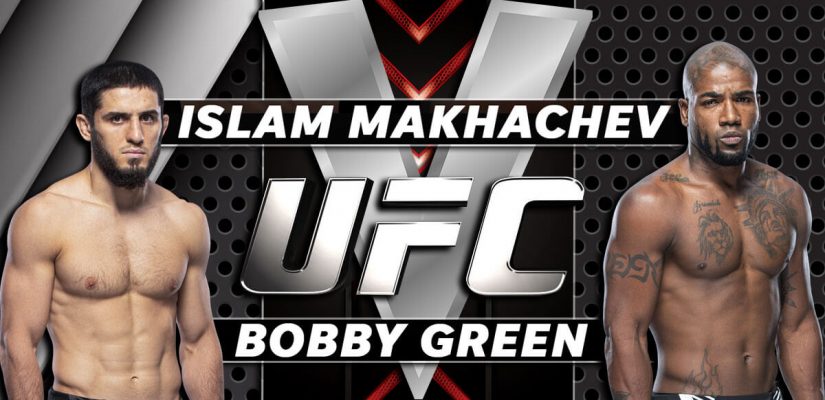 UFC Vegas 49 main event between Bobby Green and Islam Makhachev takes place on February 26th, 2022 and has seven available betting markets. We're diving into all seven on betonline.ag, building a case for each prop betting pick, and giving you our best MMA bet for Saturday night at UFC Apex Arena. Our top betting pick comes as no surprise to most MMA fans. 
Islam Makhachev is the obvious choice after looking at the footage of Green's takedown defense. Islam will close the distance and keep it closed early in the fight. While I feel Green's striking is superior, his knockout power isn't devastating, and it leaves Islam with plenty of opportunity to win rounds and take the fight the same way he beat Drew Dober. 
Story of the Fight: Green vs Makhachev
Makhachev was scheduled to fight Beniel Dariush, but due to a broken fibula Beneil has been sidelined. Bobby Green, the fighter who just put on a striking clinic two weeks ago at UFC 271, is immediately back in the cage as a replacement. He will fight just fourteen days later after receiving no performance bonus in his 188 to 76 boxing class over Nasrat Haqparast. 
Bobby Green has erupted in fandom, but Makhachev hopes to carry the torch of training partner Khabib Numagomedov in dominating every light weight he faces. 
Beneil Dariush: *pulls out*

Bobby Green: pic.twitter.com/7KTd2M8LGL

— Out Of Context MMA (@oocmma) February 17, 2022
Green's fight has to be the shortest turnaround from fight card to short notice main event in UFC history. 
Tale of the Tape for Green vs Makhachev
| | | |
| --- | --- | --- |
| Fighter | Bobby 'King' Green  | Islam Makhachev  |
| Age | 35 | 30 |
| Height | 5'10'' | 5'10'' |
| Reach/Stance | 71'' Orthodox  | 70'' Southpaw |
| Record | 28-12-1 | 21-1 |
| Submissions/TKO in UFC | 3/2 | 5/1 |
| Fighter Training Camp | Pinnacle MMA | AKA |
Green is five years older and far more experienced inside the UFC. If green defeats Islam, it would be the biggest win of his UFC career. Makhachev is currently #4 in the UFC, while Green is still outside the top fifteen despite back to back wins and five wins total since 2020. 
Green isn't normally a knockout stricker, and has knocked out only 8% of his UFC/Strikeforce level opponents.
Makhachev's one loss to date was to Adriano Martins, who struck first and found himself knocking out Makhachev before he got the chance to win a takedown. Many feel that Islam's chin is in question, and that a long decision striking win is of the table for Green. 
Which Camp is Better, Pinnacle MMA or American Kickboxing Academy?
Comparing these two camps, you have to look at the grappling quality of each fighter. AKA is perhaps the best grappling based MMA academy in the world, sporting both Khabib and Daniel Cormeir on staff. For a ground striking perspective, there is none better. 
Pinnacle has sparring partners for Bobby like the UFC's Jamall Emmers, Greg Guzman and former UFC fighter Willie Gates. What do they all have in common? Losses on the ground via submission or ground strikes in 2021.
I see AKA as the perfect place to fight against the boxing heavy style of Pinnacle, and I hope that Bobby can make the fight competitive with the right wrestling preparations. I give a huge advantage to the AKA training environment. 
Betting Odds and Odds History for Green vs Makhachev 
| | |
| --- | --- |
| Bet Available at Betonline.ag | Odds and Payout per Dollar Wager  |
| Green Money Line | +450 |
| Makhachev Money Line | -700 |
| Over 2 ½ Rounds | -110 |
| Under 2 ½ Rounds  | -120 |
Makhachev opens a strong favorite, but this is nothing new. Islam was -375 to fellow top ten fighter Dariush, and ranges between -320 to -700 over his last seven fights. His only loss to Martins came during a rare low favorite status at -125. Martins was a +110 underdog. He's blazing through everyone, while Green struggles with mid tier fighters.
Green has never seen this level of underdog status in his career. He was a +380 to Jacob Volkmann in 2013, upsetting the favorite and defeating Volkmann in round 3. He did the same against Josh Thomson in 2014, upsetting 'The Punk' at +340. Bobby's last five wins have included -185 against Al Iaquinta, and an upset +130 win over Patrick Vannata. 
Over/Under  Betting for Green vs Makhachev at UFC Vegas 49
Green fought eleven of his last twelve fights to decision. Makhachev has only had eleven UFC bouts, with only four of them going to decision. He's also accomplished a round-three finish over Dober and one round-four finish over Moises, so a late submission isn't impossible for this fight. 
Betting the over/under is hard because we don't know how Green's submission defense will stand early in the fight. Believe that it will be tested. We'll find out in the first round if Green's jiu jitsu is up to the task. If you're betting live props, be wary of jumping on a 'fight goes to decision prop' just because we make it out of the first round. Both men have late-fight finishing mechanics. 
As Islam climbs the ranks, it does look like he's taking longer to finish fighters, being more cautious and taking more time to measure distance in striking exchanges. I'd pick the Over 2 ½ Rounds prop if I were forced to select. 
Method of Victory and Round Betting Props for Makhachev vs Green
| | |
| --- | --- |
| Bet | Odds |
| Makhachev by Points | +300  |
| Makhachev by Submission | -110 |
| Green by Points  | +1000 |
| Green by TKO, DQ  | +750 |
| Islam in Round 1 | +275 |
| Islam in Round 4 | +850 |
| Green in Round 2 | +1800 |
| Islam in Round 1 by Submission | +475 |
| Islam in Round 4 by Submission | +1150 |
| Islam Makhachev -5.5 Points | -450 |
This is not an exhaustive list of all bets available, rather a selection of bets from the market that makes sense under analysis. These bets all have a higher likelihood of happening, and we'll make a case for each. 
Method of Victory
Makhachev has scored one knockout against the stiff and aging Tibeau. He's going to win via submission or decision against Green and that's no secret. Islam by Submission is favorited highly over the +300 decsion win, and if you watch the Clay Guida vs Green fight, you'll see why. Time and again Guida had Green in compromised positions, it won't be a shock if the far superior Makhachev can get the back in a scramble for the early RNC.  
Green can win by decision and that's about it. His knockout power has never been top tier, and the defensive striking of Makhachev is ever-improving. We'll need a jab-heavy, sprawl-centered fight for Green to take the decision victory. 
Round Calling Props
Islam in round one or round four makes sense. His submission work either finishes those who aren't on his level immediately or waits until they're exhausted. Green has good conditioning but never has fought into the championship rounds in the UFC. Green's last time finishing was a first-round knockout against Dustin Poirier in 2016, but he was also submitted in round one against Dan Lauzon in 2009. 
Green Round Calls are so low percentage they're practically non-bets. You're risking far too much on a fighter with one finish since 2013. Bobby was 35 in his last knockout over Al Iaquinta. Prior to that, he'd finished James Krause when he was 28. It's a rare event for an older fighter to regain their knockout power against a rising champion like Islam. 
Islam Point Spread Bet
This bet, Islam by -5.5 means that Bobby can win one round or less on one scorecard in a decision, or Islam can finish the fight. Both events payout. It's our betting pick of the evening, and pays eleven cents more per dollar wager than his money line bet of -900, doubling your return. 
Islam should win in definitive fashion, especially considering he's so close to his title shot. 
Fight Tape and UFC Stats for Makhachev vs Green
Looking at the stats, we see a fight where the decision favors Green. The fight is at a catch weight, but can Green outlast Makhachev, survive the submission work, and win the late rounds? We have to look closely at his performances against comparable grapplers. 
UFC Fight Stat Comparison for Makhachev vs Green
| | | |
| --- | --- | --- |
| Fighter | Islam Makhachev | Bobby Green |
| Strikes Landed per Minute  | 2.21 | 5.93 |
| Strikes Absorbed per Minute  | .79 | 3.65 |
| Takedown Accuracy | 66% | 38% |
| Takedown Defensive Accuracy  | 88% | 72% |
| Average Fight Time  | 9:42 | 12:39 |
Is Wrestling an Issue for Bobby Green?
Islam rarely gets hit, and chains together multiple takedown attempts to win top position. In his last three fights against Hooker, Moises and Dober, Makhachev held just over 70% control time on average. This means that he was in a dominant clinching position or top position on the ground for three quarters of each fight. 
Bobby Green's last four losses to fighters with good grappling include Thiago Moises, Trinaldo, and Klose. The Moises fight was a highway robbery, where Green out struck Moises by fifty strikes, nearly matching his control time.  Against Trinaldo, a similar story is told. Green won the control time and landed more strikes over three rounds and the same Drakkar Klose. On paper, all three of these fights with prominent grapplers were bad calls, and after watching the fight tape- I have no idea why the judges hate Bobby Green so much. Look at the UFC stats for yourself, its mind numbing. 
Green and Makhachev Have Both Fought Thiago Moises 
Makhachev is so good at making people scared to strike with him. His counter punching is always followed with grappling exchanges. Moises puts Makhachev against the cage early, which felt surprising. Makhachev softened Moises up in the first round leading to a trip. This slow grinding fight led to a fourth round choke. 
Green lost to Moises despite doubling his significant strikes landed every single round. Moises never attempted to take Green down, while Green landed more significant strikes on and off the ground. It's for this reason that we selected Makhachev -5.5 and no Makhachev inside the distance. Green is more durable than anyone gives him credit for. He's in this fight, despite what his record over the last ten bouts may tell you. 
UFC Fight Night: Makhachev vs Green Wrap Up
If you're still learning about MMA and what it means to develop a good betting ticket, start here. Makhachev is just now in average champion age. He's one of the only fighters I see as a real match for Charles Oliveira, but will likely not get the opportunity for another year.
Expect big names to take precedence over raw talent.
If you liked this pick, look for our blog on UFC Vegas 49, fully covering all fights and betting picks by our expert team of betting analysts.