What's going on everyone. Alex here, and I am back with my DraftKings NBA sleeper picks for December 8th, 2016. Tonight we get a solid slate with six games on tap. Be sure to follow all the injury news up until the 7:00 PM EST lock tonight, to see if any new injury news comes up (specifically The Warriors). As always if any of these picks help you win or if you need any advice, let me know in the comments section below or on Twitter Hunta512.
If you want help with NBA research for FanDuel and DraftKings check out the best fantasy tools out there at FantasyLabs.com
Want to win more money at DraftKings? Click here for our FREE lineup generator tool….
Also I wanted to congratulate DFS player "Roxy" who finished second in The Pump Fake winning $2,500 last night using some of my picks.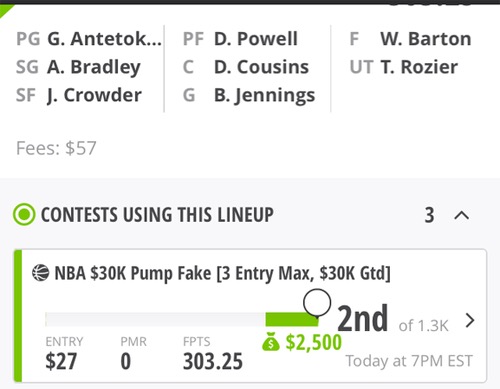 PF/C: Boris Diaw: (3,400) Tonight The Jazz will be without four of their starting players vs The Warriors. Derrick Favors (knee), Gordan Hayward (finger) , George Hill (toe), and Rodney Hood (hamstring). In Tuesday night's win over The Suns, Diaw played a bigger role with Hayward and Hood missing parts of the game, scoring 26.5 DK points in a season high 33 minutes. It's a small sample size, but when all four of these players off the floor, the veteran sees his usage increase 8% to a very solid 21% usage rate. He also sees his rebound percentage jump from 6.7% to 13.3%. This is a very nice matchup for Diaw with The Warriors ranking 30th vs PFs this season.
Even if this game becomes a blowout (-9 Warriors), he is going to need to play at least 25 minutes and should score close to 20 DK points with his expected role in this offense. SG Joe Johnson is also a very good value at $4,400, with his usage rate rising to a team high 27.3%. Both players seem risky against this Warriors team, but there has been some rumors that Warriors Head Coach Steve Kerr may rest some of his key players tonight. This wouldn't surprise me at all and it would be great news for all The Jazz player's fantasy value. With this game being the last game of the night at 10:30 PM EST, there is a very good chance we don't have any news about which players will rested. But I think Diaw and Johnson are both still very good value plays no matter what at their cheap salaries on Thursday night.
PG: Rajon Rondo: (5,700) Even after getting suspended one game for arguing with a Bulls assistant coach in last Saturday's loss to The Mavs, Rondo still logged 37 minutes in Tuesday Tuesday night vs The Pistons. He didn't perform well only scoring 17.75 DK points against this tough defense, but it was evident that The Bulls coaching staff isn't holding a grudge against him and he should continue to see his heavy minutes going forward. Before this game vs The Pistons and the blowout loss to The Mavs, Rondo was playing some of his best basketball of the season, averaging 40.6 DK points in his prior six games.
If the minutes are there again, he should bounce back tonight against The Spurs who allow the 3rd most DK points to PGs this season. Also something to note is that this game is going nationally televised which is great news for Rondo who is notorious for playing his best when everyone is watching. His price has dropped $1,000 since last Saturday and this a perfect time to roster him with an expected low ownership at a very affordable price.
PG/SG: Jamal Murray (4,000) Murray saw his minutes dip last week dealing with a quad injury, but he has gotten back on track in his last two games, scoring 29.75 DK points in 24 minutes vs The Sixers, and 25.75 DK points vs The Nets in 34 minutes last night. He seems to be completely over this injury and should see a healthy dose of minutes again tonight vs The Wizards in the game with the highest total of the night at 218 points.
Murray should be very active against this Wizards defense that ranks 21st vs PGs this season. It's hard to say how many people will be on him tonight, but regardless of ownership he is my favorite way to get exposure to the best game environment of the night.
Also Consider: Tim Frazier/Langston Galloway (if Jrue Holiday or Etwaun Moore is out), Pau Gasol (island game), Shelvin Mack, Joe Johnson (see above), Trey Lyles , Joe Ingles, Zach Randolph (boost if Marc Gasol out), Sergio Rodriguez, Marcin Gortat, Robin Lopez, Ricky Rubio, and Norman Powell (if DeMarre Carroll is out).