Free to Enter March Madness Bracket Contest With Over $160K in Prizes
---
The NCAA Division I Men's Basketball Tournament, known by most as March Madness, is one of the most-watched annual sporting events in the US. This year's tournament is expected to be the biggest ever, particularly after its cancelation in 2020.
Today, we'll explain exactly how to take part in TheSportsGeek's NCAA bracket challenge. This is without a doubt one of the most rewarding free March Madness bracket challenges online. There are some incredible prizes currently up for grabs.
Here's how you can take part!
Perfect Bracket Contest Overview
TheSportsGeek is excited to be hosting for the first time our own March Madness bracket challenge. We've come up with a list of exciting prizes including a new car, an iPad Pro, Amazon gift cards, and a ton of cash! For more specifics check out the details below or contact us with any unanswered questions.
What Is an NCAA Bracket Challenge?
Long-time college basketball fans are well-aware of March Madness bracket challenges. These become available every year and seem to grow more popular with each edition of the tournament. Those somewhat unfamiliar with this tournament will have no trouble getting started.
A March Madness bracket is simply a grid featuring all of the teams scheduled to compete. This grid is set in the classic tournament format. It's a quick, easy way to make predictions on how this tournament's games will play out.
Bracket challenges are where fans can put their predictions to the test. You can fill out the entire bracket, making winning team predictions for every game. This may sound easy at first, yet trying to predict how an entire March Madness tournament will play out has proven to be a challenging task.
TheSportsGeek March Madness Bracket Challenge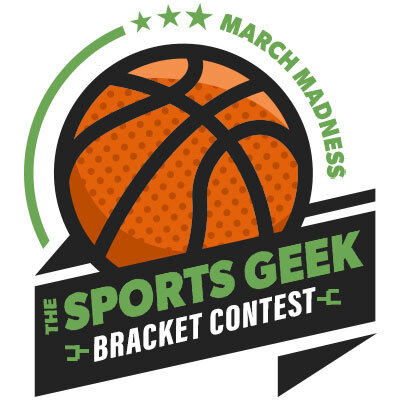 There are many different bracket challenges available for the annual NCAA Basketball Tournament. These are great ways for basketball fans to get more involved in the games.
TheSportsGeek is now offering a truly one-of-a-kind challenge with amazing prizes up for grabs.
This free March Madness challenge is special in every way. There are three different types of prizes available. That includes a $100,000 cash prize and even a 2021 Chevrolet Corvette! You read that correctly.
Those taking part in TheSportsGeek's NCAA bracket challenge have the opportunity to win a six-figure cash prize and one of the coolest new sports cars on the market.
Taking part in this 2021 March Madness bracket challenge is easy. The sign-up process takes just a few minutes and afterward, you'll be able to start making your picks.
Our bracket makes it easy to choose the winner of each team competing in this year's tournament.
It's that easy! In just a few minutes, you can take part in one of the best NCAA bracket challenges online.
There are some incredible matchups on the docket this year and it's still anyone's guess which team will be crowned the NCAA champion.
The Contest's deadline is at 11am EST on Friday, March 19th (3/19/21). Be sure you're signed up and have all picks finalized by then. No picks can be added or changed after the deadline.
Our Fabulous Prizes
There's a good chance you've heard of TheSportsGeek's bracket challenge due to the prizes being offered. Word spreads fast! Our bracket is offering some remarkable prizes for players, including the new Chevrolet Corvette!
We have a unique scoring system set in place for the different tournament brackets. Players will be rewarded for each correct pick. The different rounds will each offer their own point values. You can check out the scoring criterion below.
First Round – 1 pts
Second Round – 2 pts
Sweet 16 – 4 pts
Elite 8 – 8 pts
Final 4 – 16 pts
Championship – 32 pts
Here's a quick look at each of the prizes being offered for the big tournament:
Perfect Bracket Grand Prize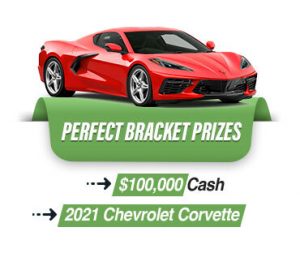 Every college basketball fan dreams of choosing every March Madness game correctly.
This certainly isn't easy to do..
Anything is possible, though, and TheSportsGeek's NCAA bracket challenge is offering some life-changing prizes to anyone that manages to accomplish this feat.
A perfect bracket winner will receive a $100,000 cash prize and a free 2021 Chevrolet Corvette! That's right!
Our free March Madness online bracket is giving players the opportunity to earn a six-figure prize AND an amazing new car.
---
64 Bracket Winner Prizes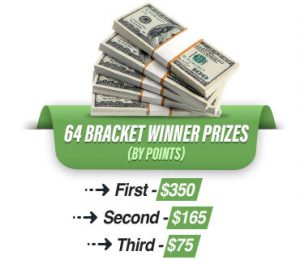 The full bracket of March Madness is often the most exciting to predict.
It's here that fans get to truly test their luck and knowledge.
Three great prizes are up for grabs to those who perform the best in the 64 game bracket pool.
The first-place winner will receive a $350 cash prize.
Second place receives a $165 cash prize.
Finally, the third-place winner here will earn a $75 cash prize.
---
Random Drawing Prizes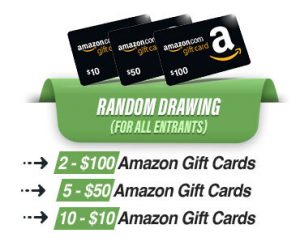 Winning an NCAA bracket is never easy. There's a certain amount of skill and luck that goes into this challenge. Fortunately, those that don't manage to win big are still able to win some great prizes.
TheSportsGeek will be randomly selecting 17 entrants to win Amazon gift cards.
The two first-prize winners will receive a $100 gift card.
Five second-place winners will earn a $50 Amazon gift card.
Another 10 third-place winners will be given a $10 card.
---
Sweet 16 Contest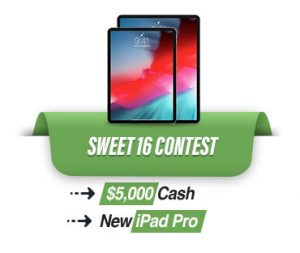 Having some trouble with your bracket early on? Don't sweat it.
TheSportsGeek's NCAA bracket challenge has its own special Sweet 16 contest that is also offering some fantastic prizes. This means even those who botched many of their early picks will have the opportunity to win big!
Keep in mind, however, that this is a second-chance contest and players cannot win both the Sweet 16 contest and the bracket contests.
The same scoring criterion applies here. If all your predictions come through perfect Sweet 16 brackets will receive a $5,000 cash prize and a free iPad Pro.
This gives everyone the chance to stay in the game, even if their early picks ended up falling short.
---
16 Bracket Winner Prizes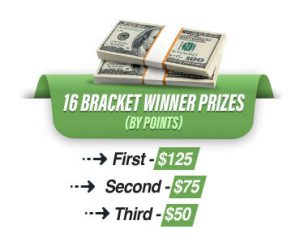 TheSportsGeek's Sweet 16 NCAA bracket challenge is where things get really interesting. The championship is just around the corner here and only the truly elite teams remain in the tournament.
Fans will need to dial in their picks for the best shot at winning some amazing March Madness bracket prizes.
Once again, some big cash prizes are up for grabs for the highest scorers in our March Madness redemption contest. The first-place winner will earn $125. The second-place winner will receive a $75 prize. The third-place winner will receive a solid $50 in winnings.
It's important to note that you can not win both the 64 bracket pool and the Sweet 16 bracket pool.
Contest Rules
Like all major online contests, our 2021 March Madness bracket challenge comes with a few rules. These are easy to follow and are intended to make this contest as safe and fair for everyone as possible. Below are some of the most important rules to keep in mind before taking part.
Only 1 Bracket Per Person Is Allowed
Some might be tempted to make several brackets to increase their odds of winning. Don't try it! This free online March Madness bracket is limited to just one per person. A full name, email, and phone number will all be required prior to playing to ensure everyone's identity.
Fill Out Your Bracket Before the Deadline
This official contest kicks off on March 12, at 4:30pm EST. Those wishing to take part in this NCAA basketball bracket challenge will need to ensure they do so before the deadline on March 19 at 11am EST. Brackets made before the contest begins or after the deadline will automatically be disqualified.
Ties Will Go to the Player With Guess Closest to the Championship Game's Total Points
This one is fairly self-explanatory. In the unusual event of a tie between two players, the winner will be decided by whoever guesses closest to the total points of the championship game. This rule applies to each of the individual rounds of prizes.
Winners Must Present a Valid Government ID and Address to Claim Prizes
The excitement surrounding our new March Madness internet bracket challenge is ramping up. Those lucky enough to win any of the rounds will need to present a valid government ID and proof of address to claim their prize.
Players Agree to the Contest's Official Terms and Conditions
This should go without saying, but anyone participating in any contest offered by TheSportsGeek agrees to all that contest's rules, terms, and conditions. Be sure you are in agreement with all contest terms and conditions before entering.
Filling Out Your Bracket
Don't be concerned if you are completely new to college basketball. Even those with no knowledge of the sport can have fun playing in this bracket challenge. After entering in your basic information, you can begin filling out your official March Madness online bracket.
Below are a few quick tips to help make the best picks possible.
Understand the Format
The NCAA Tournament begins with 68 teams and culminates with a championship between the top two. It's a tiered system in which the winner of one game moves on to play the winner of another. Our online NCAA tournament bracket is set the same way. The first round features each of the teams competing. From there, you will need to guess how the rest of the tournament plays out. Having a basic understanding of this format structure is crucial to making your picks.
Do Some Research
It can be tempting to quickly fill out your March Madness bracket without any research in hopes of a big cash prize. This is certainly possible. For the best opportunity to win, however, it's always smart to put in some research. Simply knowing which teams are favored will significantly boost your odds of winning TheSportsGeek's NCAA bracket challenge.
Sit Back and Enjoy
This isn't rocket science. In many ways, this challenge is pure luck. You click on the teams you believe will progress through the tournament. Afterward, sit back and enjoy all the action. With the cancelation of the 2020 tournament, many believe this year's March Madness will be one of the most exciting in history.
For a more in-depth guide on how to choose the best March Madness bracket, head over to our complete March Madness betting guide here!
Sweet 16 Contest – Overview of Rules and Prizes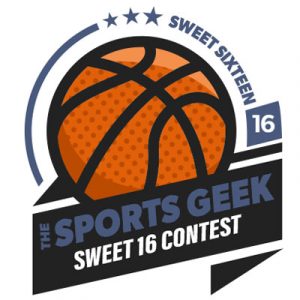 We at TheSportsGeek have a free NCAA tournament bracket challenge unlike any other. Those that fail to win through the tournament's first two rounds still have a second opportunity to submit predictions for the remaining games for a chance to walk away with a huge cash prize.
That is thanks to our Sweet 16 contest.
This could also be called a "second-chance contest." The same points system used for the main bracket contest is used here.
This Sweet 16 contest is its own bracket challenge entirely, however, meaning the points earned in the prior bracket contest will not apply here.
Any player that fills out a perfect bracket correctly predicting all games from the Sweet 16 to the Championship will win $5,000 cash and a brand-new iPad Pro!
Additional Terms and Conditions
NO PURCHASE IS NECESSARY TO ENTER OR WIN. A PURCHASE WILL NOT INCREASE YOUR CHANCES OF WINNING. ALL FEDERAL, STATE, LOCAL AND MUNICIPAL LAWS AND REGULATIONS APPLY. VOID WHERE PROHIBITED.
1. Eligibility:
TheSportsGeek's NCAA Bracket Challenge is open to all legal residents of the fifty (50) United States and the District of Columbia who are at least eighteen (18) years old at the time of entry. Employees of TheSportsGeek and other companies associated with the promotion of the Contest, and their respective parents, subsidiaries, affiliates and advertising and promotions agencies as well as the immediate families (spouse, parents, siblings, and children) and household members of each such employee are not eligible. The Contest is subject to federal, state, and local laws and regulations.
2. Sponsor:
The Contest is sponsored by TheSportsGeek.
3. Agreement to Official Rules:
Participation in The Contest constitutes entrants full and unconditional agreement to and acceptance of these Official Rules and the decisions of the Sponsor, which are final and binding. Winning a prize is contingent upon being compliant with these Official Rules and fulfilling all other requirements set forth herein.
4. Contest Period:
The Contest begins on March 12, 2021 at 4:30pm EST and all entries must be in before the contest deadline on March 19th, 2021 at 11am EST. Entries that are submitted before the contest period or after the deadline will be disqualified. Submissions will be accepted for the duration of the Contest using the following methods: "Online".
5. How to the Enter:
Online: The method of entry will be available by visiting our website at thesportsgeek.com/ncaa-bracket-challenge/ and following all the directions provided to out the entry information and submit.
Limit one (1) entry per person, per email address and per household for the duration of The Contest Period, regardless of the method of entry. Entries received from any person, e-mail address, or household in excess of the stated limitations will be voided. All entries become the property of the Sponsor and will not be acknowledged or returned.
6. Prize Drawing:
On or about April 6th, 2021 the Sponsor will select potential winners based on the prize brackets. The Sponsor will attempt to notify the potential winners via telephone or email on or about April 7th, 2021. If the potential winner cannot be contacted within five (5) days after the date of the first attempt to contact him/her winner may be required to forfeit any and all prizes.
7. Winner Notification:
The potential winners will be notified by email, or phone. Each potential Grand and First Prize winner will be required to complete electronically sign and submit a Declaration of Compliance within five (5) days of the date of notice or attempted notice is sent, in order to claim his/her prize. If a potential winner cannot be contacted or fails to submit the Declaration of Compliance within the required time period or prize is returned as undeliverable, the potential winner will forfeit any and all prizes. Potential winners must continue to comply with all terms and conditions of the Official Rules, and winning is contingent upon fulfilling all requirements. If for any reason the potential winner is disqualified for any reason, the Sponsor will award the applicable prize to an alternate winner by selecting the runner up and so on until the prize is awarded. Prizes will be fulfilled approximately 8-10 weeks after the conclusion of the Contest.
8. Prizes:
a. Perfect Bracket Prize: $100,000 Cash and a 2021 Chevrolet Corvette
b. 64 Bracket winner prize (By total points) 1st place – $350.00, 2nd place $165.00, 3rd place $75.00
c. Perfect Sweet 16 Bracket Prize: $5,000 and 1 New iPad Pro
d. 16 Bracket winner prize (By total points) 1st place – $125.00, 2nd place $75.00, 3rd place $50.00
e. Random Drawing (For all Entrants) 1st place – 2- $100.00 Amazon Gift Cards, 2nd place 5-$50.00 Amazon Gift Cards, 3rd place 10-$10.00 Amazon Gift Cards
9. General Conditions:
In the event that the operation, security, or administration of the Contest is impaired in any way for any reason, including, but not limited to fraud, virus, bugs, worm, unauthorized human intervention or other technical problems, or in the event the Contest is unable to run as planned for any reason as determined by Sponsor in its sole discretion, The Sponsor may in its sole discretion either (a) suspend the Contest to address the impairment and then resume the Contest in a manner that best conforms to the spirit of these Official Rules or (b) terminate the Contest and in the event of termination, award the prize at random from among the eligible, non-suspect entries received up to the time of the impairment. The Sponsor reserves the right in its sole discretion to disqualify any individual it finds to be tampering with the entry process or the operation of the Contest or to be acting in violation of these Official Rules or in an unsportsmanlike or disruptive manner. Any attempt by any person to damage the website or undermine the legitimate operation of the Contest may be a violation of criminal and civil law and should such an attempt be made the Sponsor reserves the right to seek damages (including attorney's fees) and any other remedies from any such person to the fullest extent permitted by law. Failure by the Sponsor to enforce any provision of these Official Rules shall not constitute a waiver of that provision.
10. Release and Limitations of Liability:
By participating in the Contest entrants agree to release and hold harmless the Sponsor, and each of their respective parent, subsidiaries, affiliates, advertising and promotion agencies, other companies associated with the Contest, and each of their respective officers, directors, employees, shareholders, representatives and agents (The Released Parties) from and against any claim or cause of action arising out of participation in the Contest or receipt or use of the prize (including any travel or activity related thereto) Including, but limited to: (aa) any technical errors associated with the Contest, including lost, interrupted or unavailable Interest Service Provider (ISP), network, server, wireless service provider, or other connections, availability or accessibility or miscommunications or failed computer, satellite, telephone, cellular tower or cable transmission, lines, or technical failure or jumbled, scrambled, delayed or misdirected transmission or computer hardware or software malfunction, failures or difficulties; (b) Unauthorized human intervention in the Contest: (c) mechanical, network, electronic, computer, human, printing, or typographical error; (d) application download, (e) any other errors or problems in connections with the Contest, including, without limitations, errors that may occur in the administration of the Contest, the announcement of the winner, the cancellation or postponement of the event and/or the flyover if applicable, the incorrect downloading of the application, the processing of entries application downloads or in any Contest-related materials; or (f) injury, death, losses or damages of any kind, to persons or property which may be caused, directly or indirectly, in whole or in part, from entrants participation in the Contest or acceptance, receipt or misuse of the prize (including any travel or activity related thereto). Entrant further agrees that in any cause of action, the Released Parties liability will be limited to the cost of entering and participating in the Contest, and in no event shall the entrant be entitled to receive attorney's fees. Released Parties are also not responsible for any incorrect or inaccurate information, whether caused by site users, tampering, hacking, or by any equipment or programming associated with or utilized in the Contest. Entrant waives the right to claim any damages whatsoever, including, but not limited to, punitive, consequential, direct, or indirect damages.
11. Disputes:
Except where prohibited, each entrant agrees that any and all disputes, claims, and causes of action arising out of, or connected with, the Contest or any prize awarded shall be resolved individually, without resort to any form of class action, and exclusively by the appropriate court located in Las Vegas, Nevada. All issues and questions concerning the construction, validity, interpretation and enforceability of these Official Rules, entrants' rights and obligations, or the rights and obligations of the Sponsor in connection with the Contest, shall be governed by, and construed in accordance with, the laws of Nevada, without giving effect to any choice of law or conflict of law rules, which would cause the application of the law of any jurisdiction other than Nevada.
12. Privacy:
Information collected from entrants is subject to the Sponsor's privacy policy.