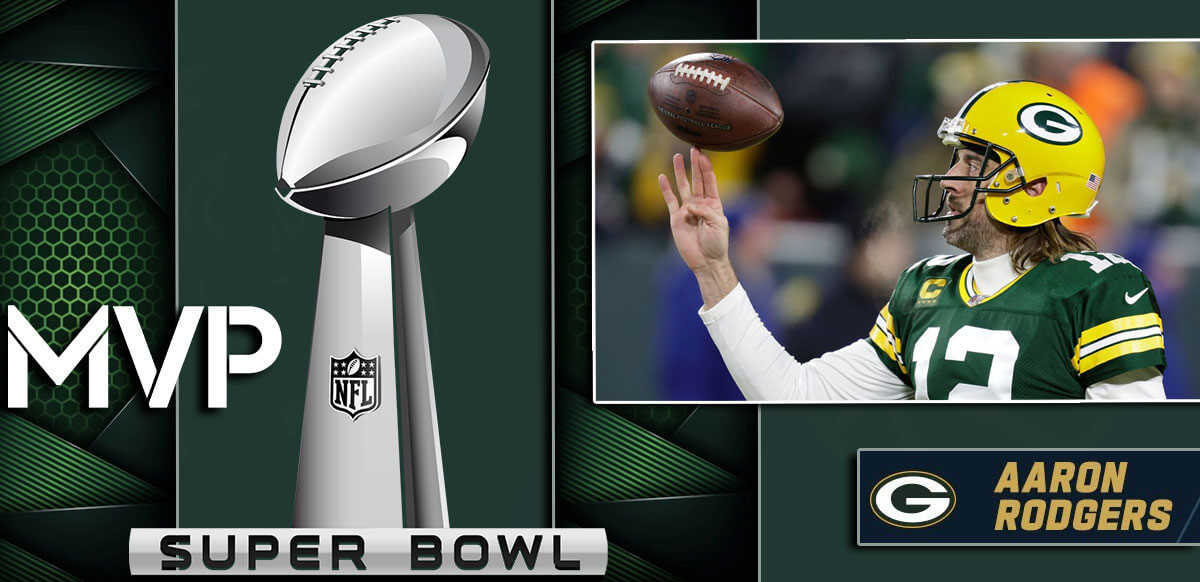 Aaron Rodgers is the +450 betting favorite to win Super Bowl LVI MVP honors.
Rodgers is also the odds on favorite to win regular season MVP while his Packers are the favorites to win the Super Bowl.
Patrick Mahomes is second in the SB LVI MVP oddsboard at +650 while Josh Allen and Tom Brady are yield at +1000.
With the Green Bay Packers taking the top seed in the NFC and the current odds on favorite to win Super Bowl LVI, quarterback Aaron Rodgers has taken the spotlight as the early betting favorite to win Super Bowl MVP honors.
According to the best NFL sportsbooks, Rodgers is the +450 odds on favorite to take home his second Super Bowl MVP award. The 38-year old was the MVP when he led the Packers to his only Super Bowl win at Super Bowl XLV.
Back to Back MVP?
Aaron Rodgers final stats for 2021:

◻️ 366/531
◻️ 4,115 yards
◻️ 40 total TD
◻️ 4 INT
◻️ 111.9 passer rating

Back-to-back MVP? pic.twitter.com/2A54CAZkvJ

— B/R Gridiron (@brgridiron) January 9, 2022
Rodgers began the year in controversy after holding out and threatening to retire before training camp began. But once he got back to Green Bay, Rodgers has been all business, and this season, he's put up MVP numbers: 366/531 passing for 4,115 yards with 40 TD and 4 INT with a 111.9 passer rating while leading the Packers to the best record in the league at 13-4 SU.
For the past two seasons, Rodgers' numbers have been ridiculous: 738/1057 passing (69.8%) for 8,414 passing yards with 85 passing TDS and only 9 interceptions while also adding 6 rush TDs to his tally. He didn't even play in the second half of Sunday's game against the Detroit Lions because the Packers couldn't risk him getting hurt.
The Packers' QB is the current odds on favorite to win the regular-season MVP honors. At the latest BetMGM betting board on Sunday afternoon, Rodgers was running away with the award at -650 with Tom Brady chasing him at +700 and Josh Allen and Patrick Mahomes at +1200.
Mahomes Off-Year
Mahomes Final Regular Season Stats. #Chiefs

4,839 passing yards, 37 TDs. pic.twitter.com/rrtiZUrqms

— Harold R. Kuntz (@HaroldRKuntz3) January 9, 2022
Next to Rodgers on the odds board is Kansas City Chiefs QB Patrick Mahomes at +650. who many consider being an "off-year". Off-year or not, Mahomes has produced 4,839 passing yards and 37 touchdowns this season, which is still impressive when you compare those numbers to the other elite QBs in the league.
Josh Allen and Tom Brady are third in the Super Bowl MVP betting boards at +1000 apiece. Allen led the Buffalo Bills to the AFC title game last season, only to lose to Mahomes and the Chiefs. Brady meanwhile is the reigning Super Bowl MVP, after leading the Tampa Bay Buccaneers to the promised land last season.
Davante Adams is Rodgers' main offensive weapon in Green Bay and as such, he is next in the Super Bowl MVP boards at +1200. Adams set the Packers' franchise record for most receiving yards on Sunday, overtaking Jordy Nelson's record of 1,519 set in 2014. After Adams is L.A Rams' QB Matthew Stafford at +1400 who has proved that he can win if given the right talent around him.