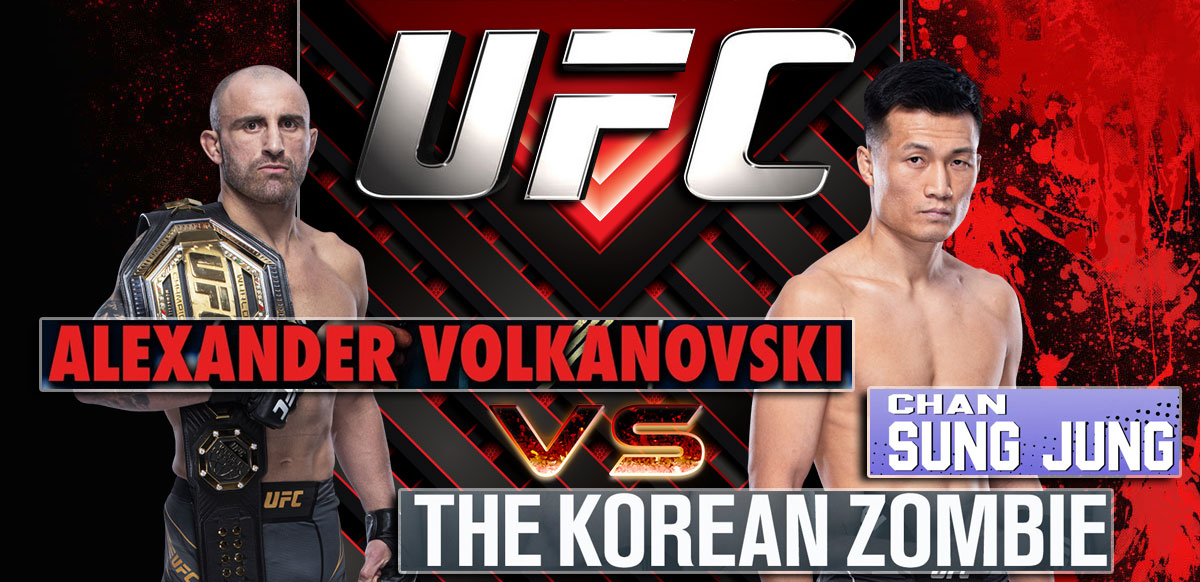 Alexander Volkanovski has opened as the -330 betting favorite against the Korean Zombie.
Volkanovski will defend his belt against the Korean Zombie in the main event of UFC 273 on April 9th.
The champion was supposed to fight Max Holloway in a trilogy bout at UFC 272 but Holloway suffered an undisclosed injury while training.
Alexander Volkanovski is a bigger betting favorite against a new opponent.
The UFC featherweight champion opened as a -190 betting favorite against top contender Max Holloway but after Holloway withdrew from their bout with an injury, the best UFC betting sites have installed Volkanovski as the -330 betting favorite against the Korean Zombie:
UFC 273:
Alexander Volkanovski (-330)
Chan Sung Jung (+265)https://t.co/icibJlZGvn @KoreanZombieMMA

— BestFightOdds (@BestFightOdds) January 12, 2022
The new bout was first reported by Ariel Helwani of MMA Fighting and later confirmed by Iridium Sports Agency, which manages the Korean Zombie:
? #TeamIridium Fight News ?

Our man @KoreanZombieMMA takes aim at the @ufc Featherweight Championship on April 9 ✍? #TheDarkside pic.twitter.com/JlSE4vuvAz

— IridiumSportsAgency (@TeamIridiumISA) January 11, 2022
Volkanovski was supposed to meet Holloway at UFC 272 but after the latter suffered an injury in training, Voklanovski was removed from the event and subsequently assigned to headline the next PPV show on April 9th. UFC 273 still has no location but sources say it will likely be in Brooklyn, New York, or Jacksonville, Florida.
Max Holloway Injured, Bounced from Alex Volkanovski Title Fight
Max Holloway injured, bounced from Alex Volkanovski title fight at #UFC 272 https://t.co/ZUU1WS7jPR pic.twitter.com/JhYJfEhg7l

— MMA mania (@mmamania) January 7, 2022
Volkanovski was supposed to defend his belt against the man he won it from at UFC 245 – Max Holloway. The two rematched at UFC 251 with Volkanovski eking out a disputed split decision win. Holloway battled his way back to contention with back-to-back Fight of the Night victories over Calvin Kattar and Yair Rodriguez.
But just days after the third fight between Volkanovski and Holloway was made official, Blessed suffered an injury that forced him to withdraw from the bout. Several contenders raised their hands to volunteer and fight Volkanovski for the belt on short notice. However, the UFC did the right thing and gave the title shot to the next highest-ranked contender.
The top-ranked Holloway was fresh off a win over no. 3 Yair Rodriguez. Meanwhile, Volkanovski had just defeated no. 2 ranked Brian Ortega at UFC 266 last September 25th, leaving the door open for the no. 4 ranked featherweight contender to step in. That contender is Chan Sung Jung who is more popularly known as the Korean Zombie.
Korean Zombie Wins Back-and-Forth Battle With Dan Ige
'The Korean Zombie' wins unanimous decision in back-and-forth battle with Dan Ige at UFC Vegas 29 https://t.co/p490sPvhn8 pic.twitter.com/mOM6MDjagw

— MMAFighting.com (@MMAFighting) June 20, 2021
Chan Sung Jung is coming off a unanimous decision win in a back and forth battle with Dan Ige in the main event of UFC Vegas 29 last June 19, 2021. Prior to that, The Korean Zombie lost a five-round decision against Brian Ortega in what turned out to be the title eliminator that led to Ortega's title shot at UFC 266.
The 4th ranked featherweight in the UFC is 4-2 since returning from a four-year hiatus where he rendered his mandatory military service to his native Korea. Before heading to his military break, the Korean Zombie challenged for the belt against Jose Aldo at UFC 163 but lost via knockout after dislocating his shoulder.
At +265, the Korean Zombie is facing his longest odds since opening as a +355 against Aldo. The only other times he saw the plus money next to his name was against Dustin Poirier (+290) and Mark Hominick (+475). On the other hand, Volkanovski has opened with his shortest odds as champion. In his most recent title defense, Volk closed at -200 against Ortega.