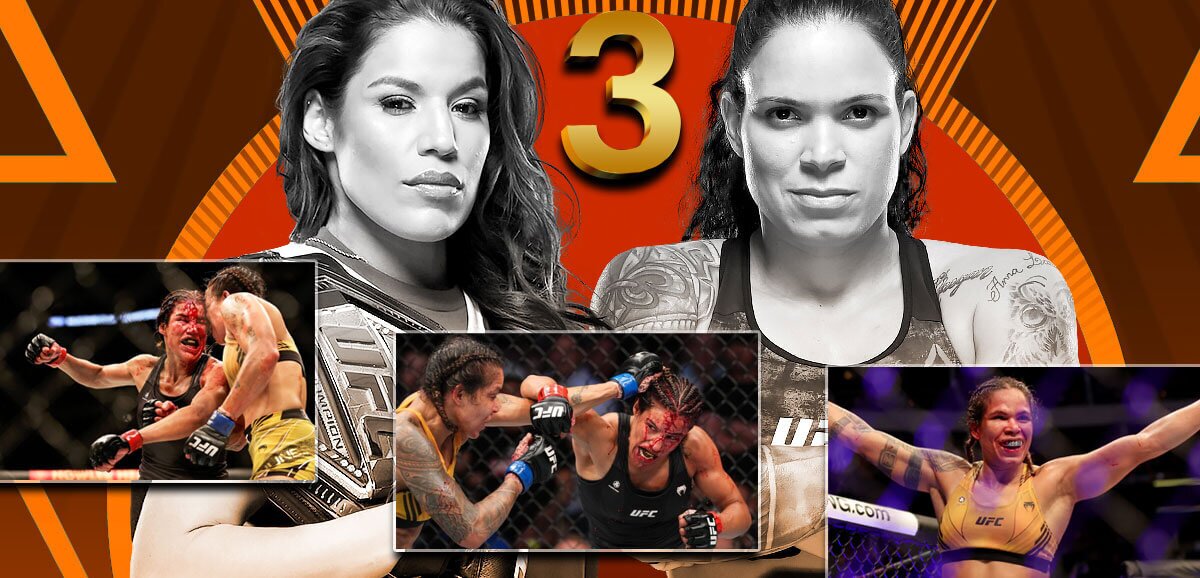 Amanda Nunes has opened as a massive -700 favorite in a potential third bout with Julianna Pena.
At +500, Pena's opening odds match the price at which she opened their first bout, which is the longest odds of her career.
Pena called for a trilogy in her first statement after the loss but UFC President Dana White "likes the idea" of another trilogy fight, the one between Nunes and Valentina Shevchenko.
Amanda Nunes has opened as a massive betting favorite in a possible third fight against Julianna Pena.
According to online sportsbook BetOnline, the Lioness is the -700 favorite and Pena the +500 bottom dog if the two fight again soon:
Amanda Nunes opens as a 7/1 Favorite in a potential trilogy fight against Julianna Pena

Julianna Pena +500 (5/1)
Amanda Nunes -700 (1/7)

(odds via @betonline_ag) 🏆 pic.twitter.com/gXPIoLjOBQ

— Chamatkar Sandhu (@SandhuMMA) August 1, 2022
Nunes reclaimed the UFC women's bantamweight title by defeating Pena via unanimous decision at UFC 277 last weekend in Dallas. But the Lioness didn't just defeat the Venezuelan Vixen, she said she purposely dragged the fight to the final horn just so she can prove that she is much better than her foe.
With scores of 50-45, 50-44, and 50-43. Nunes became the first fighter to score three knockdowns in a single round, dropping Pena thrice in Round 2. Nunes also completed six out of eight takedowns to dominate Pena from start to finish, earning the Brazilian a lopsided win.
Pena Calls for a Trilogy Fight
After a few stitches, Julianna Peña called out Nunes for a trilogy fight 👀 #UFC277

(via @VenezuelanVixen) pic.twitter.com/RBaezLfWwo

— ESPN MMA (@espnmma) July 31, 2022
After getting stitched up, Pena's first statement called out Nunes for a trilogy fight. With the Venezuelan Vixen beating the Lioness in their first bout, that wasn't a bad call out. However, it looks like UFC President Dana White may have another trilogy fight on top of his mind.
During the UFC 277 post-event press conference, reporters asked White about the possibility of Nunes completing her trilogy with Valentina Shevchenko. White's reply was "that's not a bad idea". Although he clarified that his answer did not mean a "yes", the look on his face probably said so.
Nunes and Shevchenko have fought twice before, at UFC 196 and UFC 215. The Lioness was the clear victor in the first fight, although Shevchenko finished strong and won at least the last round. That performance earned her a rematch and in the run back, Valentina took the fight to Nunes and seemed to have done enough to pull off the upset. But the judges awarded Nunes with a split decision win.
Which Trilogy is Next?
What trilogy would you rather see 🏆

Nunes vs Valentina Shevchenko 3

Or

Amanda Nunes vs Julianna Pena 3 pic.twitter.com/El0EGOdpei

— CP Knockouts (@CPKnockouts) August 1, 2022
Given the list of challengers at both bantamweight and featherweight, there is no immediate name that rings a bell as the next big fight for the once-again double-champion. That means that the best option for her next fight would be to finish a trilogy. The question is which one?
Fans of Julianna Pena say that the Venezuelan Vixen should get an immediate rematch. After all, she is 1-1 against Amanda Nunes while Valentina Shevchenko is 0-2 against the Lioness. But looking at the odds of their previous bouts, it's pretty obvious that Nunes vs Shevchenko has always been the closer rivalry, while Nunes vs Pena has always been the lopsided one. It's just that Julie pulled off one of the biggest upsets in UFC history during her first bout with Amanda.
Pena was the massive +800 underdog against Nunes at UFC 269. She was the +230 bottom dog last weekend and has just opened as a massive +500 betting underdog in a possible third fight. The first bout between Nunes and Shevchenko closed as a pick'em fight while Valentina entered the second bout as the slight -145 favorite. No futures odds for a third fight have ever been posted but given Shevchenko's current status and her history with Nunes, that bout will likely open with much closer odds than a trilogy with Pena. So, which trilogy fight do you think Amanda Nunes should take first?