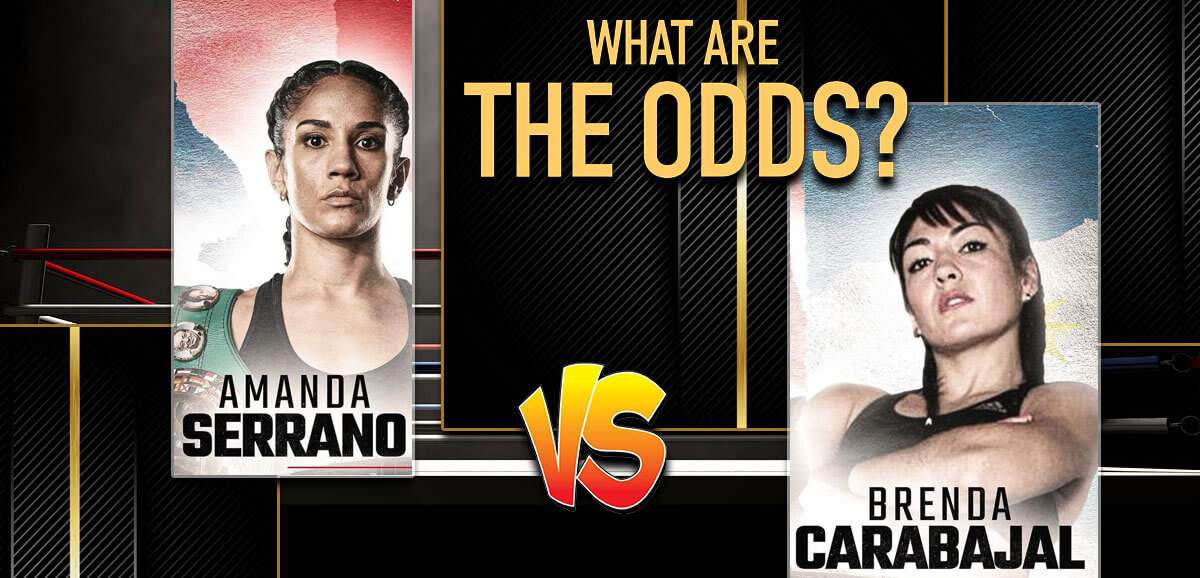 Amanda Serrano has opened as a massive -2400 betting favorite against Brenda Karen Carabajal.
Carabajal, who became Serrano's mandatory challenger after winning her last fight, hit the betting boards at +1220 odds.
Serrano and Carabajal will be featured in the dual-main event boxing card at the Madison Square Garden on August 6th.
Amanda Serrano has opened as a massive betting favorite in her next fight.
After fighting with the longest odds of her professional boxing career in her most recent appearance against Katie Taylor, Serrano hit the betting boards with one of her shortest prices ever when the top boxing sportsbooks opened the betting odds for her August 6th featherweight title defense against Brenda Karen Carabajal.
Amanda Serrano (-2400)
Brenda Karen Carabajal (+1220)https://t.co/I4Rbf3yStl

— ProBoxingOdds (@ProBoxingOdds) June 27, 2022
Serrano and Carbajal will co-headline the August 6th event featuring celebrity boxing star Jake Paul and Tommy Fury at the fabled Madison Square Garden in New York.
Katie Taylor Beats Amanda Serrano for All the Marbles
All the Marbles! 🥊#Katie Taylor beats Amanda Serrano in their Undisputed Lightweight Championship Fight in New York!

📸 @sportsfilesteve https://t.co/wyXu3oHlkb#Katie #KatieTaylor #Boxing #TaylorSerrano #Serrano pic.twitter.com/avC1YK800m

— sportsfile (@sportsfile) May 1, 2022
Serrano is coming off a split decision defeat to Katie Taylor in the biggest fight in the history of women's boxing when they fought for the undisputed women's lightweight title last April 30 at the Madison Square Garden in New York. The loss was only the second of Serrano's 45-bout professional boxing career and her first since dropping a unanimous decision to Frida Wallberg in 2012.
Despite the setback, the 33-year-old Puerto Rican is still the WBC, WBO, and IBO women's featherweight world champion. She won 28 consecutive bouts after her first loss before tasting defeat again in a closely contested bout against Taylor. Overall, Serrano has a record of 42-2 with 30 knockouts.
The Puerto Rican has never closed as the betting underdog in her entire professional boxing career. Although she opened as the +130 underdog against Taylor, Serrano closed as the betting favorite at the -170 to +110 odds range. Her current odds against Carabajal is the 6th shortest of her career.
Brenda Carabajal Beats Deborah Anahi Dionicius via MD
¡Brenda Carabajal destronó a Dionicius con polémica en San Lorenzo, Santa Fe!

Fue fallo mayoritario (95-95, 96-94 x 2) y le quitó el título mundial pluma interino @WorldBoxingOrg.

📺📲Se vio EN VIVO x @TyCSports @TyCSportsPlay https://t.co/DRKQzmrt4I acá https://t.co/Au0AzYuP7V pic.twitter.com/JHsoxTzlEW

— Boxeo de Primera (@BoxeoDePrimera) May 14, 2022
Challenging Serrano will be Brenda Karen Carabajal from Argentina. The 31-year-old defeated Deborah Anahi Dionicius by majority decision last May to become the interim WBO women's featherweight champion and become Serrano's mandatory challenger. Two fights ago in 2020, she lost to Sarah Mahfoud when she challenged for the interim IBF women's featherweight belt.
Carabajal once won that interim IBF title. She outboxed Elena Gradinar on April 13, 2019, in Atlantic City to become world champion for the first time in her career. She however lost the belt in her next fight against Sarah Mahfoud. She is 2-3 in world title fights and has an overall record of 18-5-1 with nine knockouts.
Boxing odds website ProBoxingOdds.com doesn't have a complete database on Carabajal's odds history. In fact, only two of her previous bout are listed on the said website. Per ProBoxingOdds, Carabajal was the +160 betting underdog when she fought Maracela Eliana Acuna when she lost in a WBA interim women's featherweight title bout. She was also the +250 underdog when she beat Gradinar.