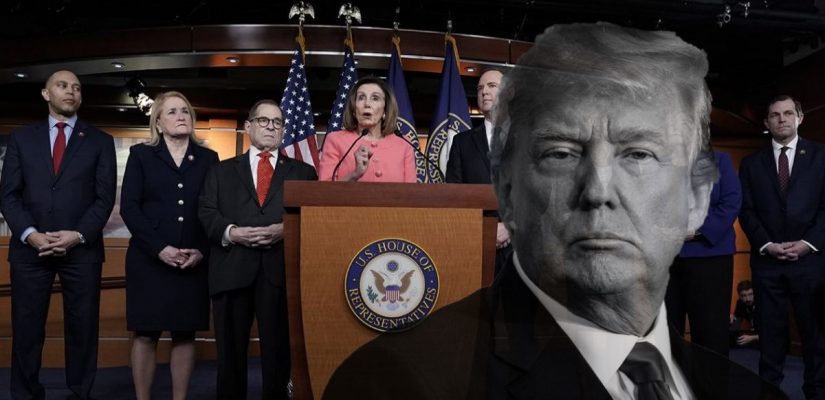 Highlights:
On Wednesday, the House of Representatives voted to impeach Donald Trump, making him the first president to be impeached twice in US history.
Trump is charged with "incitement of insurrection," in connection with the January 6 riots at the Capitol.
However, the Senate is not set to reconvene until January 20, the day Joe Biden is inaugurated.
What a predictable lame-duck period this has been for political handicappers wagering on Donald Trump props! Especially after the January 6 riots at the Capitol, which set into motion a course of events that has seen the President impeached for the second time in as many years and jeopardized Trump's post-presidency political aspirations.
On January 8, we published a blog post that examined four political prop bets dealing with the final days of Donald Trump's first term. One of those betting lines asked whether the President would be impeached before January 20.
Here's what we wrote:
"I predict that the Democrats will file two articles of impeachment but won't have enough time to conduct House hearings, vote to impeach, then send the articles to the Senate for a trial and a final vote. And even if the impeachment trial does progress quickly enough to have a Senate vote before January 20, there's no certainty that the Dems can find 67 votes to convict and remove the President."
"I suspect making Donald Trump the first US president to be impeached twice is more important to Democrats than successfully removing him from office a few days early."
Well, on Wednesday, the House of Representatives voted to impeach Trump for "inciting an insurgency."
If you bet on "Yes" at –190 moneyline odds as we suggested, congratulations!
Similar to last year's impeachment proceedings, the votes fell mostly along party lines. However, this time, a handful of Republican dissenters made it the most bi-partisan impeachment in US history.
House Impeachment Vote Breakdown (by Party):
| | | | |
| --- | --- | --- | --- |
| Vote | Total | Democrats | Republicans |
| Yes | 232 | 222 | 10 |
| No | 197 | 0 | 197 |
10 Republicans joined Democrats in voting to impeach:
Liz Cheney of Wyoming
Jaime Herrera Beutler of Washington
John Katko of New York
Adam Kinzinger of Illinois
Fred Upton of Michigan
Dan Newhouse of Washington
Peter Meijer of Michigan
Anthony Gonzalez of Ohio
David Valadao of California
Tom Rice of South Carolina
Next, House leaders must deliver the articles of impeachment to the Senate to start the trial.
However, Joe Biden's inauguration is on January 20, the same day the upper chamber reconvenes…which complicates things for Democrats hoping to remove Trump from office officially and possibly disqualify him from running again in 2024.
No Time for a Senate Trial
In last Friday's article, we encouraged readers to bet on Trump completing his first term at –350 moneyline odds. Not because the Senate will necessarily acquit him; the President's political enemies are just running out of time.
The Senate can't start the impeachment trial until House Democrats send the article of impeachment to the upper chamber. Even if Nancy Pelosi delivers the charge to the other side of the Capitol immediately, Senate leaders from both parties would have to agree to reconvene early to begin the trial.
However, Mitch McConnell has already dismissed the prospect of returning before January 19, the day before Donald Trump exits office.
That means the trial won't start until after Joe Biden is already inaugurated as President.
"Given the rules, procedures, and Senate precedents that govern presidential impeachment trials, there is simply no chance that a fair or serious trial could conclude before President-elect Biden is sworn in next week," the GOP leader from Kentucky said.
"In light of this reality, I believe it will best serve our nation if Congress and the executive branch spend the next seven days completely focused on facilitating a safe inauguration and an orderly transfer of power to the incoming Biden administration."
Here's where things get interesting:
The Senate has never held an impeachment trial for a president after they've left office; however, it has been done for other government officials.
Furthermore, moving forward with this unprecedented trial after January 20 could occupy the Senate's time during a period the chamber should be confirming Biden's cabinet members.
Disqualification and Censorship
In a previous article, I considered the possibility that the Senate would drop impeachment proceedings against Trump after he left office and move to vote on disqualification instead.
A government official who's disqualified is no longer allowed to seek future office, which – given the impeachment trial's timing issues – one would assume is the Democrats' (and moderate Republicans') main goal.
However, I recently discovered that the Senate could not disqualify the soon-to-be-former President without first voting to convict him for the impeachment charge. So, for Congress to use legislative channels to ban Trump from running again, they must hold the trial after he's vacated the Oval Office.
If they go down that road, there's a question of whether extending the impeachment process beyond the President leaving office is permissible. No court has ever ruled on it.
Legal scholars are divided on the issue.
"The special penalties upon conviction in impeachment are designed to protect the republic from the very type of people who have abused public office in such a grave manner that they should never have the opportunity to be entrusted with public power again," wrote Michael J. Gerhardt, a professor at the UNC School of Law.
"It would make no sense for former officials, or ones who step down just in time, to escape that remedial mechanism."
If the Senate pursues a conviction, not only will they clog the chamber floor, — when it would otherwise be redirecting its attention towards confirming the Biden cabinet — but they'll also need time to argue in court for the right to continue the impeachment trial past Inauguration Day.
Private Sector "Impeachment"
I suspect the Senate will decide to drop the charge against Donald Trump as soon as he exits office. They've already sullied his legacy with the "only president to be impeached twice" tag, and the backlash from the Capitol Hill riots has mostly kept Donald Trump quiet for his final weeks. His enemies' only remaining issue is ensuring he can't return to politics in 2024.
By all appearances, Democrats and their GOP allies will turn to the private sector to purge Trump from the public eye.
Let's assume Donald Trump doesn't have access to business loans (or the ability to bank with the largest financial institutions) and can't receive donations thanks to payment processors shutting him down. In that case, there's not much the 45th President of the United States can do to stay politically relevant.
By allowing the private sector to collude against Trump, political officials have a degree of plausible deniability – they're not technically responsible for the former President disappearing.
"Private corporations may choose to do business with whomever they please," they'll say – ignoring the apparent coordination going on between the government, capital, and Big Tech.
Either way, as a betting man, I'd stake the house on Donald Trump disappearing for good very soon.
His impeachment trial probably won't extend beyond Joe Biden's inauguration, preventing the President from being convicted or disqualified from public office, but it won't matter.
The real sources of power in America are flexing their muscle, and they've decided the MAGA era is over.