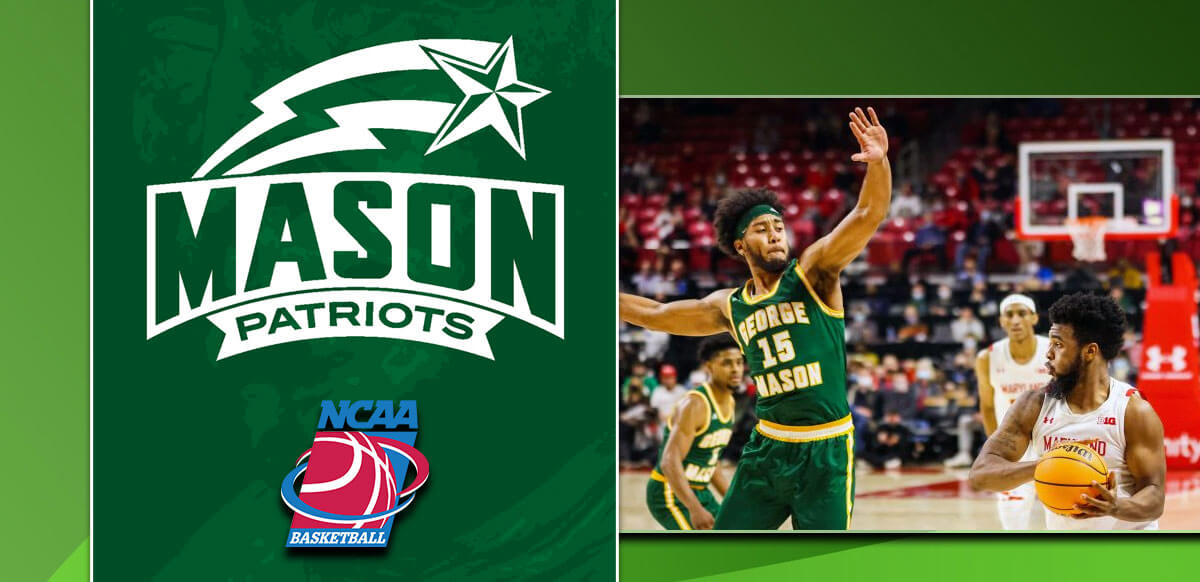 Oddsmakers push George Mason after upset of Maryland
Richmond could battle Bonnies for top spot
VCU, Davidson could contend as sleepers
The Atlantic 10 is always postured among the top ten college basketball conferences in the nation, and this year, as many as four teams could make runs in the NCAA Tournament once they get there.
The NCAA Selection Committee must now watch George Mason (+1000) as an A-10 favorite in addition to St. Bonaventure (-115) and Richmond (+400) after the Patriots took a 71-66 win at No. 20 Maryland.
Fear The Patriot. #RockWithUs pic.twitter.com/O0o2TCW798

— Mason Men's Basketball (@MasonMBB) November 18, 2021
Coach Kim English brings the fire and passion to the arena after working as an assistant to Rick Barnes at Tennessee, Bruce Weber at Kansas State, and Tad Boyle at Colorado, and the players have bought in with a 4-0 start to the 2021-22 campaign.
The Patriots began the season at just around (+5000), but the win over a Big Ten competitor such as Maryland has its benefits. Mason is even listed on some sports boards at (+800).
How we feeling #MasonNation??
#RockWithUs pic.twitter.com/VX73IfsJeX

— Mason Men's Basketball (@MasonMBB) November 18, 2021
Colorado transfer DeShawn Schwartz scored 24 points, and Morehead State transfer Devon Cooper added 16 as the Patriots went on a 9-0 run early in the second half as Schwartz hit a jumper with 13:04 remaining to give the Patriots a 48-38 lead over the Terrapins that they wouldn't relinquish.
Competitive Balance Highlights League
Mark Schmidt has built a perennial contender at St. Bonaventure, and his Bonnies are the favorite to not only win the league at (-115), but also to make it to the Final Four as some online sportsbooks show St. Bonaventure at (+1200) to get to the grand weekend, but (+6500) odds to win the national championship.
The Bonnies were at (+110) as a preseason favorite and moved forward with their 3-0 start which was accentuated with a win over talented Mountain West foe Boise State in the opener of the Charleston (S.C.) Classic as a part of Feast Week on ESPN.
The Bonnies are a solid defensive team, and they return five starters and will be led in the paint by big-man Osun Osunniyi, who averaged 10.4 points, 9.4 rebounds, and 2.3 blocks a year ago. Point guard Kyle Lofton, is off to a solid start in leading SBU in scoring at 17 points per night.
‼️‼️‼️ https://t.co/LEUAPaywlL

— St. Bonaventure Athletics (@GoBonnies) November 19, 2021
Richmond has a veteran roster as the Spiders started out with odds at (+310) but fell back to around (+400) after a loss to Utah State as the Aggies came east with a stop in Richmond prior to a weekend at the Myrtle Beach Classic.
Big-man Grant Golden (19.7 points, 6.0 rebounds) is one of the best passing bigs in college basketball, and he is also shooting 68.6 percent from the floor. Point guard Jacob Gilyard is posting 6.0 assists per game and runs the offense impeccably well with 18 assists and only three turnovers in averaging 36.3 minutes per game.
VCU is a solid defensive force under coach Mike Rhoades, and the Rams came into the season as the third likely favorite, according to oddsmakers, with a (+800) number. They fell back to (+1200) after being upset at home by Wagner last Saturday before going on the road and taking a 48-37 win at Vanderbilt.
The Rams are led by 9.3 points from Vince Williams and are averaging only 49.7 points per game, are still listed at (+18000) to win the national championship.
Davidson, Rhode Island, Dayton Foster Value in A-10 Logjam
Currently, Davidson (+1500), Rhode Island (+1800), and Dayton (+2000) are next in line. Venerable Bob McKillop saw his Wildcats start 1-2 with losses to a San Francisco Dons team (65-60) that may be in the Top 3 in the WCC and then a loss to WAC perennial favorite New Mexico State in the Charleston Classic, 75-64.
The Wildcats started out at (+1400) as the sportsbooks didn't cut them too hard because of the knowledge of McKillop's legacy at Davidson plus the toughness of playing USF and NMSU.
Rhode Island started at 3-0 as coach David Cox is looking for the Rams' rebound off the COVID-19 season, which coincided with the toughest since 2013. Jeremy Sheppard returned to Rhody and will be the centerpiece to this team as he is one of four Rams averaging double digits.
For the first time in David Cox's career, the Rams have started their season off 3-0 following their win against the Boston College Eagles 57-49!!

◆ Top offensive player : Ishmael El-Amin (12 points)
◆ Top defensive player: Makhel Mitchell (6 rebounds, 8 blocks)#TheRhodyWay pic.twitter.com/FSOeBAcE6W

— Rhody MBB (@RhodyMBB) November 18, 2021
The Rams started at (+1600) while Dayton was at (+1400) before the Flyers lost to both UMass-Lowell and Lipscomb and fell back to their (+2000) rating.
Saint Louis is at (+2800) after starting at (+2700) thanks to the losses of Jordan Goodwin and big-man Hassan French. The toughest loss was Javonte Perkins, the '21-22 leader, going down with an ACL injury before the season started.
The Billikens started 3-0 but lost 90-74 at No. 11 Memphis on Tuesday. Duquesne (+4000), UMass (+5000), George Washington (+8000), LaSalle (+12000), Saint Joseph's (+14000), and Fordham (+40000) round out the current odds for the A-10 title.