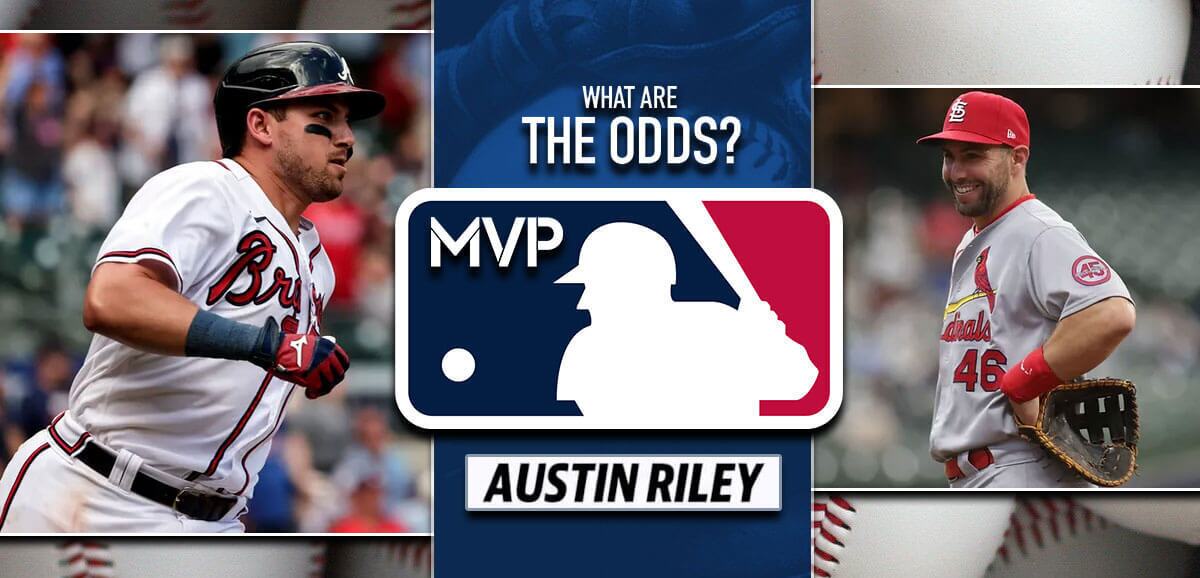 Austin Riley has moved from +6000 to win the 2022 NL MVP award to the second favorite behind Paul Goldschmidt.
Riley is now listed at +400 odds via BetMGM with Goldschmidt still ahead at -125.
The Braves' third baseman had 26 extra-base hits last month to shatter Hank Aaron's franchise record of 25 extra-base hits in a calendar month.
The NL MVP race began with Manny Machado on top of the betting boards. He was supplanted by Mookie Betts. Since mid-June, it has been St. Louis Cardinals' Paul Goldschmidt who has been on top of the mountain.
Goldy has seen his odds move to even money, and is now at minus-money odds. But just when we thought that he would run away with the lead in the betting boards, Austin Riley has moved up to give Goldy serious competition.
WynnBet listed Riley at +6000 at the start of July. Then he went off.
Odds to Win NL MVP
Odds to win NL MVP ⭐️

-155: Paul Goldschmidt
+800: Austin Riley, Freddie Freeman
+1100: Mookie Betts
+1200: Manny Machado
+1500: Pete Alonso
+2000: Trea Turner

(via @BetMGM) pic.twitter.com/Lzl0ZFimfY

— Action Network (@ActionNetworkHQ) July 30, 2022
After opening with +3000 odds, Riley had seen his 2022 NL MVP odds sliced to +800 as of July 30th, putting him in a tie with the Los Angeles Dodgers' Freddie Freeman for the second-best odds to win the award with only St. Louis' Paul Goldschmidt having the better odds at -155.
Just two days later on August 1st, BetMGM has cut Riley's odds down to +550 with Goldschmidt staying at -155 odds. The odds shift did not end there. As of early morning of August 2nd, Riley's odds are now at +400 via BetMGM with Goldschmidt falling back to -125.
Goldy's MVP odds have faded to -115 with Riley chasing him at +400 via the FanDuel Sportsbook. PointsBet USA even has Goldschmidt down to -110 with Riley improving to +350. However, Caesars Sportsbook and Bet365 US both still have the Cardinals' first baseman at -150 odds with Riley listed at +500 odds at the two sportsbooks. Still, there's no question that Austin Riley is gaining ground on Paul Goldschmidt in the NL MVP odds boards after a spectacular calendar month.
Austin Riley Doing Next-Level Stuff
When you're a #Braves hitter even mentioned in the same sentence as icon Hank Aaron it's special enough. To break one of his franchise records is next-level stuff.
That's where Austin Riley is right now. https://t.co/GTGSba9swW

— David O'Brien (@DOBrienATL) August 1, 2022
The 25-year-old became the first player since 2000 and the 7th player since 1901 to hit .420 and have 26+ extra-base hits in a single month, joining Richard Hidalgo (2000), Joe DiMaggio (1937), Chuck Klein (1930), Chick Hafey (1928), Tris Speaker (1923). Riley's 26 extra-base hits for July 2022 are the most in a calendar month by any player in Braves history, surpassing Hank Aaron's 25 in July 1961.
Riley also finished the month of July 2022 with a 2.6 fWAR, most in the majors. He also had a league-best 26 extra-base hits last month while posting the highest OPS ( 1.344 ), SLG ( .885 ), and wRC+ ( 267 ). Over his past 162 regular season games through July 31st, Riley has hit 46 home runs while posting an OPS of .972.
In 26 games played last month, Riley posted a slash line of .423/.459/.885 while hitting 11 home runs and 15 doubles. He also scored 21 runs and had 25 RBIs. Riley entered July with a good .257/.326/.503 slash line with 127 wRC+. He opened August with a slash line of .301/.360/.604 with a wRC+ of 167. That's elite. And that's why he's moved up to second in the latest NL MVP betting boards.