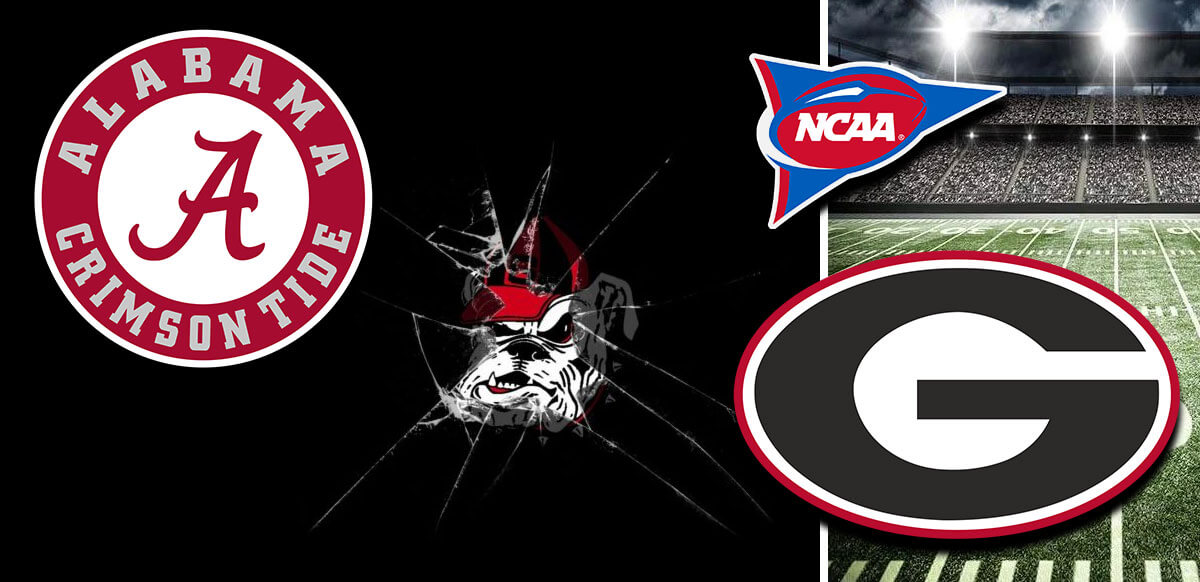 Oddsmakers favor Bulldogs on some boards
Once again, no challengers emerge for Alabama, Georgia
Sportsbooks swap Young, Corral in Heisman race
Oddsmakers have been bullish (no pun intended…well, maybe a little) on the Georgia Bulldogs national championship futures this season, and after Saturday's 37-0 shutout of No. 8 Arkansas, the push continued.
S H U T O U T ? @GeorgiaFootball pic.twitter.com/zwp01sgMIc

— ESPN College Football (@ESPNCFB) October 2, 2021
According to BetOnline, No. 2 Georgia has now caught No. 1 Alabama as they now share (+175) odds to win the national championship at Lucas Oil Stadium in Indianapolis on Jan. 10, 2022.
Georgia running back Zamir White rushed for touchdowns of three and 15 yards and blocked a punt for another TD as the Bulldogs' defense also held Arkansas to 162 yards total offense in Saturday's 37-0 win. Georgia still trails Alabama to win the SEC title game as the Bulldogs sit at (+105) while Alabama is posting (-135) for the showdown on the opening weekend of December.
The Crimson Tide rolled up a 35-0 lead on No. 12 Ole Miss on Saturday before cruising past the Rebels, 42-21.
BAMA WINS!#BamaFactor #RollTide pic.twitter.com/D0BwU0xf2u

— Alabama Football (@AlabamaFTBL) October 2, 2021
Brian Robinson, Jr., rushed 36 times for 171 yards and four touchdowns for Alabama as the Tide had a slight edge (+175) over the Bulldogs (+200) last week. However, others had them even at (+200) odds before Saturday's matchups.
Lacking a Challenge
The SEC has no challengers to Alabama or Georgia, especially after Florida fell victim to 15 penalties for 115 yards and couldn't put another touchdown on the board after the game's second drive.
The loss to Kentucky drove the Gators deep on the odds board to win the SEC Title game as Dan Mullen's squad is posting (+7500) odds.
Final from Lexington. @WellsFargo pic.twitter.com/2svQrLzCbJ

— Gators Football (@GatorsFB) October 3, 2021
The Gators only had (+10000) odds to make it to the BCS playoffs coming into last week's game and now with the loss to Kentucky, but now, logically. However, they are on the board with insurmountable (+15000) odds, and they're among the myriad of teams that are already eliminated from the BCS national title picture.
Kentucky moved to 5-0 as the Wildcats gave up yardage (382 total), but didn't give up points. Mark Stoops' team sits at (+3500) odds to win the SEC Championship game, and with LSU this week followed by a trip to Athens on Oct.16 that is likely for the SEC East championship, the Wildcats could improve those (+20000) national championship odds immeasurably with two wins in those two games.
Long odds
Truthfully, there are 12 teams who have to feel like they are sitting at the bottom of a well and staring up at Big Al and Harry Dawg (Alabama and Georgia's mascots) with no shot to climb out and challenge either/or.
Texas A&M was supposed to be the team at the beginning of the season who would challenge the Tide in the West and potentially represent the SEC in the BCS Final Four. As the Aggies had (+1200) odds to do just that about a week before the start of the season, they were still outdistanced immeasurably by Alabama and Georgia who had odds at (-160) and (+200), respectively at that point.
Now, Texas A&M has had a tumultuous start to the season with quarterback issues as freshman Haynes King was lost with an injury while backup Zach Calzada has been inept at times in trying to run the offense.
????#GigEm pic.twitter.com/zXSV6D3yOe

— Texas A&M Football (@AggieFootball) October 3, 2021
With Saturday night's 26-22 home loss to Mississippi State, the Aggies are tied with LSU at (+20000) to win the SEC while they are also at (+20000) to win the national championship.
Ole Miss is still posted up with Kentucky at (+3500) odds while Auburn moved up to (+4500) and Arkansas is at (+6000) to win the SEC Championship.
The Rebels (+13000) to win the national championship have a shot to run the table with Matt Corral's excellent at quarterback and finish 11-1.
Alabama would have to lose two for Ole Miss to get into the title game, and as that is ally unlikely, the Rebels could be like A&M last season and be on the outside of the playoff and arguably deserving a position.
Heismans Abound
Alabama quarterback Bryce Young and Corral traded positions in the Heisman Trophy race as Young (+120) now has a slight edge over Corral (+200).
Some online sportsbooks had Corral at (+200) and Young at (+220) a week ago which was quite a feat for Corral since he started at (+2000) to begin the season. Others had Corral at (+150) and Young posting (+300) odds.
Young completed 20 of 26 passes for 241 yards and two TDs and an interception on Saturday, while Corral was 21 of 29 with only one touchdown pass.
Alabama running back Brian Robinson, Jr., is also slowly climbing. On the odds board, as he is up to (+3500) this week after his output, we mentioned on Saturday. He is tied with Texas running back Bijan Robinson, whose odds are in seventh place.
Georgia quarterback JT Daniels is standing in a tie for ninth with (+4000) odds while Alabama wide receiver John Metchie, III, and Florida QB Emory Jones are mentioned at (+10000) and Kentucky RB Chris Rodriguez, Jr. lists at (+13000).