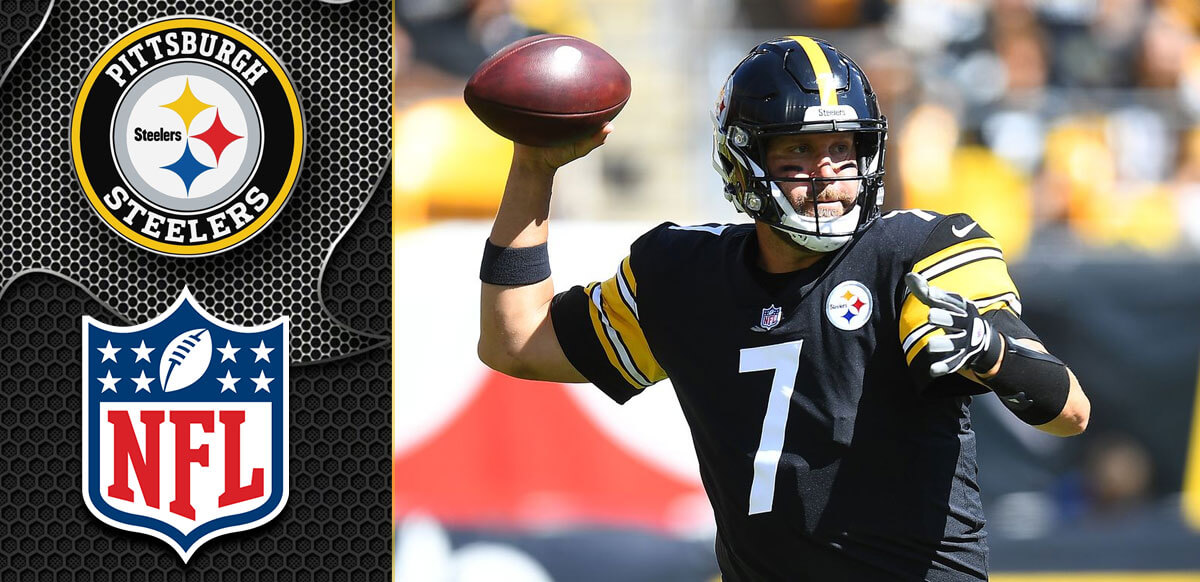 Ben Roethlisberger is favored (-165) to be benched anytime this season.
Roethlisberger's noticeable decline has been tagged as the main reason for the Steelers' struggles to start the 2021 season.
Pittsburgh is currently 1-2 after three weeks and have the longest odds to win their division.
With the Pittsburgh Steelers seemingly at a crossroads, online sportsbook BetOnline believes that it's only a matter of time when Mike Tomlin does the inevitable: bench, Ben Roethlisberger.
According to BetOnline, Big Ben is going to hit the bench at some point this season. The odds of that happening? 62.3% or -165, with the NO currently listed at +125.
The season started well with the Steelers upsetting the Bills as +240 Moneyline and +6.5 point spread underdogs in Week 1. But since then, it has been downhill for Pittsburgh and the reason is obvious: Ben Roethlisberger's decline.
It's not that the decline is sudden. Roethlisberger underwent a major elbow reconstruction two seasons ago and last year, there were some alarming moments that led to the Steelers' second half collapse. Those issues have not gone away.
Pittsburgh is struggling to throw the ball downfield or mount much of a running game. What usually happens is that either Roethlisberger gets rid of the ball in two seconds or he gets hit. And the Steelers aren't getting much offense. Pittsburgh currently ranks 7th, but from the bottom in total offense. They are first, from the bottom in rushing offense, and are 5th, again from the bottom in scoring.
Bengals Have Shorter Odds than The Steelers
I did NOT expect to see the Bengals have shorter odds than the Steelers pic.twitter.com/gAuW6ozP1Z

— BetMGM ? (@BetMGM) September 28, 2021
Somehow, even if you understood the Steelers' struggles, you still did not expect to see the Bengals with shorter odds than the Steelers. But that's the reality right now as Cincinnati is a +900 to win the AFC North and the Steelers are just +1200 at BetMGM. BetOnline has it worse, with the Bengals at +750 and the Steelers at +1400. Pittsburgh's Super Bowl odds have also tumbled.
The Steelers entered the season with a +3000 odds to win Super Bowl LVI. Those odds are now +6600 at their shortest via FanDuel, Bet365, and Borgata Online. Their next-best odds are +7500 at BetMGM, +8000 at BetOnline, and +8500 at DraftKings. Pittsburgh is also listed at +12500 to win Super Bowl LVI at the Caesars Sportsbook.
During preseason, the Steelers were listed as a +160 to make the playoffs and a -200 to miss it. They are now a +400 to make the postseason and a -600 to miss it at the BetOnline App. At BetMGM, Pittsburgh is listed as a +375 to make the playoffs and a -500 not to make it and at FanDuel, they have their longest odds to make the playoffs at +450 and their shortest odds to miss it at -650.
Roethlisberger's MVP Odds
Ben Roethlisberger's MVP odds (+20000) are now lower than players like Tarik Cohen and Kenyan Drake, via @DKSportsbook.

— Tommy Jaggi (@TommyJaggi) September 29, 2021
It's not that Big Ben had big odds to start the season. Last July, Roethlisberger already had alarmingly low MVP odds ranging from +8000 to +10000. But instead of those odds getting shorter after every game played, they have even gotten longer. At DraftKings, Roethlisberger is listed at +2000, odds longer than players like Tank Cohen and Kenyan Drake.
FanDuel also lists Big Ben at +20000 while BetMGM, Caesars Sportsbook, and Unibet have the Steelers starting QB at +25000. His shortest MVP odds right now are at +15000 via BetOnline and Bet365. PointsBet currently has the longest Ben Roethlisberger odds at +30000.
There's no question that Ben Roethlisberger has had a Hall of Fame career. He is a franchise icon who helped the Steelers win two Super Bowl titles. But it's clear that he doesn't have much left, if at all, and is unlikely to get better. Perhaps the defense can carry them to wins, much like opening Week against the Bills. But it's going to be a tough season, and Mike Tomlin is going to make tough decisions.