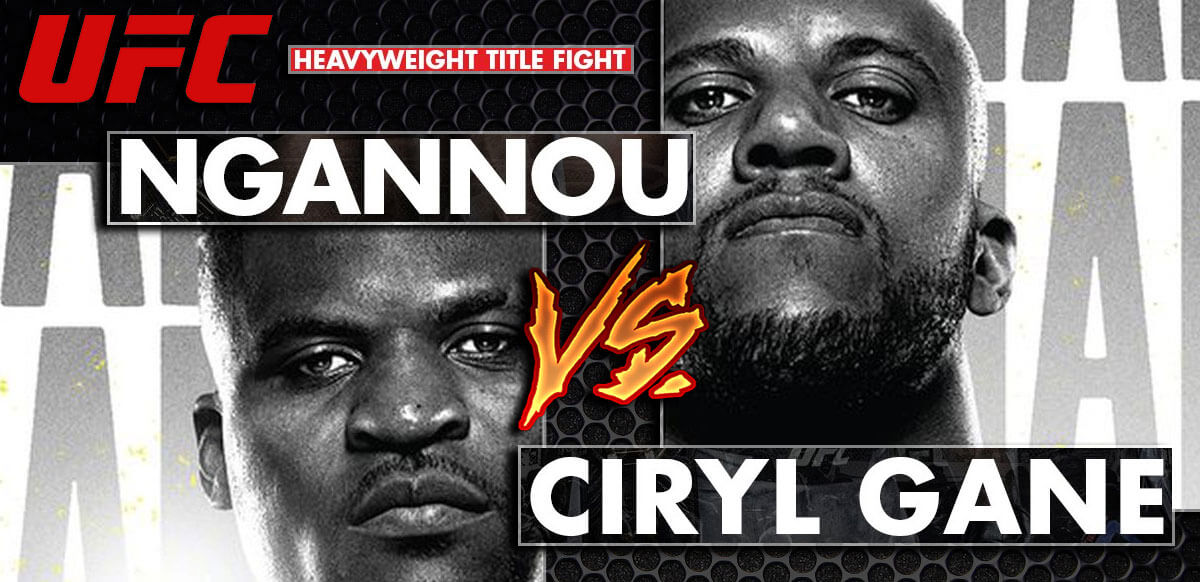 The betting lines for the UFC heavyweight title bout between Francis Ngannou and Cyril Gane have swung to Ngannou's favor once again.
With one month left before the bout, the champion is back as betting favorite at some of the top UFC sportsbooks.
Ngannou is the -115 betting favorite at Barstool Sportsbook, BetMGM, and FOXbet.
The betting lines for the undisputed heavyweight title fight between champion Francis Ngannou and interim titleholder Cyril Gane has been swinging like a pendulum since it opened.
With one month left to go before their January 22 date, the odds have shifted once again, this time, in favor of the champion who is back as the betting favorite in some of the top UFC sportsbooks.
Gane Now Favored Over Ngannou
Ciryl Gane now favored over Francis Ngannou in opening odds for UFC heavyweight title unification bout https://t.co/9NPL2pAIUa pic.twitter.com/jmYfxbqW7y

— MMAFighting.com (@MMAFighting) August 8, 2021
The first time that the betting lines for a potential Ngannou vs Gane showdown went live was after Gane beat Alexander Volkov last June. Back then, it was Ngannou who opened as the -190 betting favorite at BetOnline while Gane came back at +165. But after Gane knocked out Derrick Lewis at UFC 265 to win the interim UFC heavyweight title, he flipped the betting boards and became the -130 favorite with Ngannou listed as the +110 underdog.
Now that the fight is just one month away, the odds have moved once again, this time in favor of the champion. At Bovada, the current odds are closer at -115 for Gane and -105 for Ngannou. The fight has become a pick'em bout at BetOnline and MyBookie.ag with both fighters currently listed at -115. Bet 365 USA and Caesars Sportsbook have both fighters listed at -110 in an even bout.
Meanwhile, Ngannou has returned as betting favorite at the Barstool Sportsbook with his -115 odds while Gane has reverted to the underdog role at -106. BetMGM also has the Predator as its -115 odds on favorite to win the fight with Bon Gamin listed at -105. PointsBetUSA is also listing Ngannou as its -115 favorite with Gane very close at -110. FOXbet has Ngannou at -120 and Gane at +102.
Once Training Partners
Once training partners, Ciryl Gane and Francis Ngannou
pic.twitter.com/OKqdfhJS4p

— The 220 Podcast (@The220Podcast) August 6, 2021
The heavyweight title fight between Ngannou and Gane has gained plenty of attention because of the history that these two Frenchmen share. Both champion and challenger used to train in the same gym – MMA Factory in Paris, France under Fernand Lopez.
Eventually, Ngannou left France to train in the U.S. when he started to find success in the UFC. When he departed, Gane took over as Lopez's prized pupil and he too set out to America to fight in the UFC. When Gane began to rise in the ranks, it was inevitable that their paths would cross one day. That day has arrived.
Ngannou has long been linked to a super fight with former light heavyweight champion Jon Jones but the UFC and the fighters could not come to terms with a deal. Former champion Stipe Miocic has been begging for a trilogy bout with Ngannou but after Gane knocked out Lewis at UFC 265, the bout between these two former training partners was sealed. Barring any fortuitous event, it will come to fruition next month.